Corporate Desktop Wallpapers: 8 Reasons to Define One
28 August 2023

The desktop wallpaper, or background image, is the visual that appears on your computer's home screen during startup and when all applications are closed or minimized. It's a screen that every employee working at dedicated workstations encounters multiple times daily. Undoubtedly, any messages displayed on this screen will receive attention. It's a valuable communication space you should not overlook. Let's explore why incorporating desktop wallpapers into your workplace's communication strategy is savvy.
In this article, we will delve into the following topics:
1. Convey a Controlled Image Externally
Unquestionably, the foremost argument for enforced desktop wallpaper is that it can serve as a crucial external conduit for your company's image. It has the potential to be seen multiple times when your personnel interacts with the outside world, be it during meetings with partners, clients, prospects, or in the management of public-facing locations.
It's safe to say that everyone prefers a controlled and professional image over the last family vacation photo on a beach amid a vital business meeting.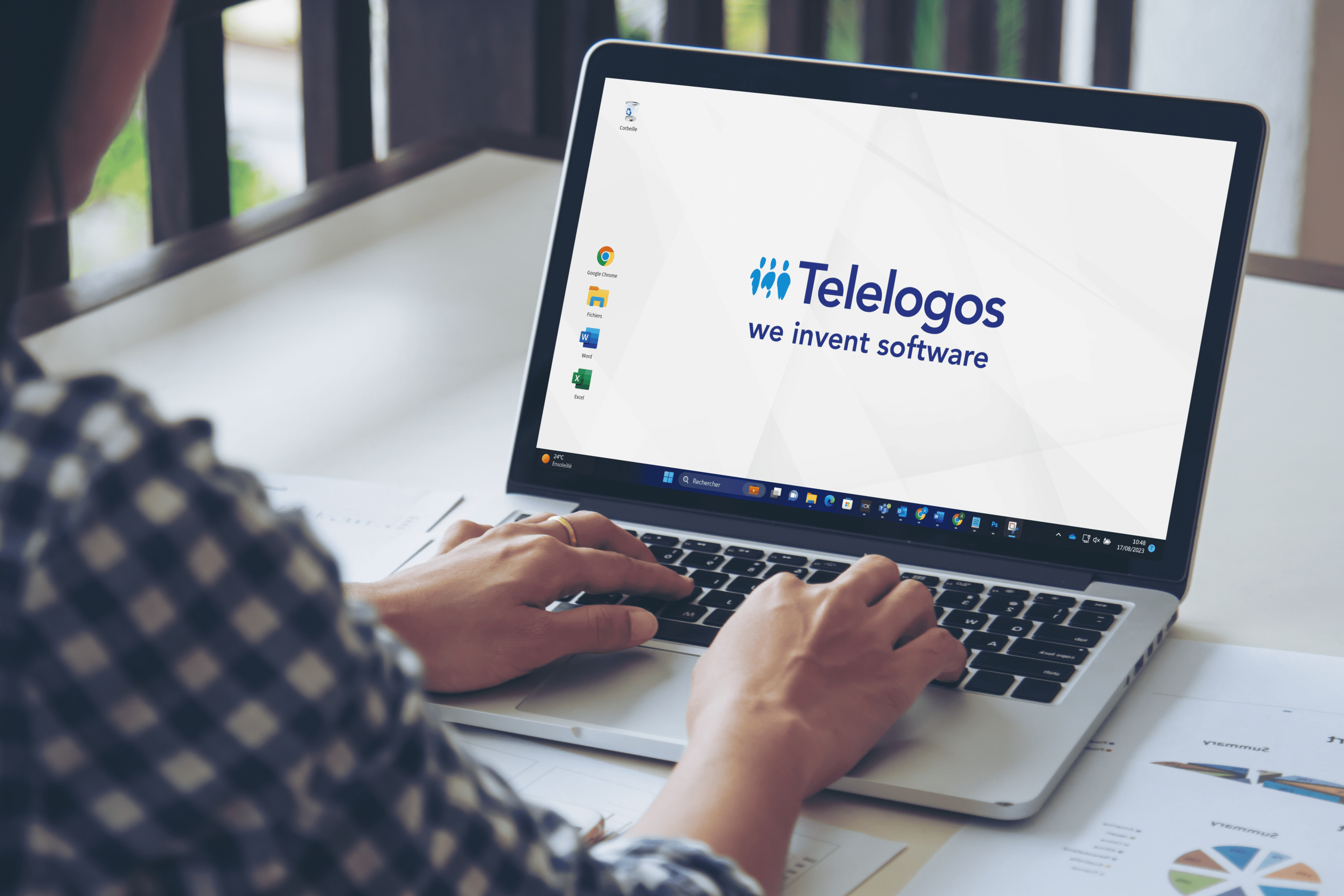 2. Strengthen Your Brand Image
Make the most of this communication space to reinforce your company's identity. Easily and effectively enhance your brand image by ensuring consistency across all workstations and all your communication materials, whether for internal or external use.
Centralized management of your company's desktop backgrounds allows you to maintain a professional and cohesive look across all computers within your organization. But that's not all...
3. Seize the Opportunity of a Desktop Wallpaper Seen Multiple Times a Day
Every time your employees power up their workstations, shut them down, and on many other occasions throughout the day, they see their 'desktop.' So, why leave this space unused? Take advantage of it to convey your internal communications through this unique channel. Some messages must be repeated to be remembered, while others require frequent reminders to avoid forgetting (think of cybersecurity best practices or eco-friendly behaviors, for example). The desktop background offers an image format that can amplify the impact of your messages.
Interested in managing your employees' desktop wallpapers
4. Establish a Professional Look, Even Internally
Gone are the days of personal (or impersonal!) photos that are sometimes used as wallpapers on various work computers. Imposing your brand image on all workstations within your organization benefits external stakeholders and your employees. It immerses your employees in a more professional atmosphere, whether it's a simple solid background with your logo or more personalized internal communication messages.
That being said, some employees are particularly attached to this space, which can be easily personalized. If you wish to allow your fully sedentary workforce to customize it freely, nothing stops you from occasionally scheduling important corporate communications to appear, giving them an even more significant impact. Easily schedule the time or day of display and the moment for the backgrounds to revert 'back to normal' for your employees, who will then automatically return to their images.
5. Boost Employee Engagement Through Desktop Wallpapers
Wallpapers There's no doubt that employee engagement can be easily influenced by effective internal communication. Don't miss out on an additional channel! Regardless of your industry, engaging with your employees is always beneficial. Utilize the communication space the desktop wallpaper provides to remind them of the company's goals, share product launches, or broadcast upcoming essential dates for the teams, whether a professional exhibition or the next after-work event. These internal messages contribute to a sense of belonging.
6. Ensure No One Misses Your Information
Improving internal communication doesn't mean inundating your employees with many emails. With regular updates of desktop wallpapers on all your employees' workstations, they won't overlook critical information anymore. Plan your communications over time by defining the display duration for each desktop wallpaper and ensure that all your employees are aware of vital information. Use desktop backgrounds for top-down communication in a push mode. No action is required on the part of your employees. They won't be interrupted by an important task. The message is displayed when their desktop wallpaper is visible.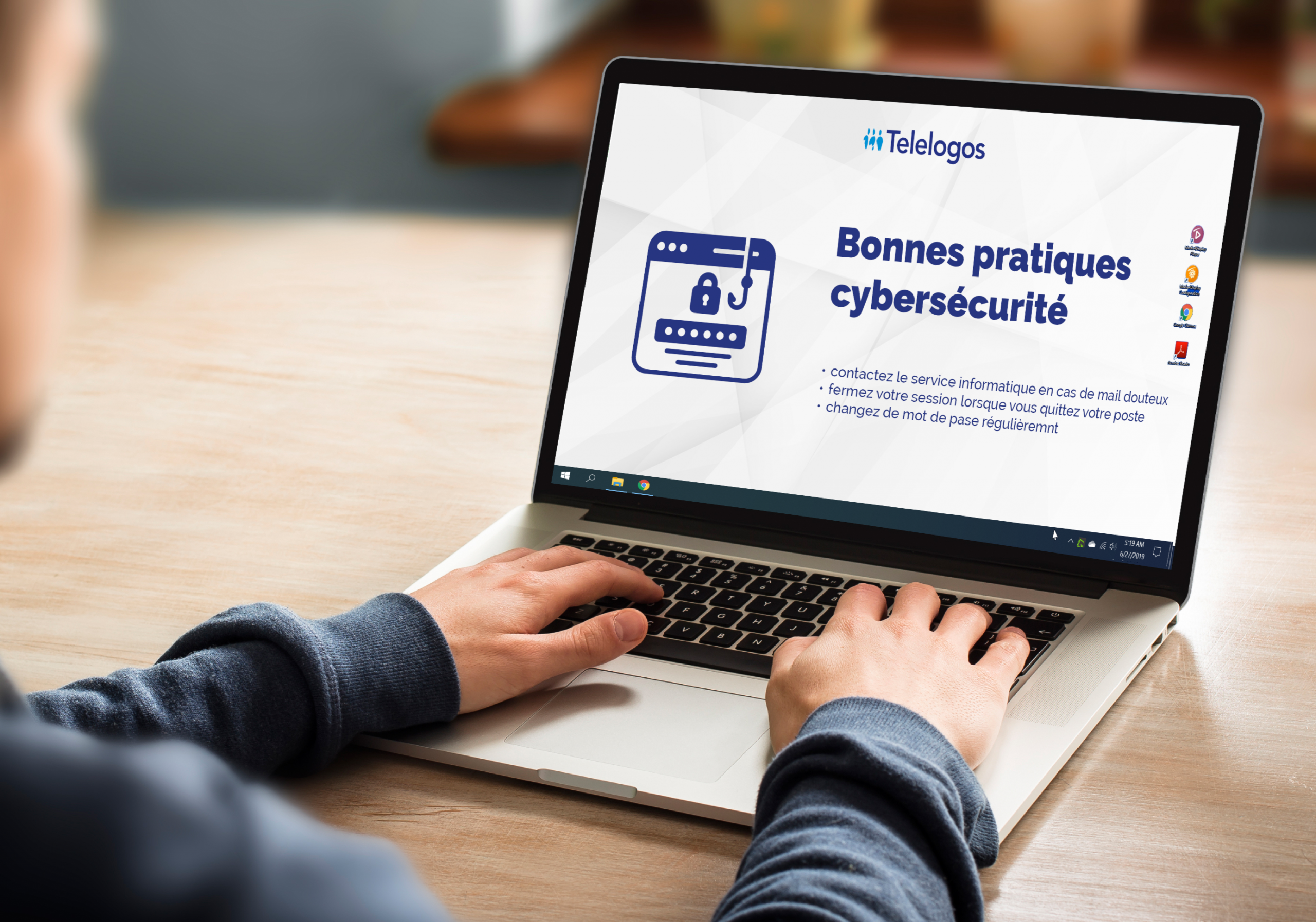 7. Include All Employees, Whether Remote or On-Site
One of the major challenges in internal communication since the rise of hybrid work and flexible office arrangements is the ability to reach all employees, regardless of their location or mode of work. Traditional bulletin boards or dynamic display screens, common in corporate environments, face this limitation: how to disseminate information to personnel who no longer come to the office? Thanks to your employees' desktop backgrounds, a tool they use daily, you finally have a solution to ensure they all receive the same information wherever they are.
8. Secure the Company's Network with Controlled Desktop Wallpapers
A search on a free image website, downloading an image without verifying its source, and a virus comes along... these scenarios are not uncommon. Today, while increasingly protected, corporate networks are still frequently exposed to risks associated with the behavior of an employee who may not have been vigilant enough. It would be a shame to expose your entire network for the simple personal act of changing one's desktop wallpaper. Implementing a common and locked desktop background is also a way to protect your network!
At first glance, some may be hesitant about having a desktop wallpaper imposed on them that is not their choosing. But try it, and most importantly, take advantage of this space to convey relevant messages to your employees and enhance the impact of your communications, whether they have been delivered through another channel previously or not. You will soon find that they no longer miss their family photos!"