Digital signage for manufacturing
Together with Robotic Process Automation, Internet of Things, Cloud computing, Artificial Intelligence, Digital Signage has become a critical technology in shopfloors and warehouses. Thanks to the digital visual management and information enabled by Digital Signage, manufacturing companies maximize the return on investment (ROI) of their massive investments in Industry 4.0.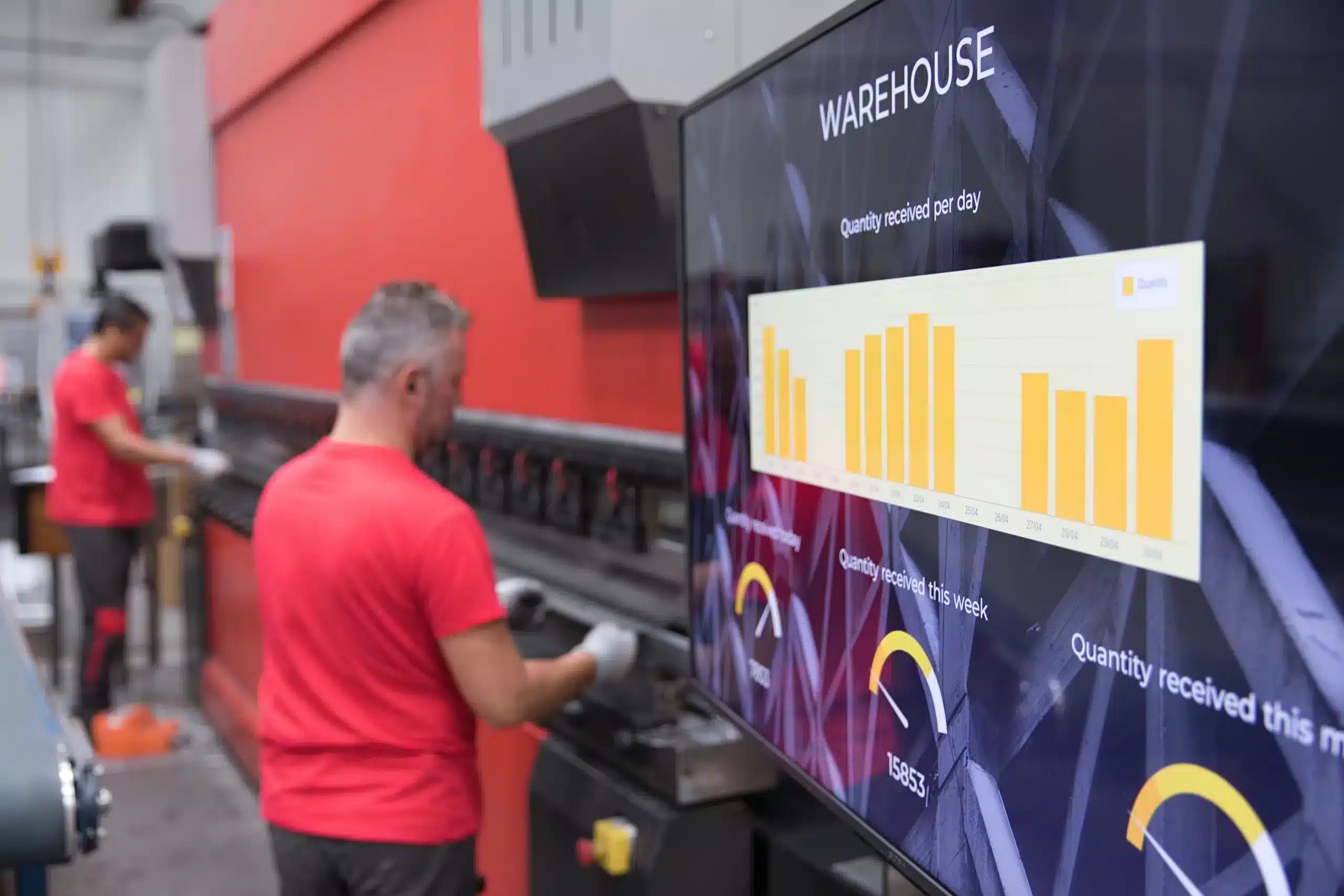 Why opt for digital signage in manufacturing?
Towards digital visual information & management
The deployment of digital signage at production sites to develop digital visual information and management has multiple benefits:
Easing the adjustment of production to changing conditions.
Accelerating integration of new operators and temporary staff.
Restoring employee engagement and reducing turn over.
... and overall growing the operational performance!
Industry 4.0 is already connecting all production resources
The various business applications – ERP, MES, PLM, WMS…
The production equipment.
The supply chain partners.
The customers through online applications and the cloud.
… However field workers have limited access to information
No real-time access to production data to help them adjust their activities to changing conditions.
No convenient access to digital knowledge bases such as maintenance guides, procedure to configure production equipment, security rules…
A usually limited access to corporate information.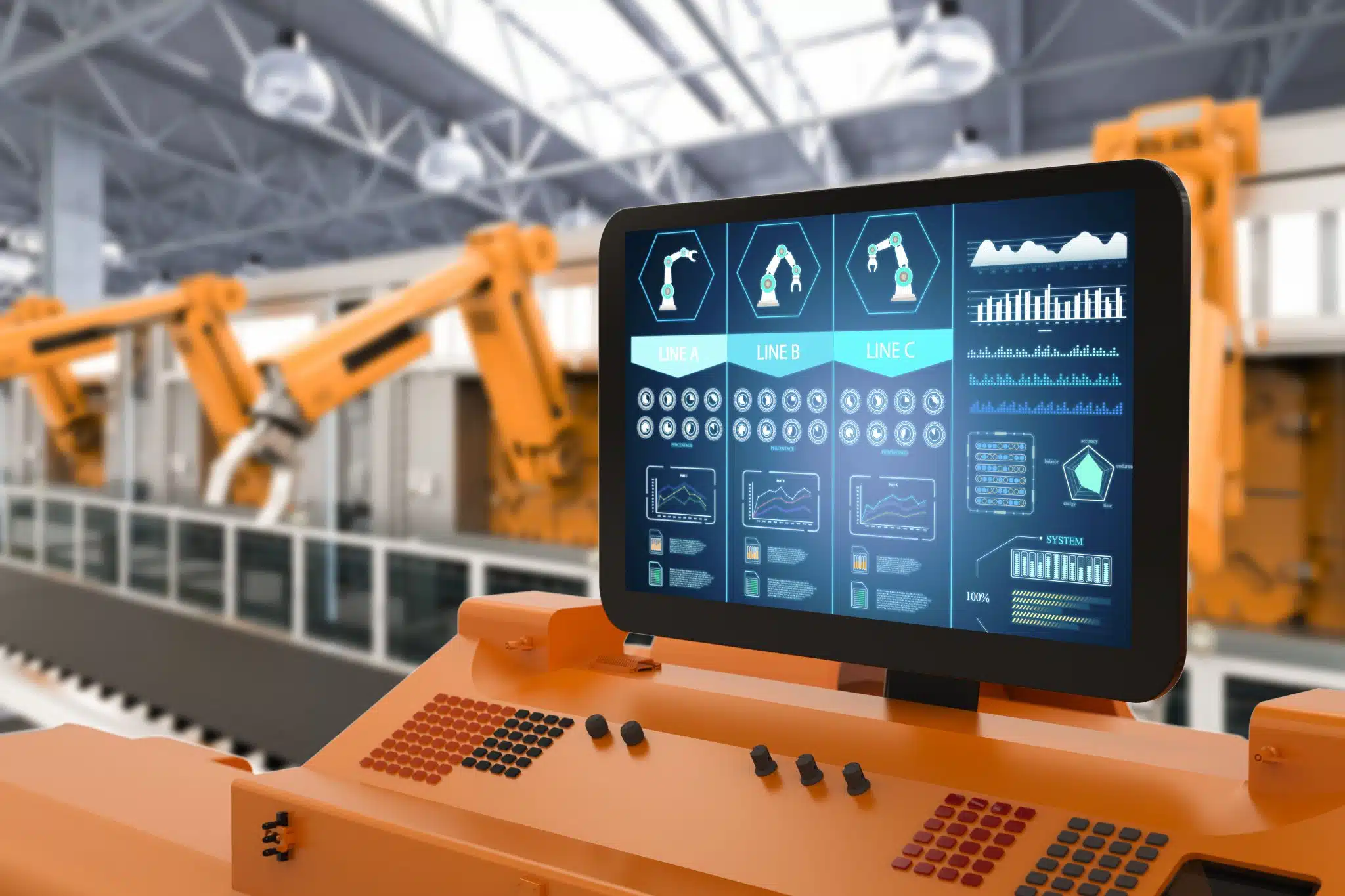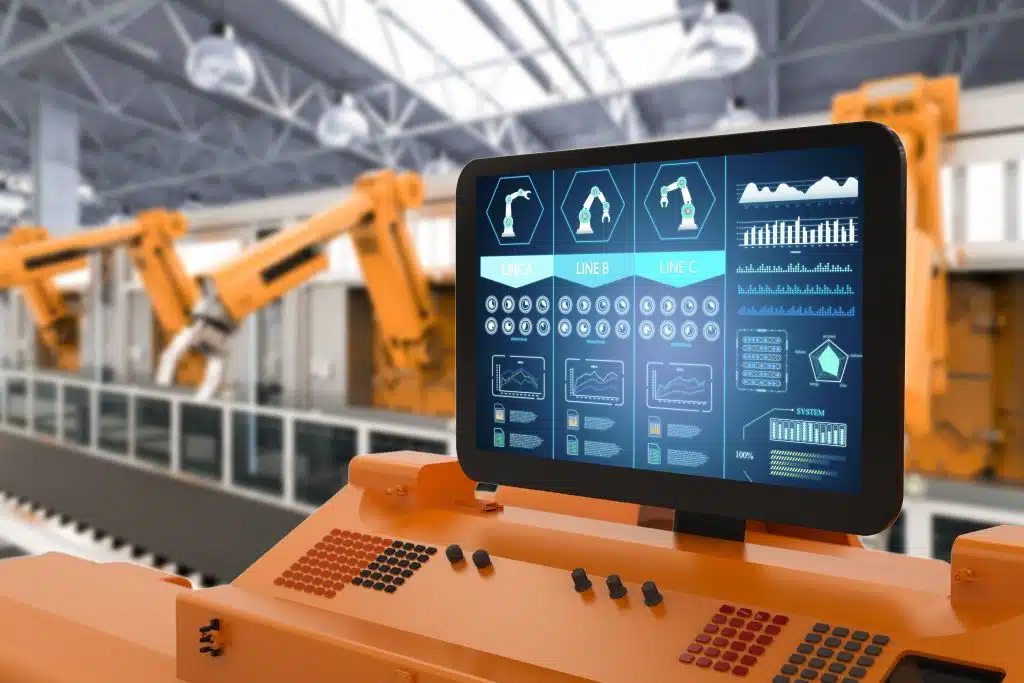 Digital Signage and digital visual management in manufacturing make it possible to fully leverage the power of the data at production sites, shop floors, warehouses. It helps also streamlining communication, making activity achievements visible and information accessible to all and in real-time.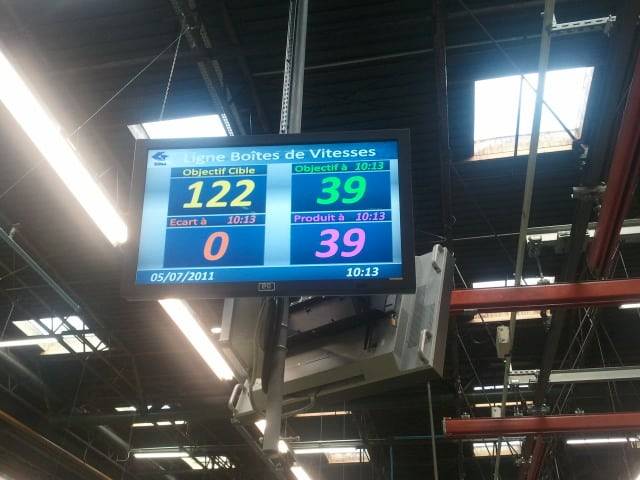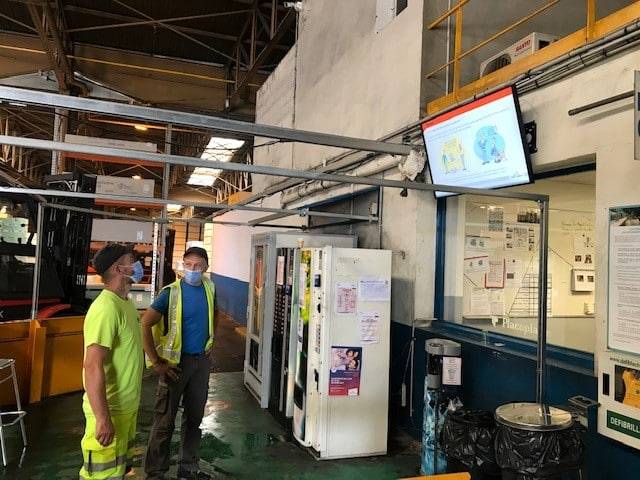 GIMA
GIMA :
Improve employee productivity and safety
Transmission systems - 1 000 employees

- Real-time production status
- Production goals
- Quality indicators
- Safety rules

POLPHARMA
POLPHARMA :
Ensure employees / visitors have permanent access to information
Pharmaceutical industry - 7 500 employees

- Real-time production monitoring
- Alerts management
- Employee access to HR resources
- Safety rules

ISOVER
ISOVER SAINT GOBAIN : Develop the corporate spirit in all production sites.
Building products - 10 000 employees

- Manufacturing data
- Local and global information
- Safety rules

Right information at right time in manufacturing thanks to digital signage
World Class Manufacturing (WCM), Quality, Supply Chain, Internal Communication, Sustainability, IT, HR, Sales & Marketing: Digital Signage communication channel is of value to multiple departments of a manufacturing company. Its deployment generates "quick wins" and usually offers accelerated return on investment through productivity improvements, reduction of scrap rates, improved management of incidents… and overall, through increased employee engagement.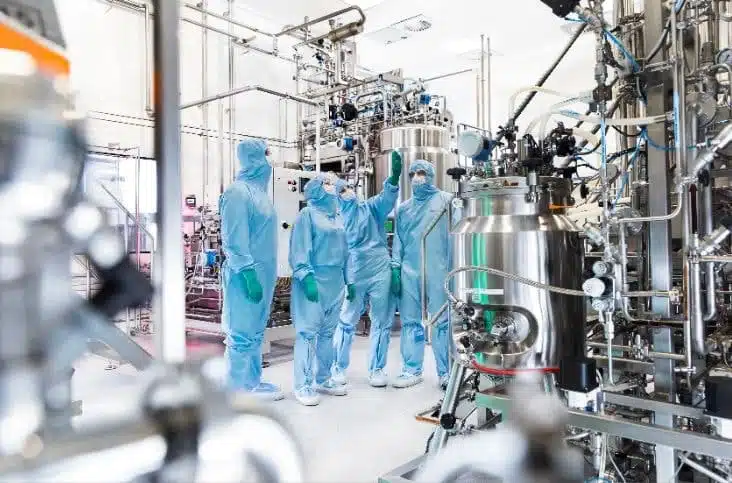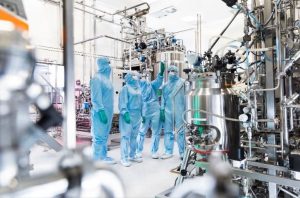 Assist managers
Display detailed production information during interactions with field workers to analyze activity and generate corrective actions.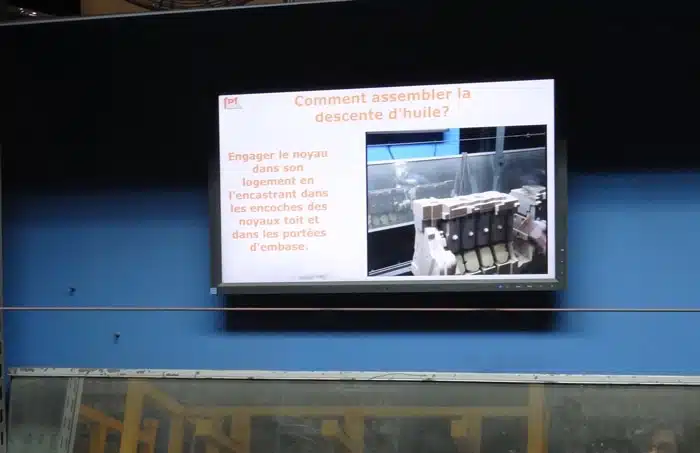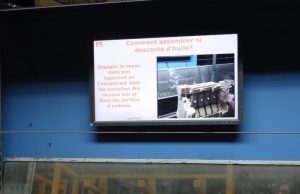 Empower
Share in real-time production KPIs, quality indicators, scrap rates, incidents rates, safety instructions, best practices for sustainability…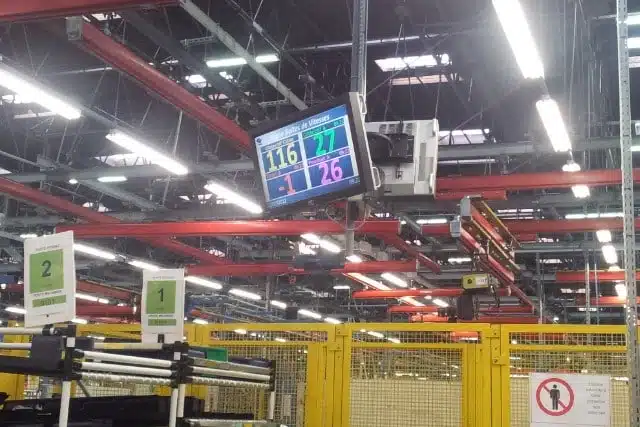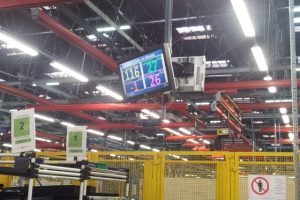 Assist field workers
Give access form the workplace to fabrication orders, datasheets, maintenance procedures... to better on-board new employees and temporary staff.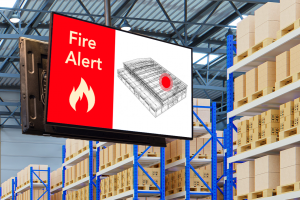 Alert
Broadcast in real-time urgent information: security alerts, supply chain events (i.e. arrival of a delivery truck), production incidents, planned tasks (i.e. maintenance).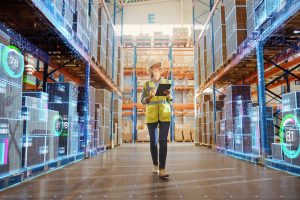 Make supply chain more fluid
Share supply chain information to ease the cooperation between the teams and accelerate production flows.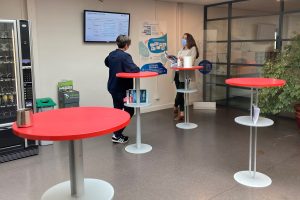 Grow corporate culture
Make sure all employees – including those with no personal PC nor professional email – have access to corporate and site information.
Interested in deploying Digital Signage in your manufacturing environment?
Let's talk about your project!
How to deploy digital signage in a manufacturing environment?
While Digital Signage is simple, non-intrusive and scalable, specific factors should be considered for its successful deployment in an Industry 4.0 environment.
Telelogos Digital Signage solution Media4Display is a perfect fit.
Sécuriser les équipements
Les écrans sont répartis aux endroits stratégiques du site, sur les quais, les voies d'accès, les lignes de production, les entrepôts, dans les salles de pause, dans les bureaux.
Accéder aux données
Media4Display permet d'extraire les informations des automates, des applications métiers (ERP, MES, PLM, WMS, …), et de toutes autres sources de données structurées.
Transformer les données en informations
Les données sont transformées en informations visuelles qui peuvent être mixées et complétées avec des widgets : indicateurs, tableaux, jauges, système d'alerte. Elles sont ensuite organisées en dashboards, wallboards et playlists pour une communication et un management visuel adapté aux besoin de l'industrie.
Planifier et diffuser les informations
Notre logiciel d'affichage dynamique pour l'industrie permet d'organiser / planifier la diffusion des informations selon les écrans, et même de conditionner leur affichage ou leur couleur d'apparition en fonction de seuils, d'atteinte d'objectifs, ...
What Media4Display, our digital signage solution, brings to you
Integration
With Media4Display, the digital signage network is tightly integrated to the Digital Manufacturing platform as well as to the other data sources for an automatic update of the displayed information
Security
With Media4Display the accesses to the digital signage network are managed and monitored, data exchanges can be encrypted; overall through Media4Display the digital signage network can be aligned with the security policies of the company
Supervision
Media4Display natively offers the central monitoring of all the connected equipment: displays, tablets, kiosks, PCs and laptops, printers…
Interactions
Media4Display can be used as a two ways communication channel by the bystanders to send information and requests from their workplace to the Digital Manufacturing platform (touch screens, RFID, scan of QR and barcodes, push buttons…)
Cooperation
Different teams are possibly interested in the usage of the Digital Signage displays.Media4Display offers a very flexible and clear way of organizing and optimizing their cooperation
Transform workers' experience in manufacturing thanks to digital signage
Industry 4.0 is a complex and fast evolving world. A close cooperation between suppliers is critical for the successful deployment of new and innovative solutions. To improve workers experience and restore employee engagement in shopfloors and warehouses, Telelogos closely partners with key software and hardware suppliers fo manufacturing. Telelogos Media4Display is designed to be easily deployed on to of legacy environments by professional system integrators working for demanding manufacturing corporations.