Digital signage for Healthcare
The potential of digital signage and Media4Display software within healthcare institutions is vast: real-time appointment updates, assistance locating rooms and wards, guidance through buildings and corridors, and operational support to staff.
In the healthcare sector, where IT infrastructure security is paramount, a secure digital signage solution like Media4Display can seamlessly integrate into the existing IT infrastructure, including access rights, security policies, and network architecture.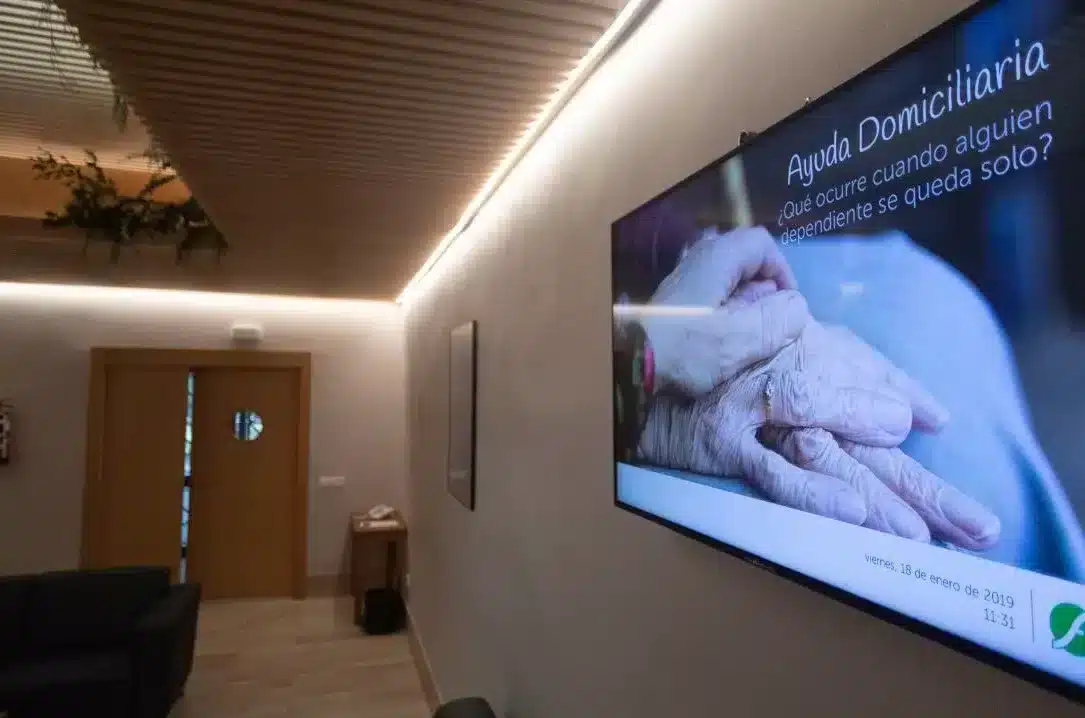 Primary Objectives of Digital signage in Healthcare

Inform and Guide
Digital signage is pivotal in information dissemination and engagement, benefiting staff and patients. It rapidly conveys announcements, directions, news, and entertainment through dynamic visual presentations and real-time updates. This approach promotes transparent communication, enhances engagement, and facilitates access to essential information, improving healthcare facilities' overall experience.

Staff Communication and Alerts
Digital signage is a crucial tool for communication and alerts within healthcare institutions, benefiting staff and patients. Thanks to its interactive, dynamic nature and real-time updates, it swiftly conveys critical announcements, alerts, health guidelines, and other preventive measures. This proactive approach enhances awareness responsiveness, improves understanding of necessary actions, and contributes to maintaining a safe and informed environment.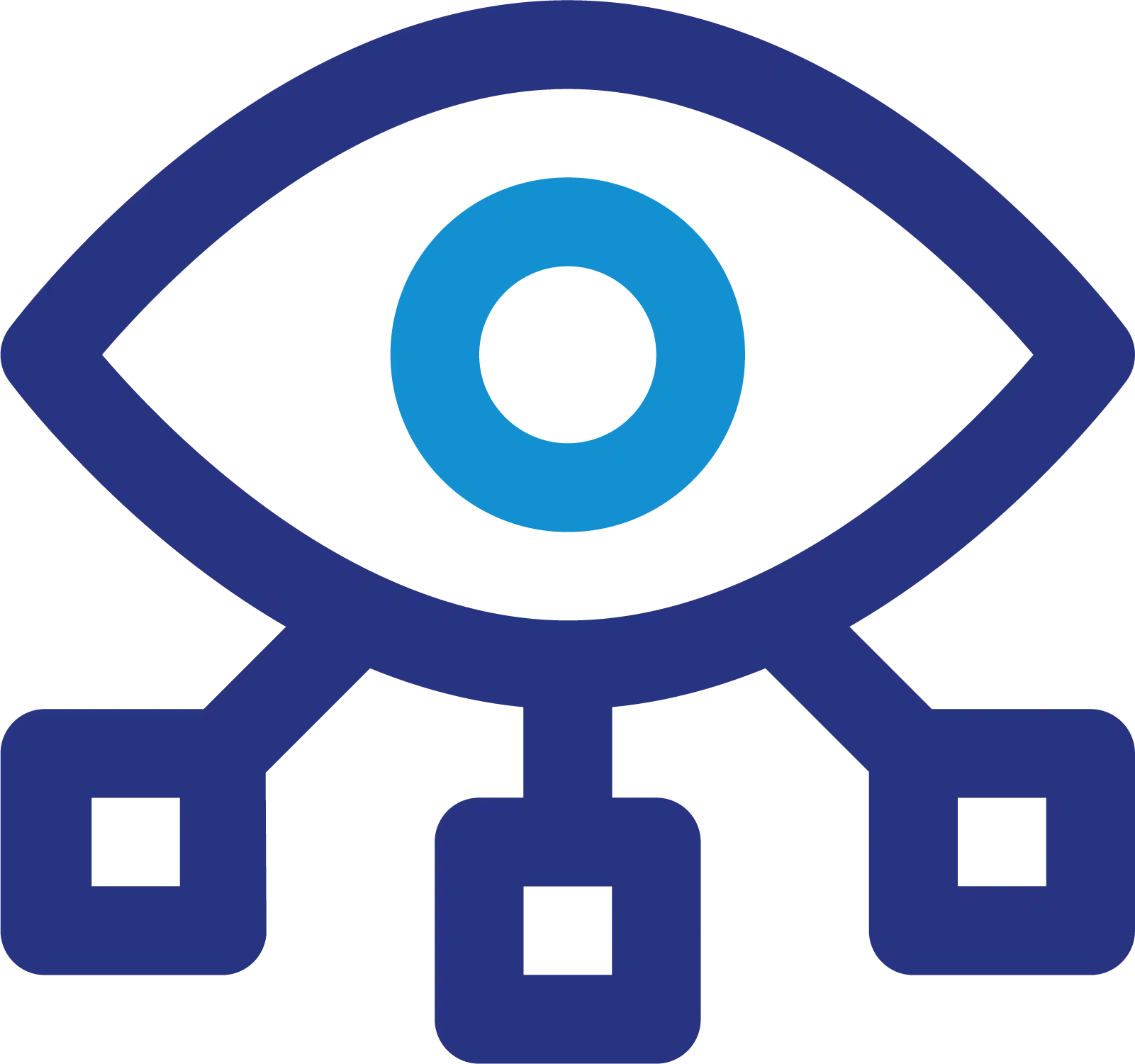 Entertainment
Digital signage goes beyond functionality to create a conducive atmosphere within healthcare facilities, catering to staff and patients. With diverse, engaging, and regularly updated content, it fosters a vibrant environment. From light-hearted news to playful health messages and quizzes, it creates an immersive and captivating experience. This contributes to brightening the surroundings, fostering positive interactions, and reinforcing the creation of a friendly and enriching space within healthcare facilities.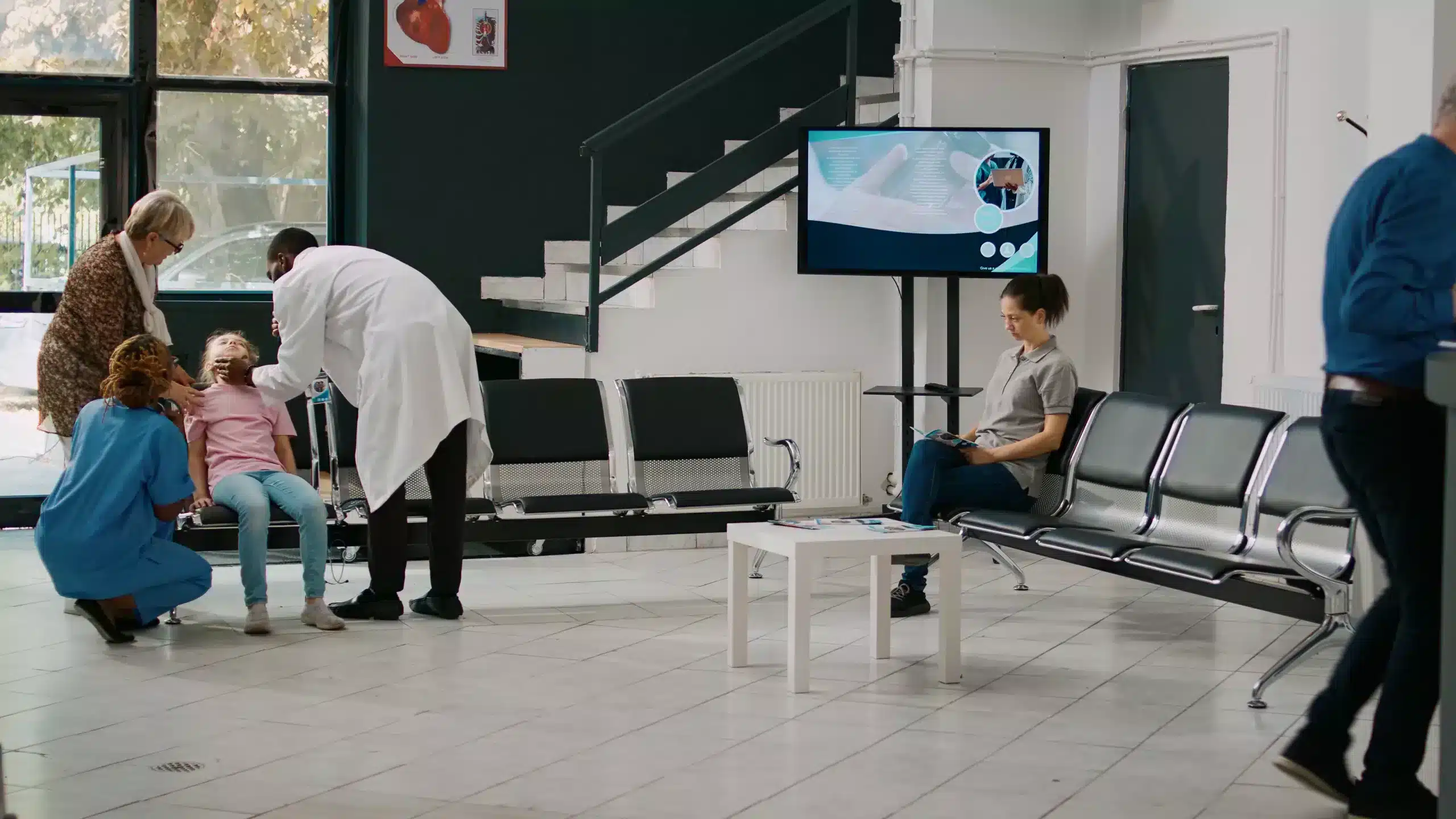 Digital signage for Healthcare Staff
Digital signage is revolutionizing the healthcare sector by offering invaluable benefits to medical personnel. Through real-time information, digital signage facilitates internal communication, optimizes the management of medical resources, and ensures the swift transmission of critical data. This innovative system enhances operational efficiency, allowing healthcare professionals to focus on delivering quality care and improving coordination within healthcare facilities.
Internal Communication
Digital signage plays a crucial role in internal communication within the healthcare sector, offering a versatile platform for disseminating various information. Whether it's announcing festive events like Christmas celebrations, the hospital's anniversary, and other special occasions or sharing more formal news like staff meetings or the arrival of new employees, dynamic screens help keep staff informed in an engaging and accessible manner. This approach facilitates the swift transmission of important announcements while adding an informal touch to break rooms, locker rooms, and cafeterias. By adopting digital signage, medical facilities promote effective internal communication and strengthen team cohesion.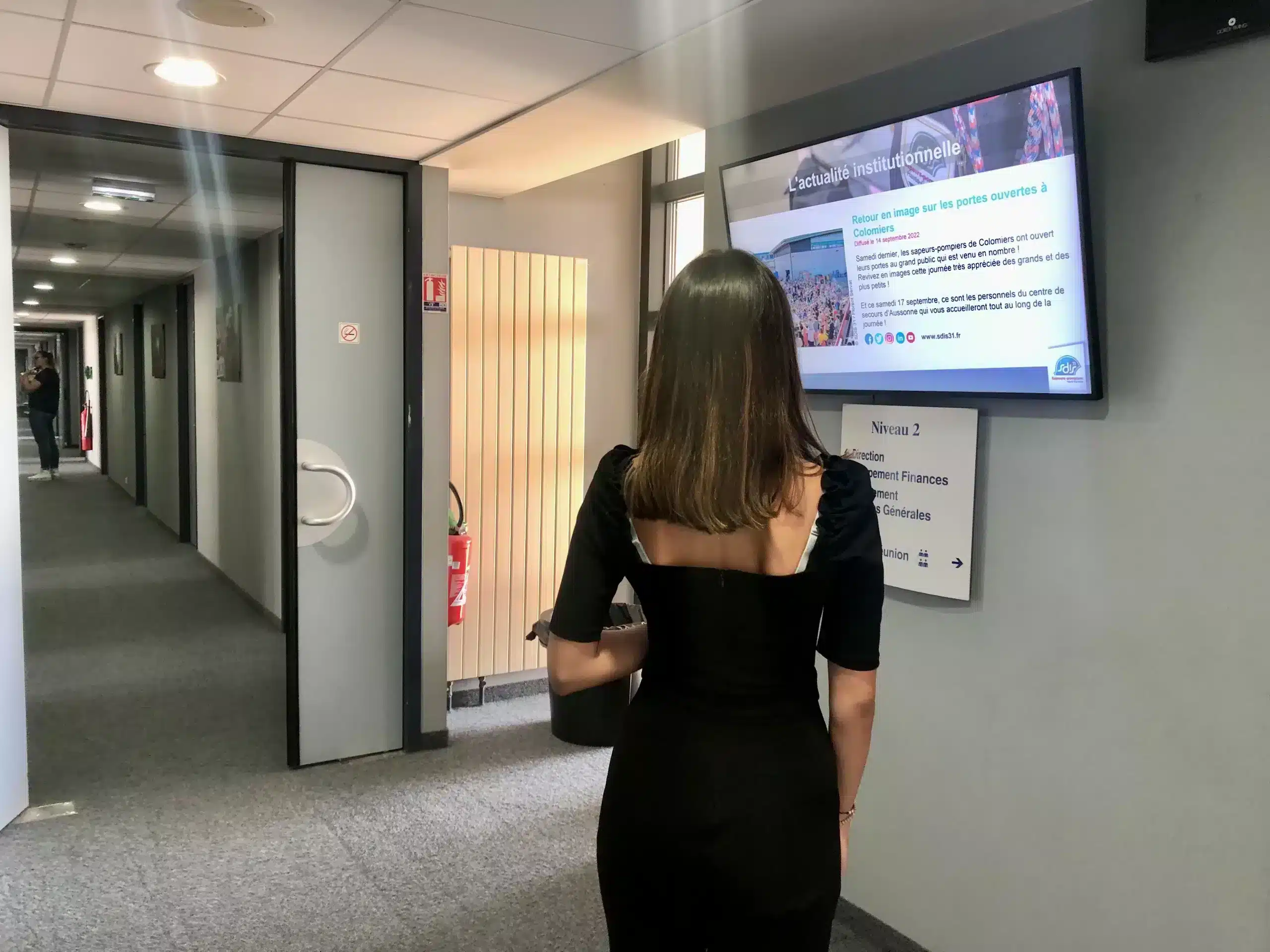 Team Scheduling
Digital signage is vital for ensuring effective team scheduling within the healthcare sector. With real-time information displayed on screens, medical institutions can showcase work schedules, team assignments, and staff availability. This approach keeps employees informed about current schedules and provides managers and supervisors with a platform to quickly adjust schedules in case of unforeseen needs. Digital signage streamlines team coordination reduces scheduling conflicts, and optimizes human resource management.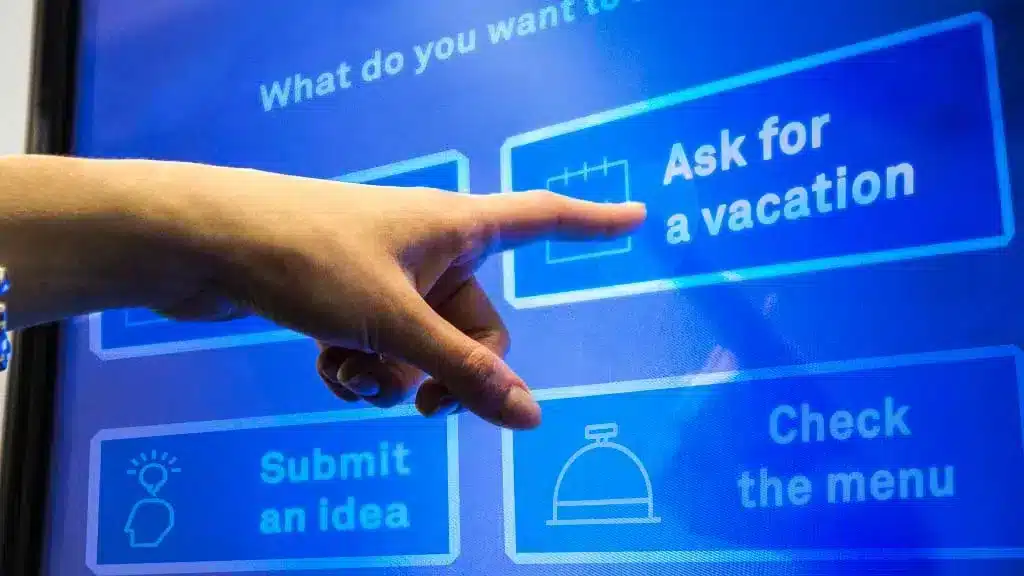 Equipment/Procedure Reminders
The impact of digital signage is particularly evident when it comes to reminding medical teams about new procedures and equipment. Thanks to constantly updated screens, healthcare facilities can rapidly disseminate reminders regarding the latest medical technologies, new equipment, and required procedures. This approach ensures that all staff members are informed of crucial updates, facilitating consistent and secure implementation of new practices. Digital signage simplifies information dissemination, reduces the risk of forgetfulness, and ensures compliance with high industry standards.
Emergency Medical Code Distribution
Digital signage can be used as a vehicle for the instant distribution of emergency medical codes. This innovation triggers a visual alert network (across the entire screen network or a portion), spreading color-coded signals such as blue for cardiac arrest, yellow for a missing patient, or orange for a mass influx of patients. Digital signage enables immediate propagation of these critical signals throughout the facility. At a glance, medical teams are informed and ready to act with increased speed and coordination. This high-level visual synchronization propels healthcare toward maximum responsiveness, enhancing patient safety and reinforcing staff's unwavering preparedness for critical situations.
Time Savings
Digital signage is an effective solution to minimize staff time losses during interactions with patients and visitors. Digital signage instantly addresses common questions from patients and visitors by providing essential information such as facility layouts, consultation schedules, and real-time wait times. This significantly reduces the need for manual searches or waiting to obtain basic information, freeing up staff for more in-depth and meaningful interactions.
Facilitating the Patient and Visitor Healthcare Journey
Digital signage transforms the patient and visitor experience in the healthcare field. Real-time information simplifies navigation, provides clear directions, and enhances understanding of medical services. Patients are informed about available services, participating physicians, and pre-appointment instructions. This innovative tool enhances comfort, reduces anxiety, and offers a more transparent and personalized care experience.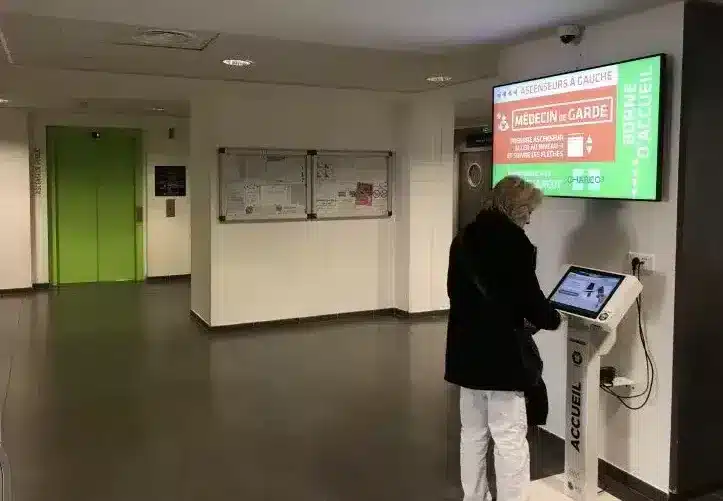 Orientation and Guidance
Digital signage in the healthcare sector is an essential guide for users, simplifying navigation within medical facilities. Patients and visitors can instantly access detailed facility maps, information about available services, and directions to various departments through interactive screens and touch-sensitive kiosks. This approach eases navigation, reduces confusion, and provides a smoother experience. Digital signage becomes a trusted companion, ensuring precise and swift guidance for users.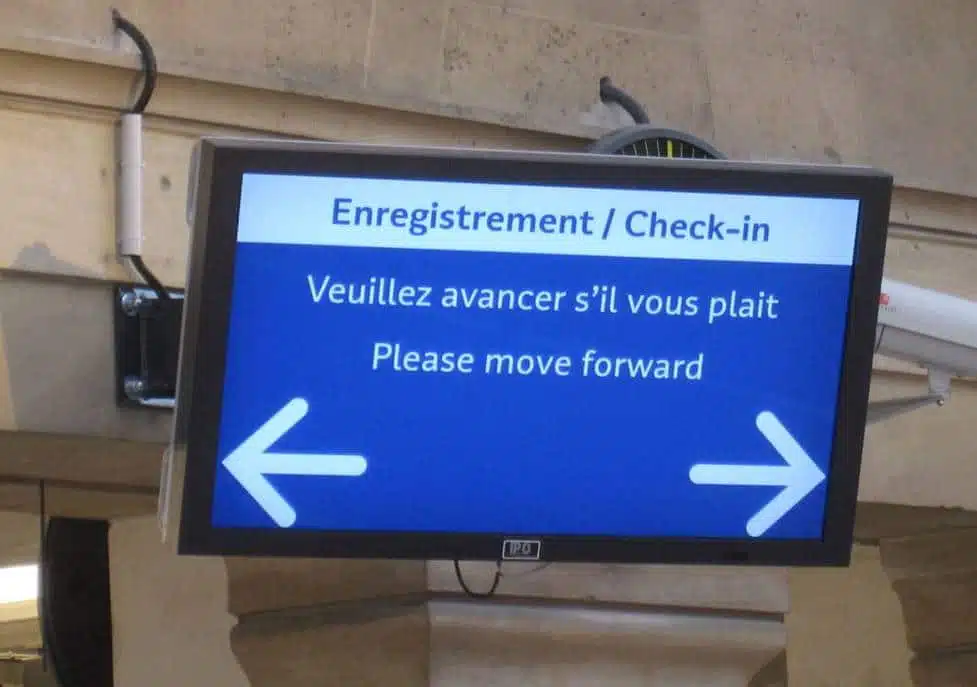 Queue and Appointment System
Patients can instantly access information about queue status and expected wait times using digital display screens. Appointment management systems sync with digital signage, providing continuous visibility into appointment statuses, available practitioners, and their specialties. This approach reduces uncertainty, decreases wait times, and enhances patient satisfaction through a seamless, transparent, personalized experience.
Menu boards
Digital signage extends its effectiveness to healthcare facility cafeterias through menu boards. These screens allow users to instantly view daily menus, meal options, and nutritional information. At a glance, patients, visitors, and staff can make informed decisions regarding their food choices. Moreover, these menu boards can be updated in real time to reflect menu changes and availability. This approach improves user satisfaction and promotes healthy eating habits.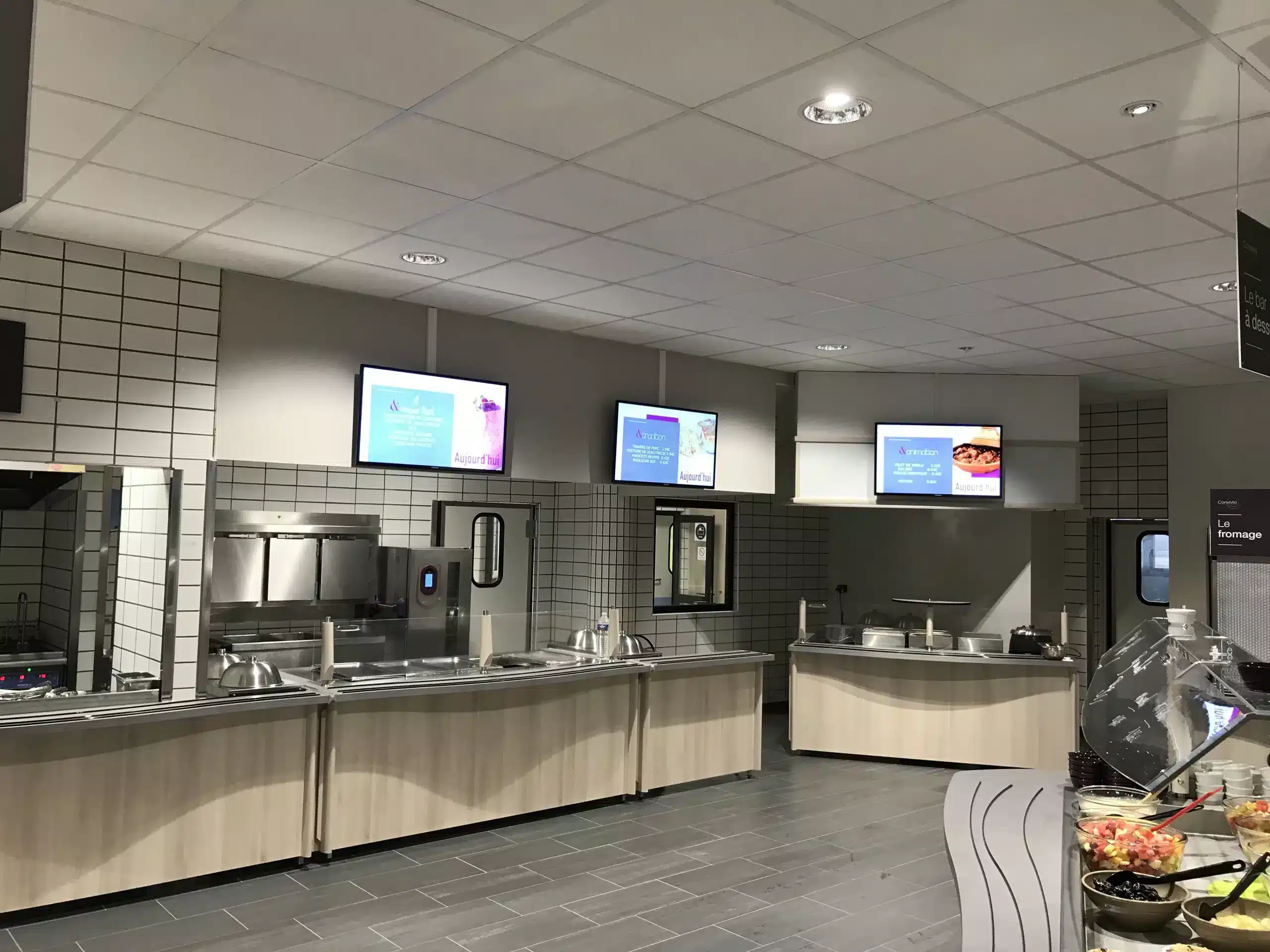 Entertainment
Digital signage goes beyond functional boundaries and adds entertainment to healthcare facilities by broadcasting various content. Through these screens, patients and visitors can stay informed and entertained. From local news to weather forecasts to important public health messages, digital signage creates a diverse information flow that enriches the overall experience. Digital signage thus transforms into a versatile channel, contributing to a positive atmosphere and awareness within healthcare facilities, extending beyond their primary medical mission.
Useful Information
With real-time updated screens, patients can access a wealth of practical information, such as public transportation schedules, cafeteria hours, traffic conditions, weather forecasts, and much more. This centralized approach makes life easier for patients by providing them with relevant information at their fingertips, contributing to an overall more pleasant, stress-free, and serene experience.
Advantages of Our Digital Signage Software
Broadcast on all types of screens

Broadcast on a large number of screens

Display data extracted from a database or your business tool in real-time (appointments, medical alert codes)

Broadcast all types of content (videos, RSS feeds, PDFs, widgets, etc.)
Automatically send messages, scheduled or triggered

Manage all equipment and software centrally

Optimize flows with periodically synchronized standalone players

Thanks to the built-in device management in the digital signage software, manage interactivity on touch screens by displaying loops when not in use.
They use our digital signage in their healthcare facilities.