Digital signage and Internal Communication
Internal communication is a significant challenge for any organization. Digital signage offers an easy and efficient way to distribute institutional messages to all company employees.
With an ergonomic web interface, digital signage software lets you broadcast personalized multimedia content to your screens remotely and in real time, enhancing internal communication.
User-friendly and connected to your information system, digital signage software enables you to automatically disseminate your internal indicators, deliver live speeches, or issue alerts.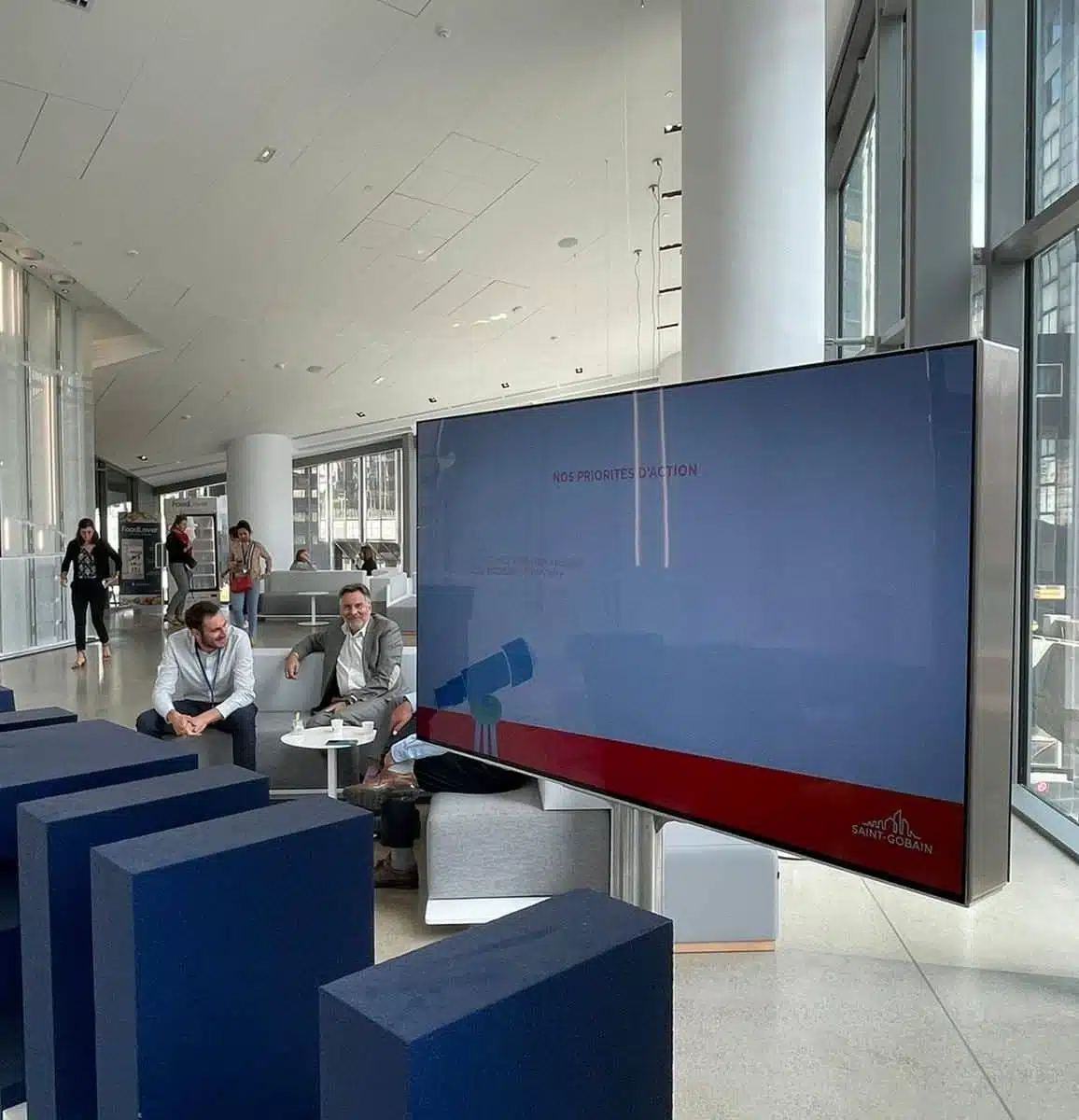 Key objectives of dynamic internal communication

Inform
Through dynamic in-company communication, disseminate information to your visitors and employees across all locations and sites within your organization.

Welcome and Unite
Gather your employees and welcome visitors by broadcasting content related to the company's social, ethical, and cultural goals or economic and financial results.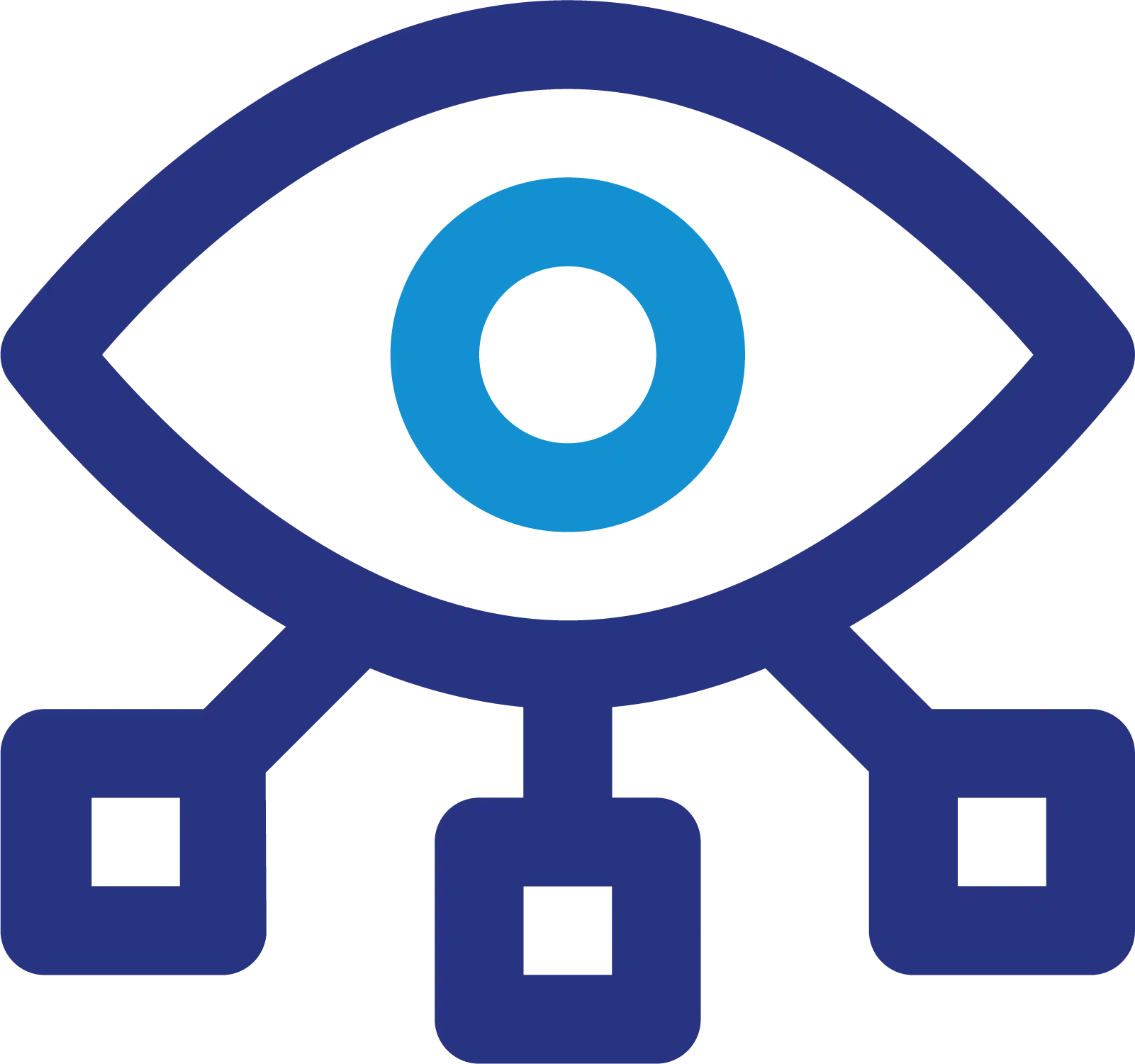 Enhance Your Image
Present a modern image of your company with engaging multimedia content and eliminate the need for paper posters. You strengthen and clarify your identity by standardizing your internal communication on all your digital screens.
Where should you place your internal communication display screens?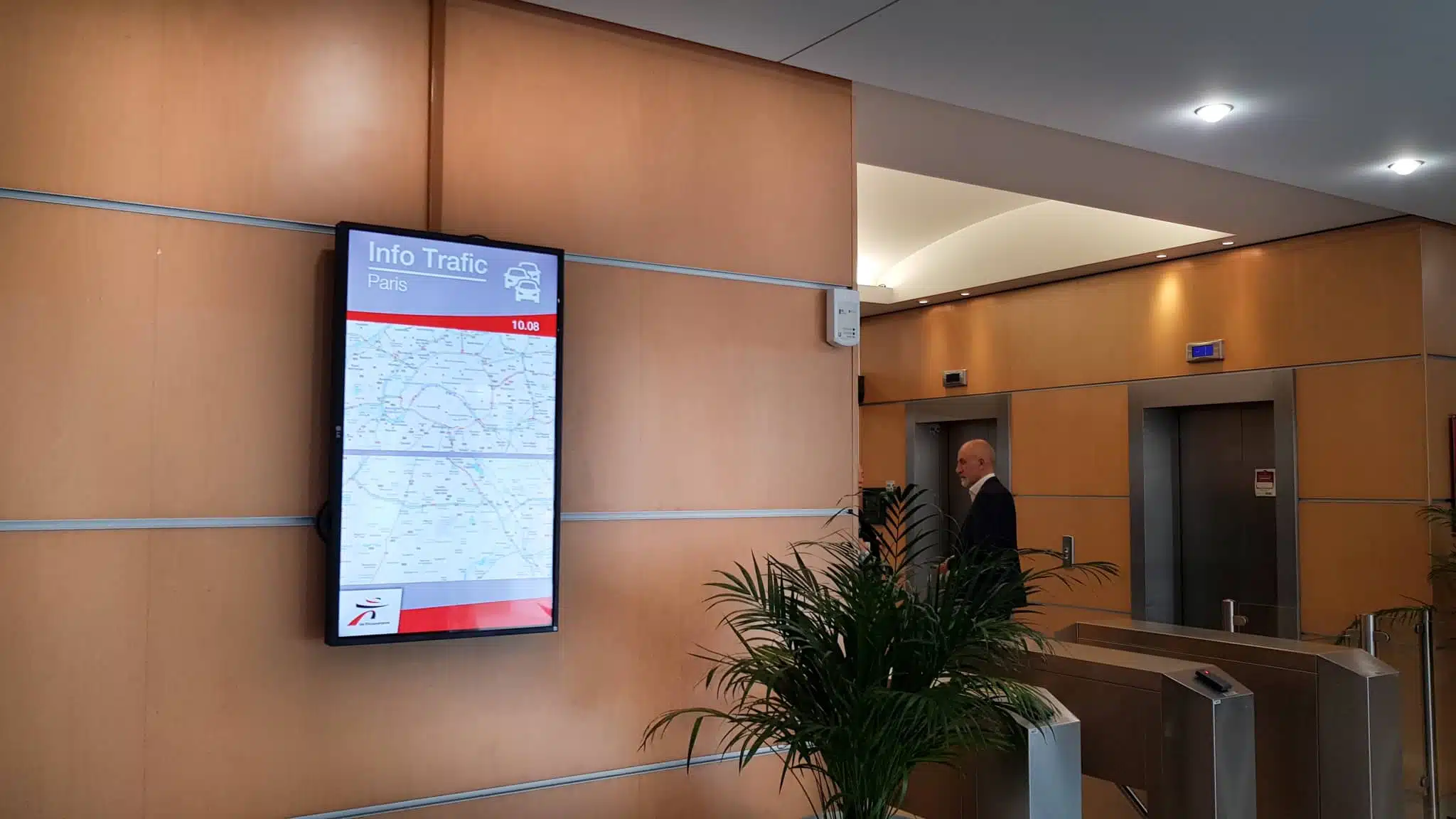 Elevators are strategic locations for broadcasting your internal communications or guiding individuals.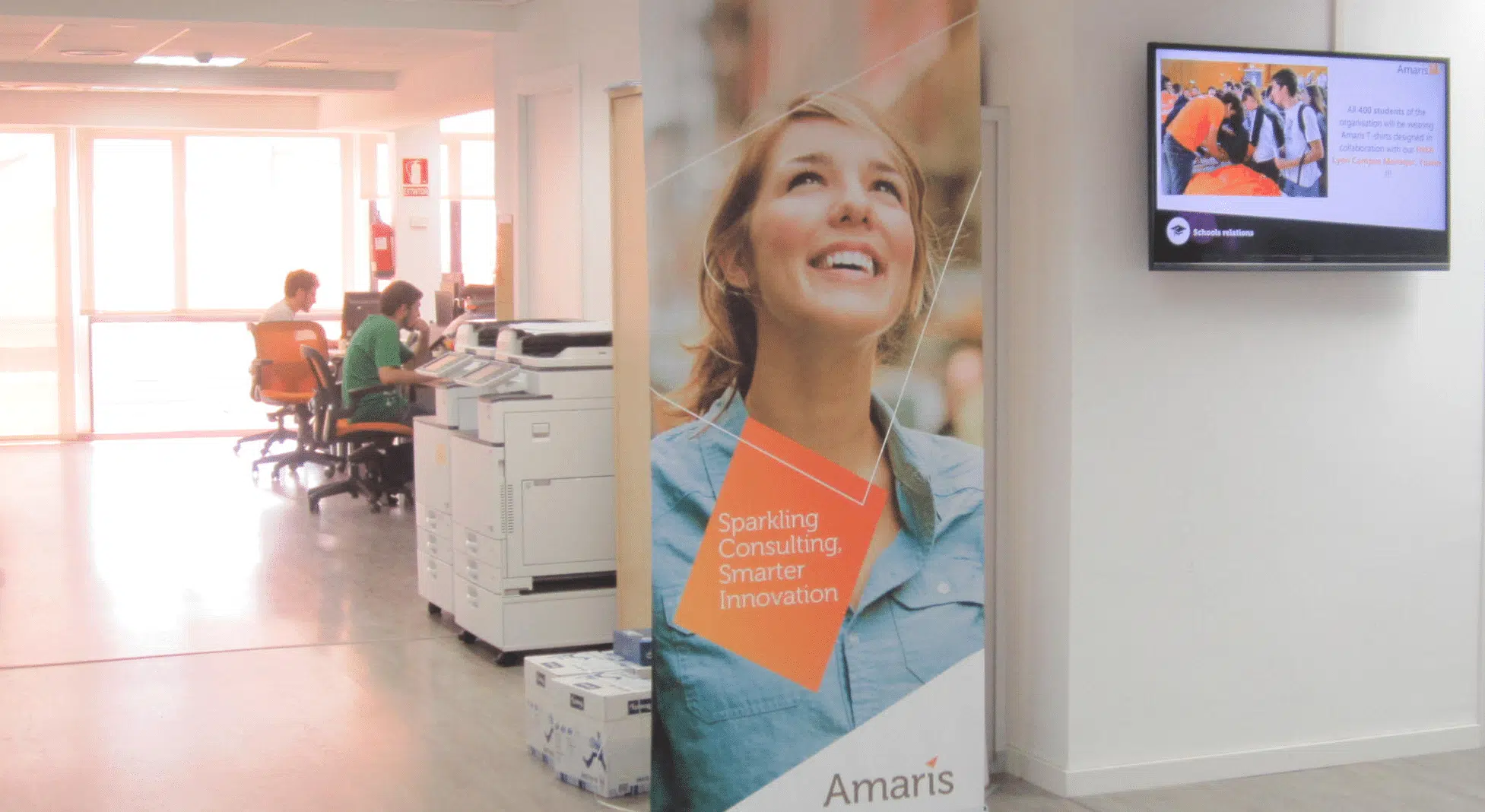 Even within dedicated workspaces, broadcast your institutional information.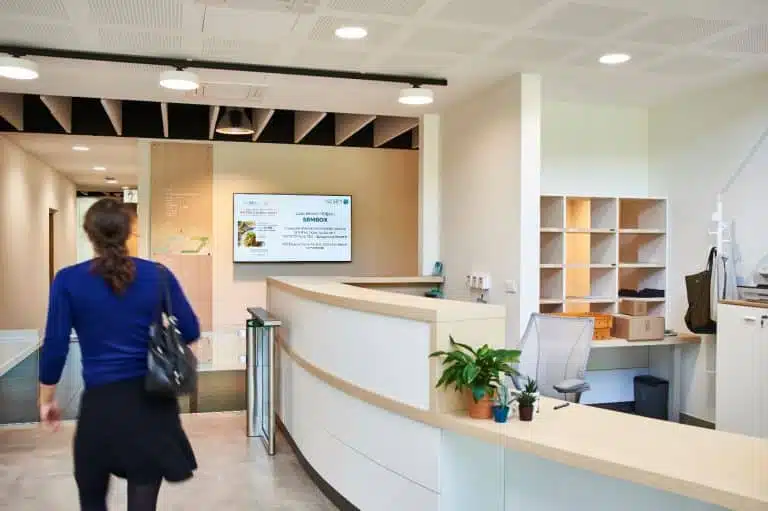 To welcome individuals to your organization, guide them, or provide information.
Displays in Passageways and Waiting Areas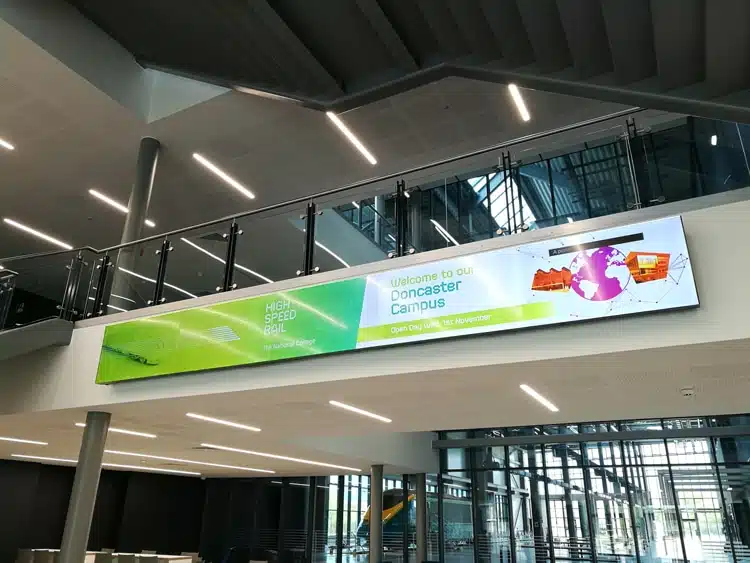 To facilitate the waiting and movement of individuals within your organization using digital screens.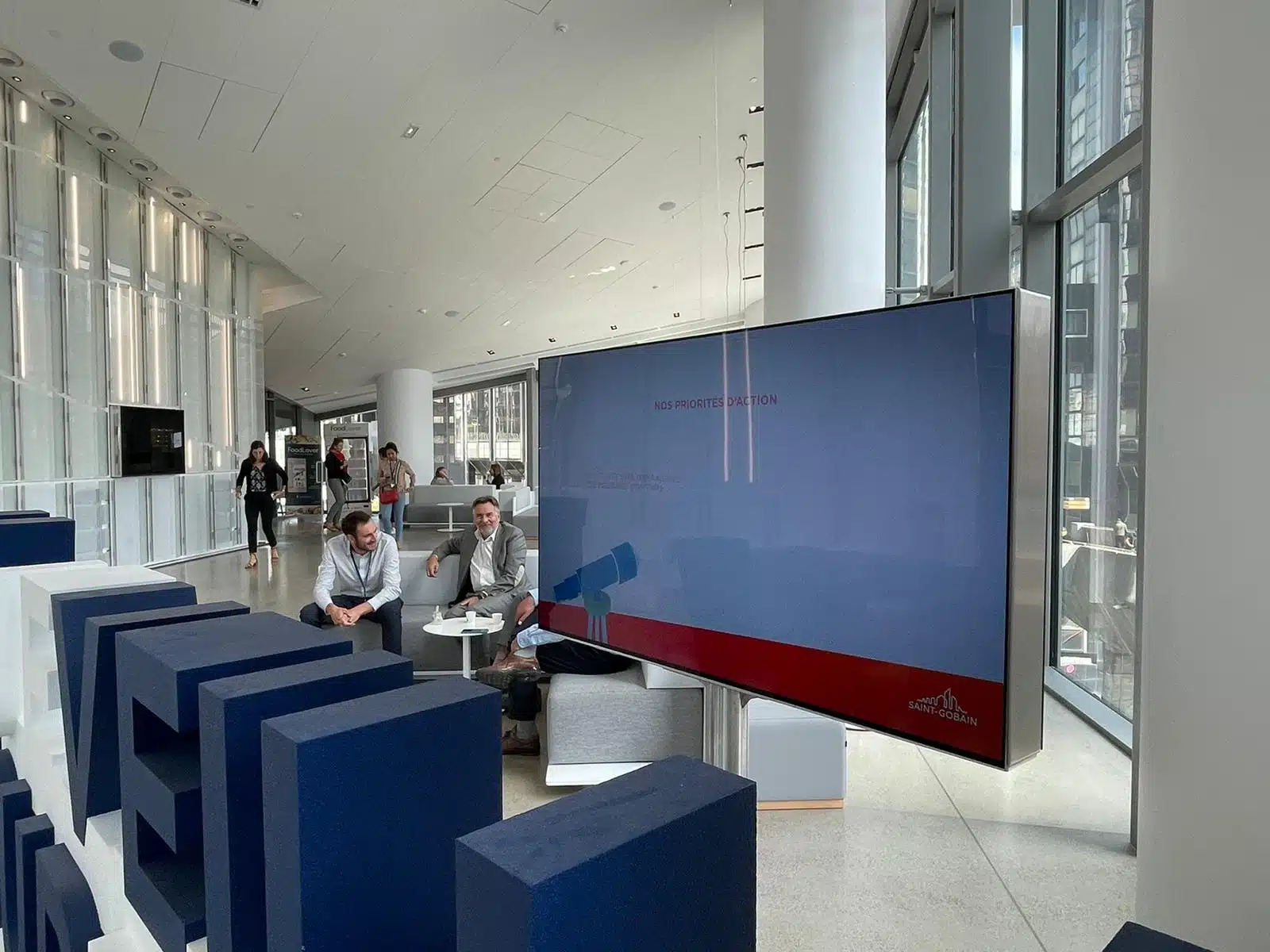 Dynamic Internal Communication for Your Visitors
Digital signage has become essential for companies looking to offer a unique and memorable visitor experience to their visitors, clients, and partners. With this technology, businesses can broadcast dynamic and interactive institutional information about their history, products and services, achievements, and more to provide quick access to information.
Providing Company Information
Digital signage can inform visitors, partners, or clients about the company's activities and life. Screens can display videos, images, and text to provide a comprehensive company overview.
Guiding Visitors
Digital signage can direct and guide visitors to the reception, various departments, meeting rooms, or other essential company areas, making their passage through the company more accessible and leaving them with a positive impression.
Promoting Products and Services
Internal communication through dynamic screens can promote the company's products and services by presenting attractive images and videos. Visitors, partners, or clients can thus discover the various products and services offered by the company.
Providing Practical Information
Screen-based institutional displays can provide practical information to visitors, partners, or clients, such as opening hours, directions, public transportation information, company maps, and more.
Internal Digital signage for Employees
Digital signage is valuable for internal communication and information among company employees. This technology lets employees easily and quickly access key information, such as news, events, company policies, and procedures. By promoting communication and collaboration, digital signage can also help strengthen team spirit and improve employee productivity.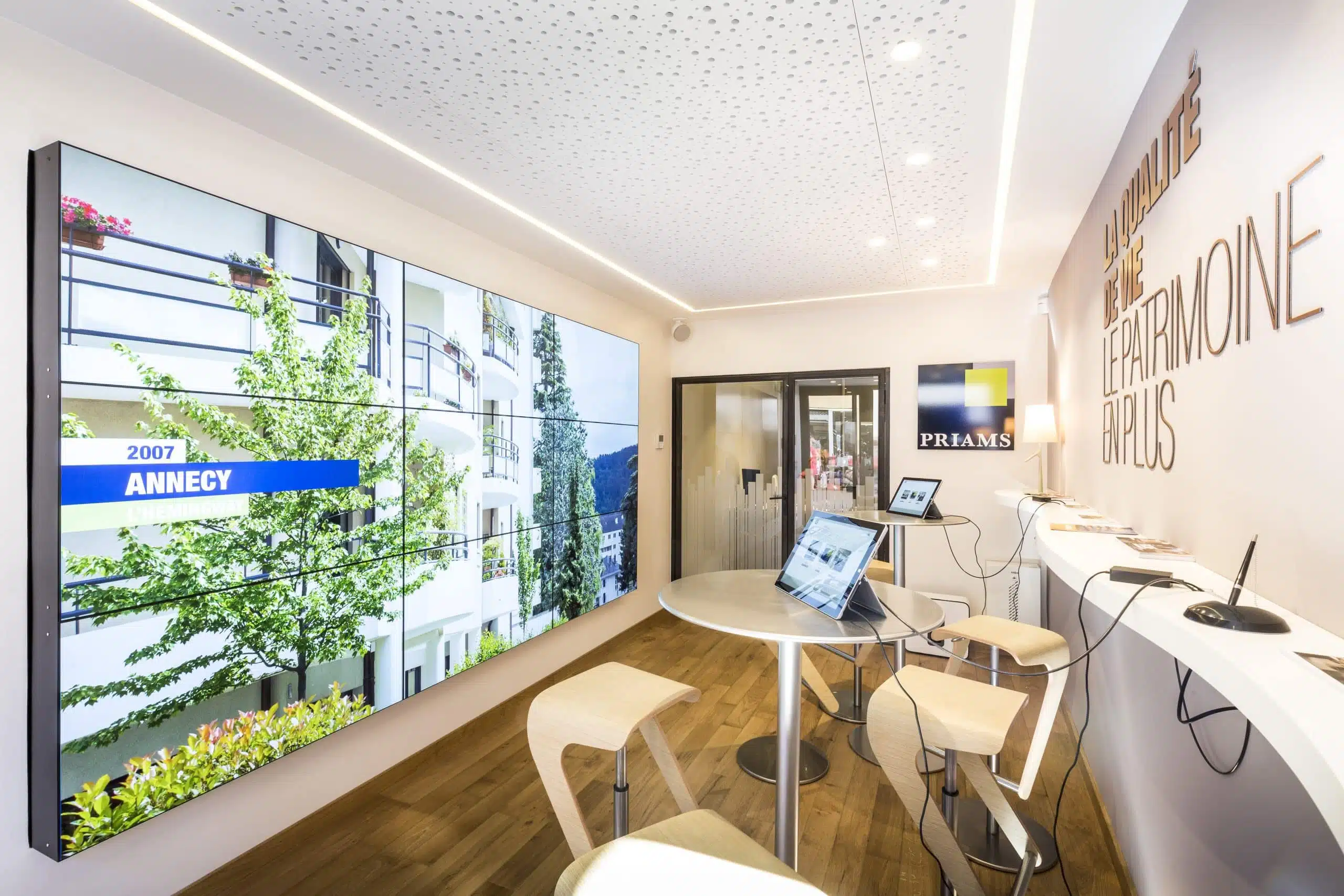 Broadcasting the Latest News
Dynamic display screens can broadcast the latest news and updates from the company, such as financial results, new projects, company achievements, and more. This allows employees to stay informed about the latest company news.
Annoncer les évènements à venir
Digital signage can be used to announce internal events, such as training sessions, upcoming trade shows, meetings, seminars, and company events. This keeps employees informed about important upcoming events.
Displaying Key Performance Indicators
Internal digital displays can be used to show key performance indicators for the company, such as sales, productivity, customer satisfaction, and more. This allows employees to see real-time company results and their contribution to these results.
Enhancing Inter-Employee Communication
Digital signage can enhance internal communication among different departments and teams within the company. Screens can display collaborative messages, announcements of ongoing projects, brainstorming results, and more.
Broadcasting Alerts
Digital screens can disseminate alerts related to cybersecurity, fire, evacuation, or safety instructions to convey information more rapidly.
Facilitating Integration and Promoting Well-being
Digital signage screens enable newcomers to quickly become familiar with their new workplace by displaying internal communication messages, such as directions to strategic locations.
Likewise, digital signage can disseminate motivational messages and inspirational images to create an atmosphere that motivates employees and enhances productivity.
Advantages of Our Internal Communication Display Software
Prioritize content based on its importance

Enable different levels of access and modification

Centralize and schedule content distribution
Manage content both locally and globally

Broadcast across a vast network of diverse screens

Manage interactivity on touchscreen displays
They employ our dynamic display for their internal communication