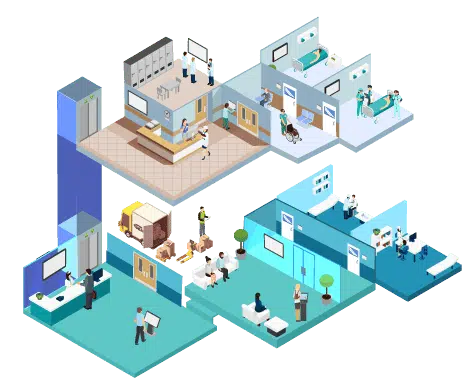 MDM software for healthcare professionals
Mobile equipment for healthcare staff so that they can access patient data, mobile solutions for administrative or maintenance teams, provision of tablets to patients so that they can access entertainment programs, implementation of information terminals for the public... a multitude of devices for staff, patients or carers who access healthcare establishments. It is therefore crucial to be able to secure them, manage them remotely and provide in-service support.

Guarantee the security of access to devices, for the staff, patients and carers

Monitor devices in real time to guarantee the security of devices, their data and their smooth operation 24/7

Be able to manage, administer and take action at any time across the entire inventory
Features
Application kiosk
Defining security settings
Remote installation of new applications and updates, security patches, etc.
Hardware and software inventory
Provisioning security settings and system updates
Monitoring and supervision of device status
Remote control
Geolocation/geofencing
Data synchronization
Management of device compliance
Use cases
Information terminal: restriction of access to only applications and websites authorized by the establishment (allow list/deny list) and preventing patients/carers from accessing system settings.
Forcing a password policy for healthcare staff to strengthen the security of access to their devices.
Securing access to tablets by disabling access to the USB port.
Geofencing healthcare staff's tablets and smartphones. If the device leaves a certain perimeter, alarm and data wipe.
On tablets provided to patients, installation of the entertainment applications they have ordered, then complete reset of the equipment (uninstalling applications, cache and data).
Automatic synchronization and updating of building plans and technical maintenance notices on the tablets of general services teams.
Supervision and compliance management: administrator can view devices that are outside criteria defined as critical for their professional use (application version, last login, etc.).