"More than Digital Signage"
Media4Display digital signage software allows you to communicate in real-time with your employees, your visitors and your clients in all kinds of places: businesses, points-of-sale, restaurants, production workshops, hospitals, etc.
With Media4Display, you use a Web browser to create, manage and distribute multimedia content on a network of screens. You can also display information extracted automatically from your databases or business applications.
With its powerful back office, the solution enables complete management and security for screens, players, tablets, kiosks and other devices. Media4Display is available in license mode (On Premise) or in the Cloud (SaaS).
Our digital signage software functionalities

Import your media and create digital content.

Assemble, organize and schedule your content into sequences.

Display your content on your targeted devices: screens, video walls, tablets, kiosks, totems, etc.

Media4Display includes a technical solution for managing screens, players and other devices.

The API enables automatic, event-triggered initiation of content broadcast.

Enrich your content with Media4Display's external data sources: internet streams, information from your databases or business applications.

Centralized and local management
Delegate all or part of broadcast management to local contributors.

Monetize your digital signage network thanks to Media4Display's campaign module.
Why Media4Display as your digital signage software?
Ergonomics
Based on the latest Web technologies, Media4Display allows you to easily and simply broadcast your content on your screens.
Openness
Media4Display is equipment-independent and compatible with Windows, Android and Tizen operating systems. Available in the Cloud or On Premise, you choose the model that works for you.
Security
The security of our solutions lies at the heart of our concerns, and we make sure to provide you with reliable, robust software that meets top international standards.
Device
management
Media4Display is the only solution that natively integrates Device Management software. The back-office enables complete management and control of screens, players, tablets, kiosks and other terminals.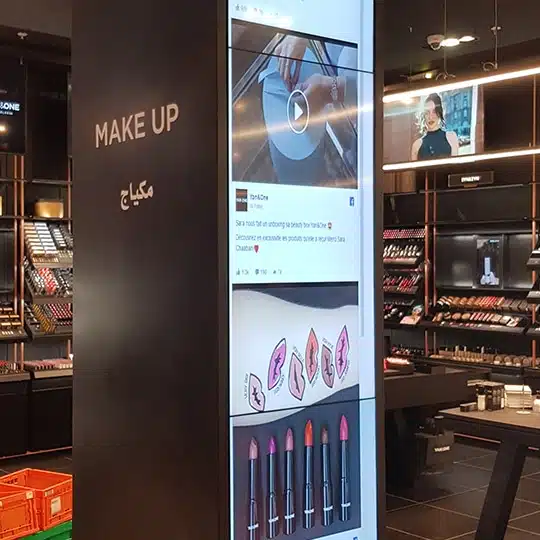 Support
Whether through our network of integration partners or directly with our support team or our solutions experts, TELELOGOS will support you through implementation and monitoring of your project.
A digital signage software that can be used in many areas
Applications of our digital signage software
Media4Display technological partners