Easily use the multi-screen synchronisation function
15 March 2022
The multi-screen synchronisation option with digital signage gives you a high-impact result in just a few clicks!

Digital signage can be used to share content on a single screen or on multiple screens. No matter how many screens you have, they can all simultaneously broadcast synchronised content. Synchronisation is possible for all types of content (image, video, template, etc.).
The visual effect of synchronised content is a simple way of obtaining a higher quality result that will be more attractive to your visitors. Screen synchronisation lets you easily create the wow factor of digital signage!
Examples of multi-screen synchronisation with digital signage
Synchronising content across multiple screens gives you a whole range of configurations and rendering options depending on the result you want. It is ideal for a video wall, as well as many other solutions! Here are some examples of use.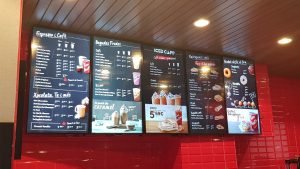 Fast food (menu board)
When displaying menus on screens, like in a fast food restaurant, there is often different content to broadcast onto each screen, which needs to be grouped by theme (e.g. all drinks, then the different meal deals available, and finally all individual options).
In retail
The use of synchronised content on different screens is common and useful in a number of public places like stations or shopping centres.
All screens in part of a shopping centre or each screen in front of the tills in a supermarket can be synchronised to broadcast the same content at the same time (which uses inter-screen synchronisation with the content duplication principle).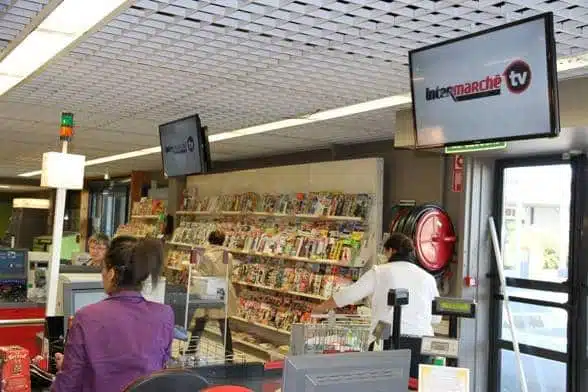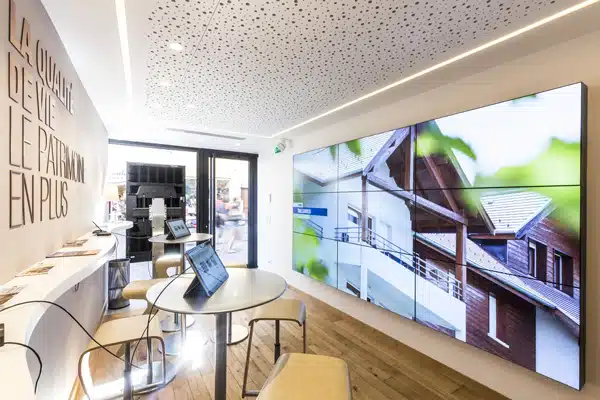 On a lobby wall (in the corporate sector)
Brighten up your lobbies or waiting rooms with a video wall! You could broadcast important information about your business, local news and add welcome messages for your visitors. Mix up the content projected on all your screens with dissociated screen-specific content.
Window displays
Make your window display more attractive by playing with multi-screen content! Display your latest promotions, best-selling product or just a large-scale version of your brand image!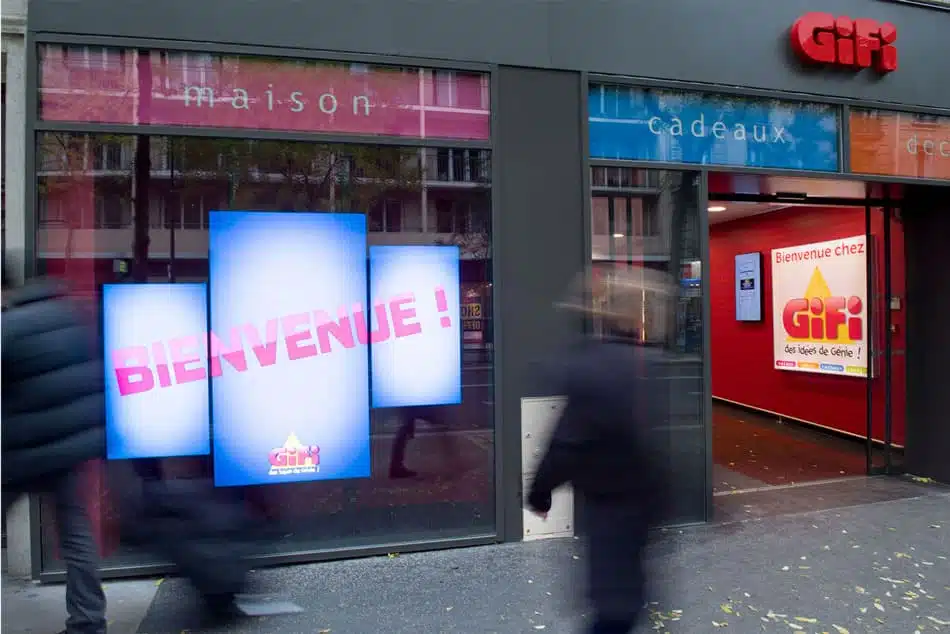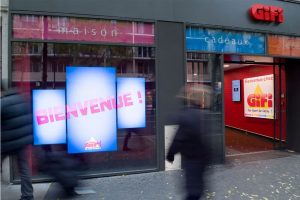 Potential synchronous start configurations
Synchronous media starts offer many possibilities for playing with your content.
Broadcast identical content on all screens
Screen synchronisation can broadcast the same content across all your screens at the same time. The same content is replicated on each screen and broadcast simultaneously.
Broadcast alternating content
Screen synchronisation can broadcast 2 (or more) different pieces of content on 2 (or more) screens close to each other at the same time. Content A starts on Screen 1 while Screen 2 is playing Content B, and then vice versa.
Broadcast animated content that moves from one screen to another
Generally the most sought-after effect for the wow factor of digital signage: multi-screen synchronisation can broadcast animated content that starts on one screen before moving onto a neighbouring screen and continuing. The screens broadcast their own content, one after the other.
Broadcast extended content on a series of screens
Finally, screen synchronisation can be used to broadcast a single piece of content that is extended across a series of screens. This is most commonly referred to as a "video wall". The content is divided into as many parts as the number of screens configured. It is all broadcast simultaneously to visually recreate a single piece of content.
This configuration is often alternated with different content broadcast on each screen between 2 sequences, in order to increase the visual impact.
Play around with all the possibilities of digital signage to increase the impact of your communications. Whether you want to display the same content at the same time on different screens, or a logical (but different) sequence of content that ties in together on nearby screens, try a range of content and configurations! For example, alternate using a single piece of content on all your screens with animations that travel across the screens.
Media4Display, the digital signage solution from Telelogos, meets all your screen synchronisation needs!
The digital signage software, Media4Display from Telelogos, meets all your multi-screen communication needs. Media4Display now comes with screen synchronisation functions. Use the Media4Display web interface to configure your content as usual.
The Media4Display content synchronisation option can be enabled very easily without any add-ons. It is included in the interface (no specific rights), can be used immediately with your existing hardware, and needs no specific content (functions with any type of pre-existing content).
The Media4Display solution offers great flexibility, giving a similar result whatever your configuration: single-stream or multi-stream player or several players for all your screens, Windows and/or Android players, supported SoC devices, etc.
If you already have screens for your digital signage, then you have everything you need! No change of hardware or additional configuration (or specific cables). No additional cost. With Media4Display, everything happens directly in your interface.
Do you want to find out more about managing synchronised content on our Media4Display solution?
Easy steps to use synchronous media start on different screens
Configure your synchronous screens on Windows or Android
To use the synchronous start function via your digital signage solution, you will first need to configure a master player and slave players. The master player will control the synchronisation.
Once the players have been configured, the "Synchronous start" option will be available on your console.
Plan your synchronous start content
Your players have now been configured as master and slave players, and the synchronous start option has been enabled. You can now use your console to select synchronous start on the sequences you want. Media broadcasting will then be synchronised between logical screens within a group of screens.
Do you still have questions about managing synchronised content?