Giada F106D player now certified for Media4Display
23 March 2022
The Giada F106D digital signage player is an ultra-compact media player, offering high graphic performances thanks to its  Intel 10nm Jasper Lake processor-Celeron N5095/N5100. The performance of this CPU is increased over 18% compared with that of the last generation.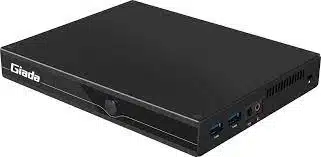 It offers a new enriched connection options, allowing you to connect up to two 4K screens. This makes it a great choice to run our Media4Diplay digital signage software on.
In addition, with the GIADA/Telelogos digitally signed add-on, users will be able to exploit the complete set of administration/management tools available within Media4Display, and for instance, use the new synchronous content playback options that Media4Display 5.5 is now offering.
To know more about the synchronous screens options, you can read our dedicated article on this subject!