Manufacturing: How digital signage allowed Dirickx to improve its productivity

Dirickx is the French leader in fence and gate construction. Dirickx belongs to the Picot group, with 11 production sites in France and Europe. Dirickx markets its products through GSB (Leroy Merlin, Kingfisher), landscapers, and online through its Districlos platform. The main site of Dirickx, based in Congrier (53), employs 300 people and has a production organized in 3 shifts.
The goal? To improve communication in production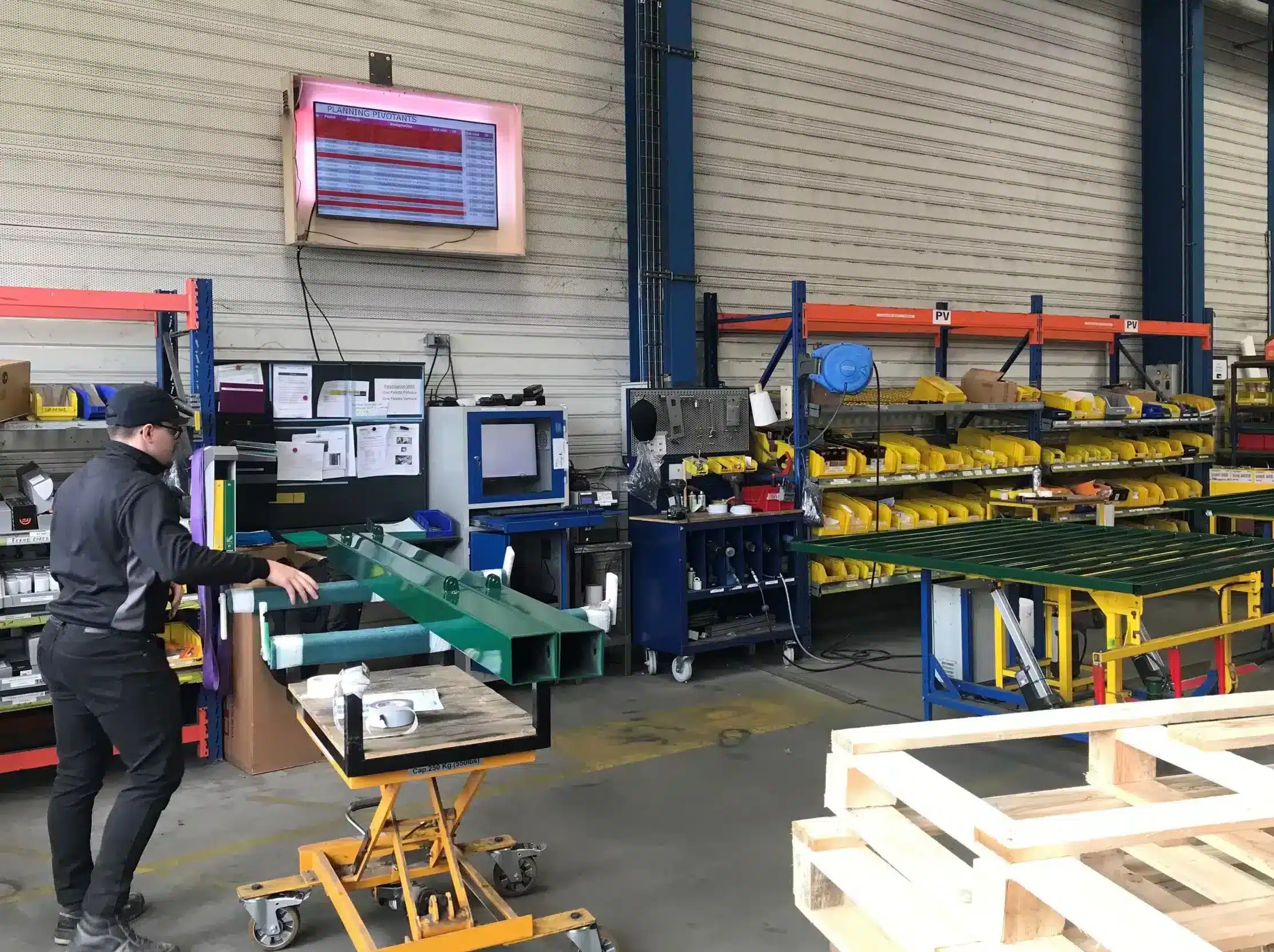 Dirickx implemented SAP in 2013 and uses this solution extensively through their ERP and WMS. This provides a wealth of data. However, this data is complex for operators to access.
Indeed, much production information is still communicated through paper prints or only available after searching on a PC. This leads to time losses in information retrieval and complicated updates.
The implementation of a dynamic display solution aimed to, in addition to reducing paper communication, facilitate the transmission of useful information to the staff without the need for search or manual intervention on their part, and in a visual manner: communicating the right information, in the right place, at the right time.
Dynamic display in the workshop
The workshops' first implementation was carried out to display real-time production orders.
The manufacturing of a gate consists of three stages: welding, powder coating (painting), and assembly. For each stage, there is a production order (PO). Previously, these POs were printed once a week on a multi-page paper listing. Moreover, the operators did not know whether these POs were ready for the assigned stage. In the assembly workshop, for example, each person had to look in the paper listing to find out which gates needed to be assembled. Then they had to check in the storage area if the respective gates had been painted in the previous stage and were ready for assembly. Finally, they had to cross out the completed POs on the paper listing as they went along. These were tedious, time-consuming operations that were potentially prone to errors.
The need, therefore, was to extract data from the SAP system, transform this raw data into visuals on the screens (indicators, tables, etc.), condition their display and appearance (color, blinking, etc.), sequence the information, and broadcast it on the screens.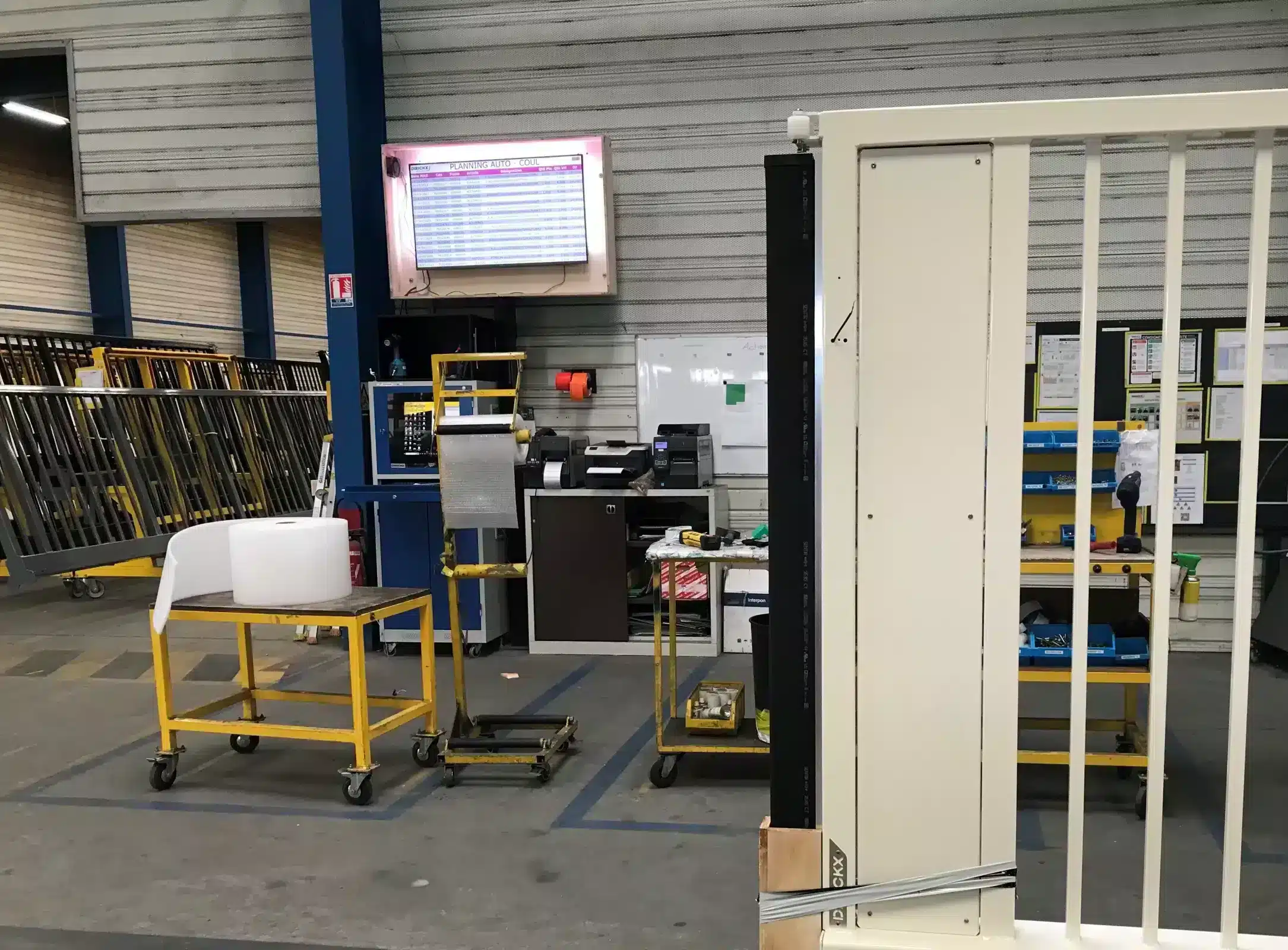 Integrating a dynamic display solution allowed for real-time visualization of different production orders ready to be processed on the screens: lines where the previous stage (painting) has not been completed, are displayed in red, and the ready-to-assemble orders are displayed in white. Additionally, the number of posts and gate leaves to be assembled, as well as the production date of the gate, are noted. This enables the operator to quickly identify which orders are ready and prioritize them without any search or time loss. Once the gate is assembled, operators validate the orders by scanning them, the data is updated in real-time in SAP, and the order automatically disappears from the tasks displayed on the screen.
Dynamic display on delivery docks
Before implementing Media4Display (dynamic display solution), Dirickx already had screens on the docks displaying upcoming deliveries through the standard SAP display. This display met the needs of a single-source display visible on a PC. Media4Display allows the solution to evolve by enabling the multi-source display and sequencing of different media (not just production data). For example, safety videos and warm-up reminders can be displayed during shift changes, along with reminders about the proper use of personal protective equipment (PPE). Production information can then be displayed from SAP or other sources, such as displaying accident rates from an xls file.
In addition, in a shared display space, this information should be readable on a PC screen and visible to a larger audience, with important information clearly highlighted for employees. Media4Display allows for customized display conditions, such as flashing or color-coded information based on threshold levels, the appearance of icons, etc., making communication truly visual and effective.
Furthermore, with the previous system, the elements were static. A specific development had been carried out by a service company based on SAP, but Dirickx couldn't make changes to it. With Media4Display, Dirickx has complete control over the displayed information and can modify access to data sources, create visuals on the screens, and sequence media and information to adapt the displays to the evolving business needs.
What's next?
The objective now is to replicate what has been done with production orders throughout the group and establish more effective communication beyond production data, especially regarding prevention and safety.
Sébastien THILBAULT,
Site Director, Dirickx Industries
"The advantage of the Media4Display solution is that it allows users to format, modify, and evolve the content of the information extracted from SAP. Each workshop manager can disseminate real-time information to each relevant work area to keep their teams informed."