Digital signage software in SaaS
24 August 2015
Media4Display our digital signage software is also available in SaaS modenible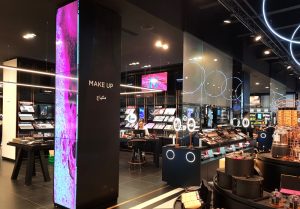 In an economic context in which each investment must be properly adjusted, the "Software as a Service" is a new remotely accessible solution that complies fully with flexibility requirements. It replaces the "classic" investment mode (purchase of license) by a method of "use" over periods of either 12/24/36 months.
Media4Display en SaaS is simple. To open your application, you simply connect with any web browser to a web server hosted by us. After a secured connection, you're "home". You then have the complete solution.
You can access an ergonomic and intuitive platform accessible to all. It allows you in 3 clicks, to ensure the personalization and a more effective diffusion of your media contents (managing your media securely, creating display sequences, campaign management ...) to all your remote displays. (retail outlet, offices, public places).
With Media4Display in SaaS mode your communication is freed from geographical and temporal boundaries...We remain at your disposal to present our offer and allow you, without investment, to test our solution from your office/home.
NB : Media4Display is also marketed in classic mode (license purchase).