Datalogic, one of the global leaders in automated data capture and process automation, specializes in the design and manufacture of barcode readers, mobile computers, detection, measurement and security sensors and RFID vision and laser marking systems. Datalogic solutions help increase the efficiency and quality of processes in the retail, transport and logistics, manufacturing and healthcare sectors, throughout the value chain.
Companies from around the world place their trust in Datalogic to offer reliable solutions that generate real advantages for their results. Datalogic's cutting-edge technologies are the result of a 47-year legacy of innovation and listening to customers' needs.
Today, Datalogic Group, whose headquarters are in Bologna (Italy), employs around 3,200 employees worldwide, spread across 30 countries, with manufacturing and repair plants in the United States, Brazil, Italy, Slovakia, Hungary and Vietnam. In 2018, the Datalogic Group achieved a turnover of 631 million euros and invested over 61.9 million euros in Research and Development, with a portfolio of more than 1,200 global patents.
Datalogic device range
Datalogic's range of mobile computers comprises pocket devices with an alphanumeric keypad, PDAs, devices with handles and vehicle mount devices. This range is associated with a comprehensive choice of middleware software solutions that offer users the highest level of compatibility and openness to standards in each business sector.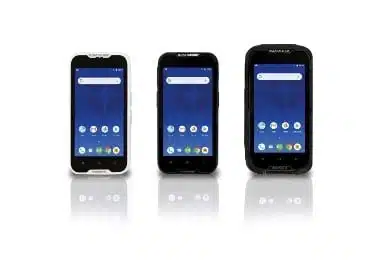 Memor 10
On Android 8.1, Memor 10 is one of the first mobile computers to have been approved by Google for the "Android Enterprise Recommended" program.
Robust and compact, the Memor 10 PDA is ideal for any indoor or outdoor environment.
It includes the first induction charging system for ultra-reliable contactless charging, eliminating any problems from the computer's contacts and charging cradles. Furthermore, Memor 10 has a 1-piece swappable battery for the best operating advantage.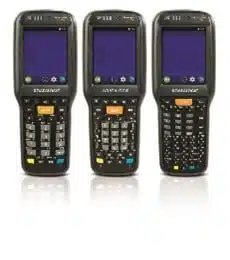 Skorpio X4
With its large 3.2 inch high-visibility color touchscreen, the Skorpio X4 mobile computer makes users' work easier. There are three types of keyboard available for maximum efficiency: 50-key alphanumeric keypad, 38-key functional keypad and the 28-key numeric keypad.
This rugged mobile computer is particularly suitable for retail and logistics applications. With the best ergonomics on the market, the Skorpio X4 reduces the operator's fatigue, without compromising on reliability and sturdiness. It is designed to withstand the most difficult conditions, repeated falls and sudden impacts. The gun model has a comfortable and resistant handle.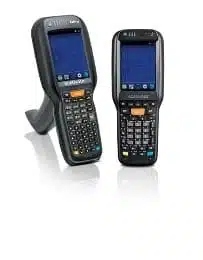 Falcon X4
Available on Windows® Embedded or Android™, the Falcon™ X4 mobile computer offers perfect ergonomics, an intuitive user interface, optimal code reading technology and unparalleled sturdiness. The 'gun' version with its handle was designed to offer better user comfort with its ergonomic handle for intensive or extended scanning periods. The Falcon X4 is ideal for Retail and Logistics applications, in shops, the back office or in warehouses.
Do you want to manage Crosscall devices withMobile Device Management software?