Digital signage in a bank: the example of Banque Populaire
Digital signage in a bank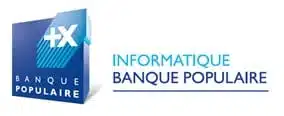 i-BP (informatique-Banque Populaire), a banking engineering company, is responsible for IT development and facilities management for Banque Populaire's information system.
A subsidiary of Groupe BPCE, the second largest banking group in France, i-BP employs more than 1,000 people at 8 locations throughout France and is overseeing the digital transition for 2,600 branches of 15 Banque Populaire and 5 regional banks backed by Banque Populaire (Crédits Maritimes, Banque Chaix, Banque de Savoie).
Needs of digital signage
To help the branches go digital, i-BP sought a digital signage solution to improve clients' experience at the banks' branches. The terminal objective was to offer asingle digital signage solution shared by all 20 banks for their 2,600 branches.
i-BP issued a call for tenders to select a digital signage solution that met its expectations, in terms of features and its ability to be deployed on a large scale. The selected solution needed to be secure and have a user interface suitable for banking sector communication.
Solution brought by the software
When the call for tenders expired, i-BP selected the solution proposed jointly by TIBCO and Telelogos that used the digital signage software Media4Display. With Media4Display, Banque Populaire has a centralized digital signage solution, installed on the Group's Data Center's servers, managed by i-BP, so that the service is available to all 20 banks.
Use of digital signage software
The digital signage network deployed by i-BP provides effective communication on screens located in the windows and within Banque Populaire's branches, so that they can promote their products and services to their clients. Each Banque Populaire's or backed regional bank's digital communication department uses a web browser to manage and display contents for branches in its region.
The digital signage software Media4Display's flexibility makes it possible to broadcast the group's national publicity campaigns, current offers and promotions, as well as information specific to each branch: advisers' availability, one-time events, etc.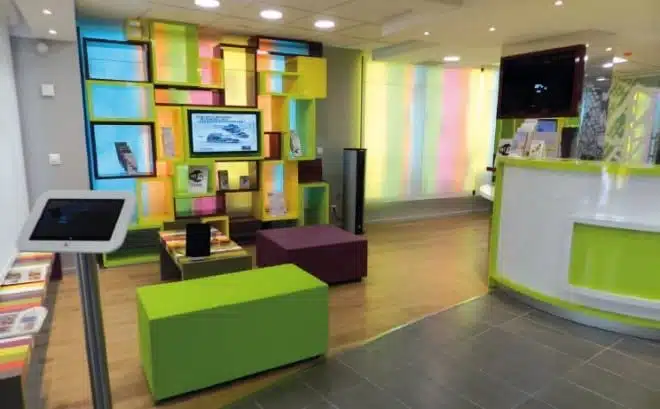 Benefits thanks to digital signage
A technical back office that meets the banking sector's security and performance requirements
Ability to manage a network of screens for 20 banks using a single and centralized platform
Ability to customize communication for each branch
Aurélia JAEGER,
Project Supervisor - Innovation Department, i-BP
« i-BP, which oversees Banque Populaire's IT network (excluding BRED, Casden and Crédit coopératif), supervised the project to select, install and standardize a digital signage solution. Using specifications drawn up with our future bank users [in mind], a call for tenders was issued in fall 2012.
At the end of the selection phase, the Telelogos solution - integrated, deployed and maintained by TIBCO - was selected because it met the user requirements, architecture standards and the company's financial constraints. Media4Display's maturity, the players' security and scalability, and the solution's operability (alarm notification, dashboards, administration, etc.) won over the panel comprised of employees from i-BP and the banks directly impacted by the
project.
Throughout the call for tenders and integration stages, the Telelogos and TIBCO teams created an environment of shared confidence. Today, six of our banks have rolled out screen networks in their branches. Each bank has its own space in a library of shareable content.
A rousing success that will continue as other Banque Populaire and regional banks are currently trying out Media4Display and BCPE-SA has decided to install Media4Display to manage screens at its various locations.».