E-Paper Displays: Environmentally Responsible Digital Signage
17 August 2023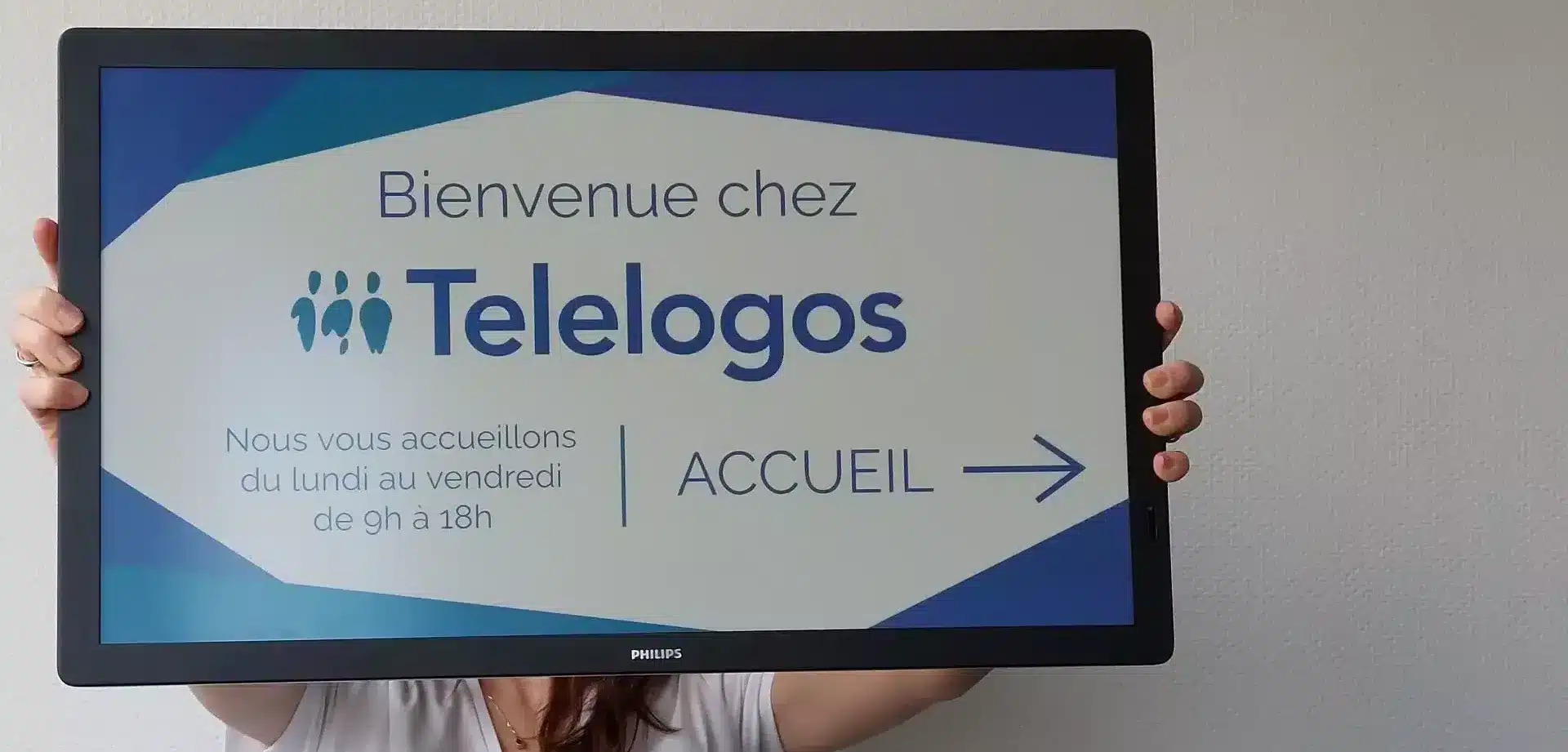 Given the ever-growing demand for real-time information sharing in corporate and public spaces, improving the energy efficiency of digital signage has rapidly become a significant concern.
Philips has recently ushered in an auspicious era on the screen front by introducing a new line of professional screens. These screens come equipped with embedded Android solutions and are built on e-paper technology – a familiar concept to e-reader enthusiasts. This remarkably innovative technology enables Philips 'canvas' screens to reduce power consumption significantly – between 10 to 30 times less than conventional screens. With these e-paper displays, digital signage technology is unfolding a new era.
What Is an E-Paper Display?
E-paper technology – known as electronic paper, e-ink, or electronic ink due to its appearance resembling ink on paper – was developed by a team at MIT. It operates based on the principle of reflecting ambient light rather than relying on continuous backlighting, previously necessary for screen content display.
Already deployed in small-sized screens, such as popular e-readers, and even in very compact formats like price tags in stores, this technology has recently begun to be adopted by manufacturers of large-format screens. With its 'canvas' range, Philips has harnessed the same implementation principles as standard LCD and LED professional screens on the market – standardized operating systems, seamless integration with prevalent software, open connectivity, and more. This initiative brings e-paper technology out of obscurity, paving the way for many innovative applications in digital signage, all while achieving unparalleled energy efficiency.
The Benefits of an E-Paper Display
Zero - or Nearly Zero - Power Consumption
E-paper is poised to shine in the realm of Green Signage and environmentally responsible public information. Its energy consumption is extremely low and sometimes virtually nonexistent when the displayed content doesn't require frequent updates.
E-paper technology only demands energy during the brief moments it takes to load new content, and even then, the consumption is minimal. Between updates, the screen can be set to standby mode or powered off by the digital signage software without sacrificing visibility. This is made possible by harnessing natural ambient light, much like a traditional paper poster, rather than relying on artificial and continuous backlighting, as seen in conventional LCD and LED screens. Note: Visibility persists even when the screen is turned off.
This remarkable energy efficiency has several notable implications. For instance, E-paper screens can operate sustainably on battery power and continue displaying content indefinitely, whether connected to the electrical grid or not, during power outages when all other screens immediately go dark.
Moreover, when discussing eco-responsibility, it's worth noting light pollution (or nighttime visual pollution) caused by screens. E-paper screen technology emits no light and, as a result, contributes to zero light pollution. The screen's content will remain invisible unless its surroundings are adequately illuminated.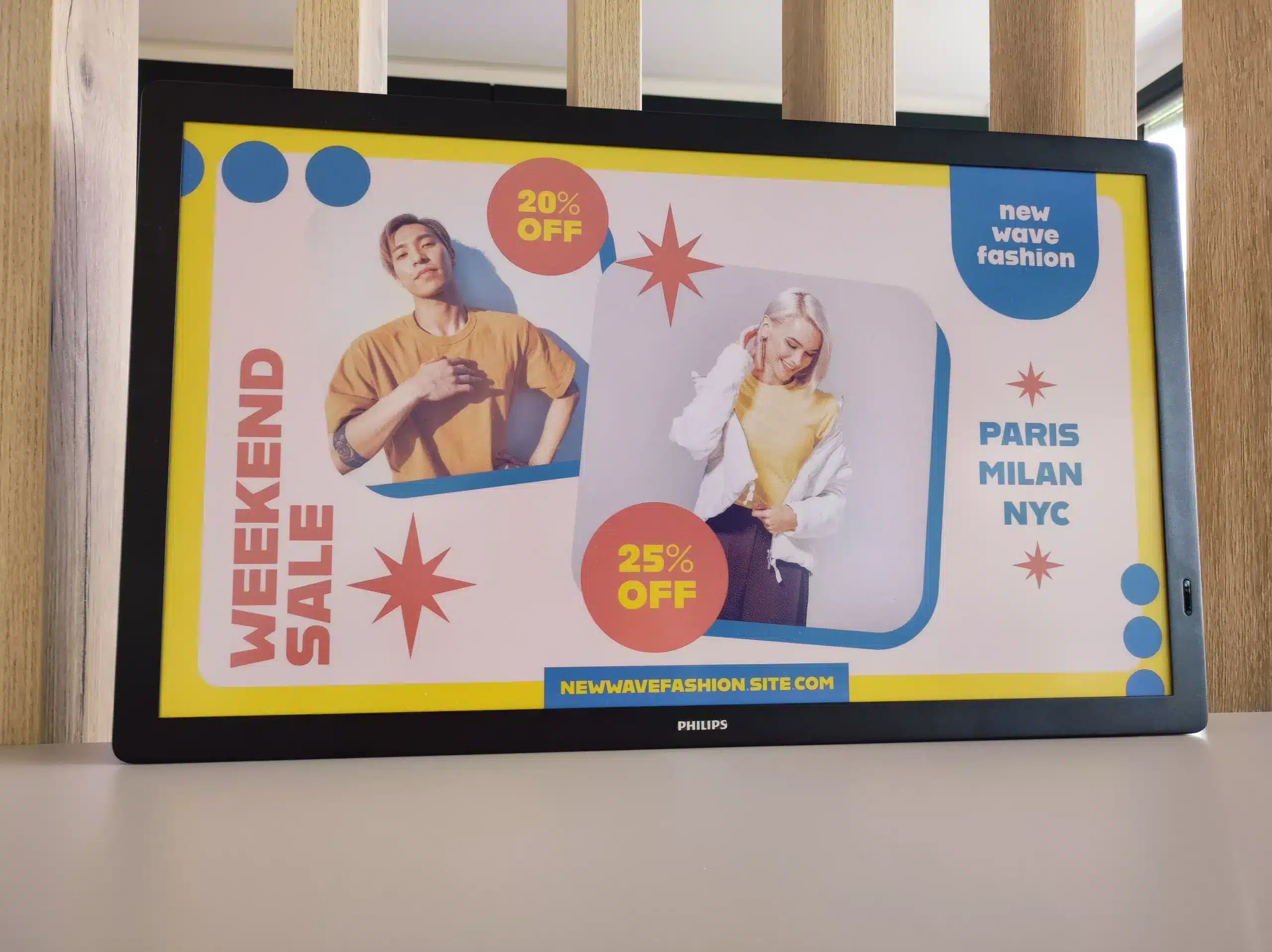 Reading Comfort and High Definition
Comparable to traditional paper-based displays, the visual quality of an E-paper display is exceptional.
Reading comfort surpasses that of a traditional screen. E-paper offers strong contrast and consistent visibility regardless of the viewing angle and sunlight, all without glare. Reading becomes more effortless and enjoyable.
Moreover, E-Paper, long confined to black and white, has gradually entered the realm of color. This evolution has significantly enhanced screen legibility, the appeal of displayed content, and its ability to captivate attention.
Low Weight
Another advantage of E-Paper displays is their sleeker profile compared to traditional screens and most importantly, their substantially lighter weight, all without compromising their robustness. Mounting them is simplified, and they can be affixed to locations that may be out of reach for conventional screens.
Applications of E-Paper Displays
As mentioned earlier, small-scale e-ink devices have traditionally found their place as e-readers and electronic labels. With larger formats and their professional-grade technology, new use cases are emerging for digital signage in public spaces, retail stores, and corporate environments.
E-paper displays are set to become indispensable for disseminating information that requires periodic but not frequent updates: public transportation schedules, restaurant menus, the opening hours of banks and government offices, directional signage, and more.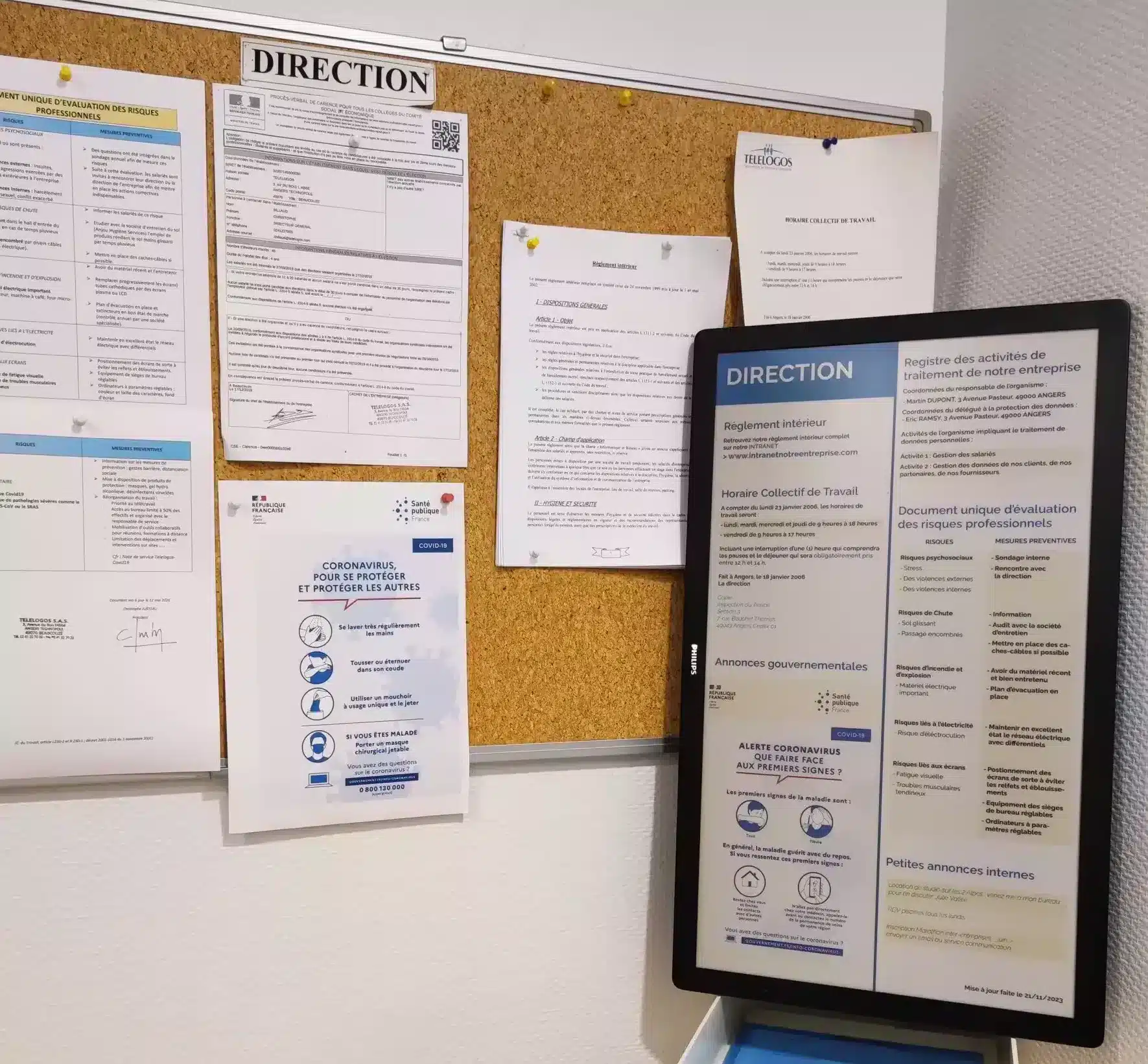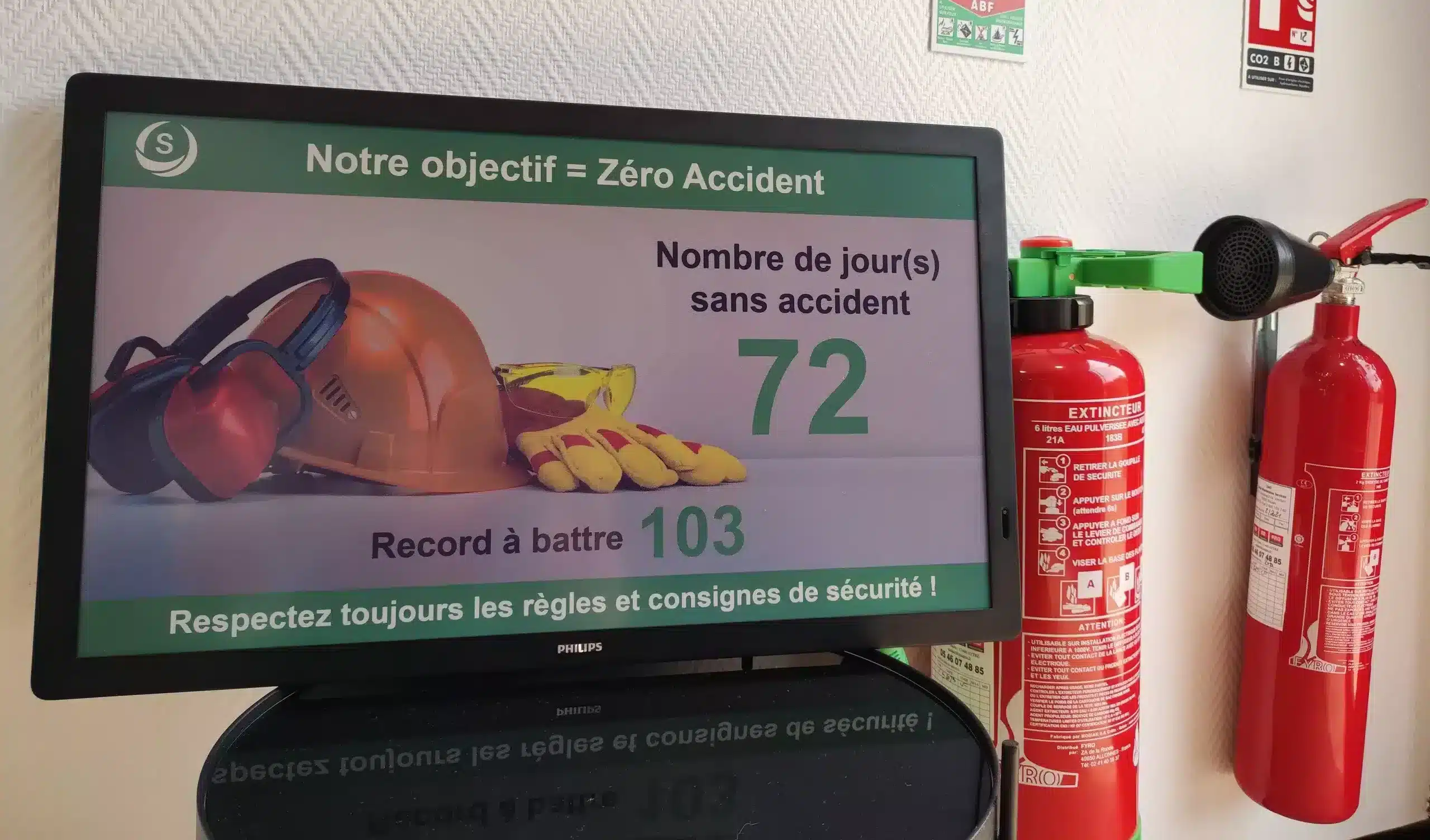 In the domain of health, safety, and environmental (HSE) displays, E-Paper displays are particularly suited for the straightforward dissemination of various regulatory information and mandatory postings within businesses, safety instructions, and even in industrial settings (production facilities, storage centers, etc.), including statistics like accident-free days, for example.
In retail outlets, agencies (such as bank branches), and venues open to the public, E-Paper displays will seamlessly replace traditional paper posters, streamlining and significantly expediting the updating and broadcasting of commercial messages and information.
And many other applications will arise thanks to the remarkable features of these next-generation E-Ink displays.
Interested in learning more about interactive content management on E-Paper displays?