How to digitalize your workspaces?
30 January 2023

Whatever the industry, work habits are constantly changing. And this is all the more true over the last decade.
Workspaces are today becoming increasingly digital. And it's not over yet! In the age of hybrid work, the digitalization of workspaces is not only logical, but simply indispensable. It's no longer a simple choice available to companies but more of an unavoidable turning point. As a result, the physical areas dedicated to work must be completely redesigned. From now on they'll more likely be places for dialogue, interaction, motivation or even training. But no longer just "working" areas.
What exactly is the digitalization of workspaces?
The digitalization of workspaces involves making all the resources, data and practices available in the company fully digital. This is the very principle of digital transformation, in addition to making these sets of resources, data and even practices accessible from anywhere and no longer just from the traditional physical workspace.
Ultimately, it's the entry point from where you access your company's ecosystem of applications, including individual information specific to each employee but also collective information shared with a specific group or with all employees. All this information is made accessible from any location in as far as possible (depending on company/industry security rules) and as easily as possible. We often hear the terms "accessibility" and "mobility". Two characteristics which in themselves sum up the very principle of the digitalization that has now become necessary.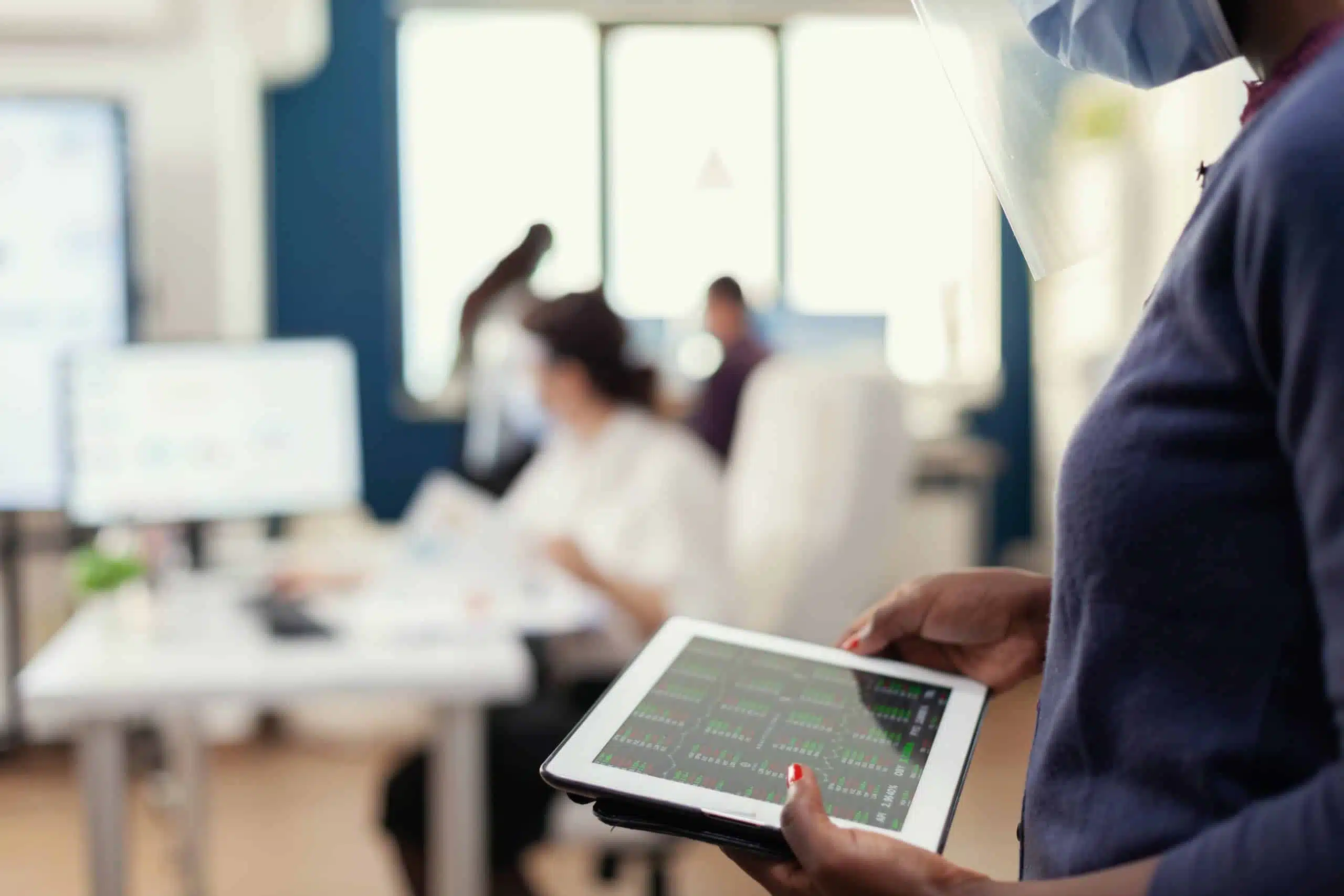 People are also talking more and more about digital workplaces. This extends beyond the mere possibility of performing our daily duties as easily and without barriers wherever we may be. Indeed, the digital workplace ensures that the experience, even within the workplace, is digitalized as a whole. It's no longer just a question of digitalizing the tools or data, but digitalizing all the interactions that can take place in one's professional space, ranging from the classic reception area to the break room and sometimes even the company parking lot.
Why digitalize your workspaces?
The digitalization of workspaces is therefore a logical response to new working habits that have revealed new needs. With employees no longer spending 100% of their working time gathered in the same physical area, they now need tools and resources to continue their collaboration, even remotely.
Fortunately, the digitalization of workspaces did not develop as a result of the normalization of teleworking but rather of trends that were already in the process of emerging. Many aspects have already been in place for several years. To start with, the practice of working on computers. Then the transition to so-called "laptop" computers more recently for the majority of companies. To this, we should also add email communication. Or still more recently, the sending of shared documents. And these are just a few examples.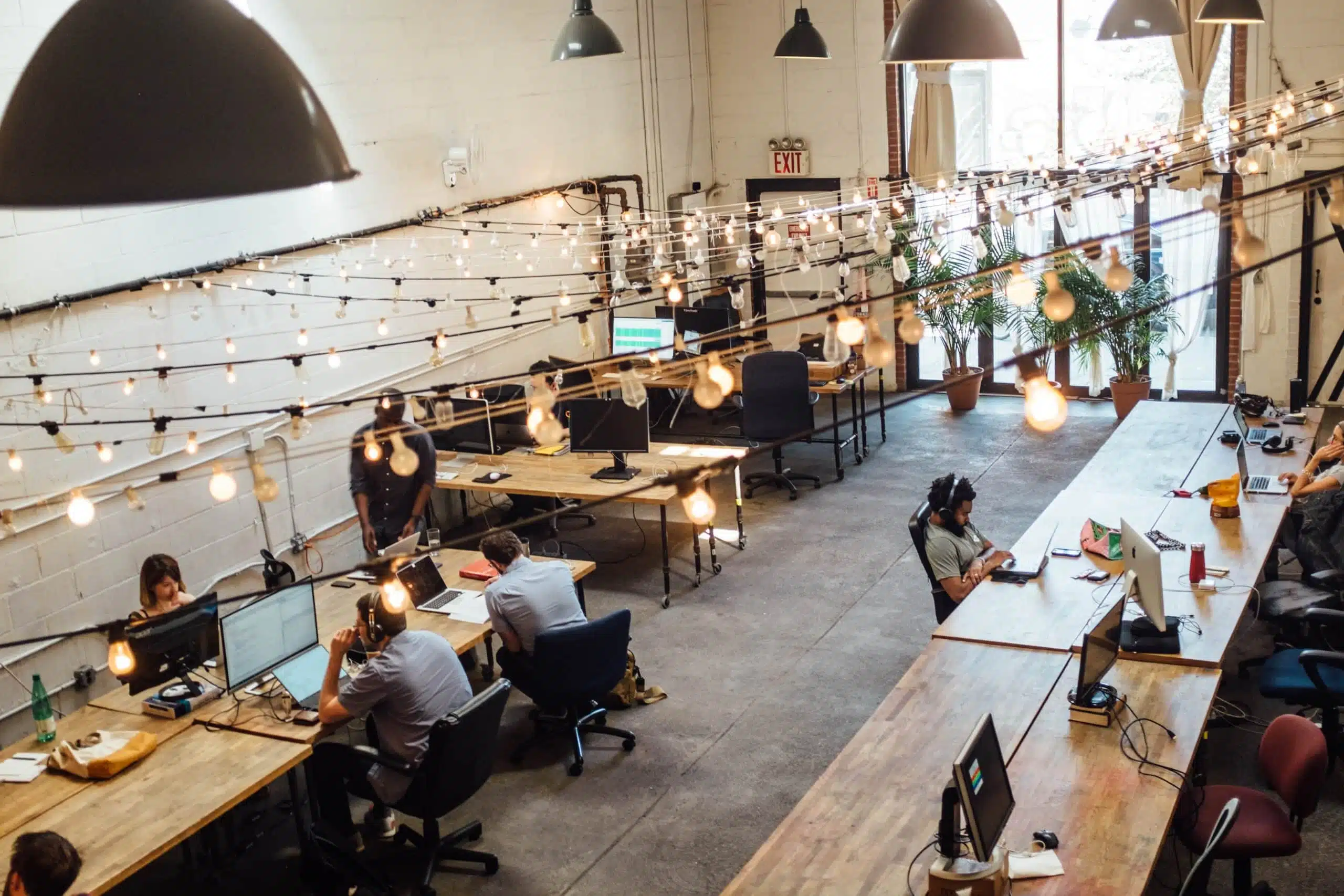 The digitalization of workspaces aims to complete these already well-established processes by ensuring that all tools, data, information, processes, etc., are available at all times and anywhere in order to collaborate and communicate better.
But as we have seen above, the digitalization of workspaces also aims to transform the physical workplace into a true digital workplace.
For this, we are now seeing new common trends in many companies: workspaces are being expanded to allow for greater cross-departmental representation within teams, but also to encourage and offer spaces conducive to dialogue. There are fewer and fewer closed offices.
And we're seeing more glazed or even completely open areas. Some go even further by setting up so-called flex office spaces with unassigned workstations by default, on which employees can work at their convenience when they are at the office.
The big question that then remains unresolved is how to engage with employees who only find themselves "dropping by" in their traditional workplace. It is here that digitalization once again provides the solution. The idea is to create and propose an experience that offers a real incentive to be on site. In this scenario we can distinguish between 2 types of places: common areas, places where people pass by or meet one another, such as corridors, elevators and entrances, not forgetting the cafeteria, the break room or coffee machine, ... as well as spaces dedicated to work: offices and meeting rooms in particular. The challenge for the latter will be to strengthen collaborative work by offering solutions to facilitate reservations and use of videoconferencing resources for example. While for the former, the idea will be to improve internal communication in order to instill a sense of belonging in all employees, to strengthen their idea of community within their company, and finally to facilitate their integration, boosting their commitment and therefore their effectiveness.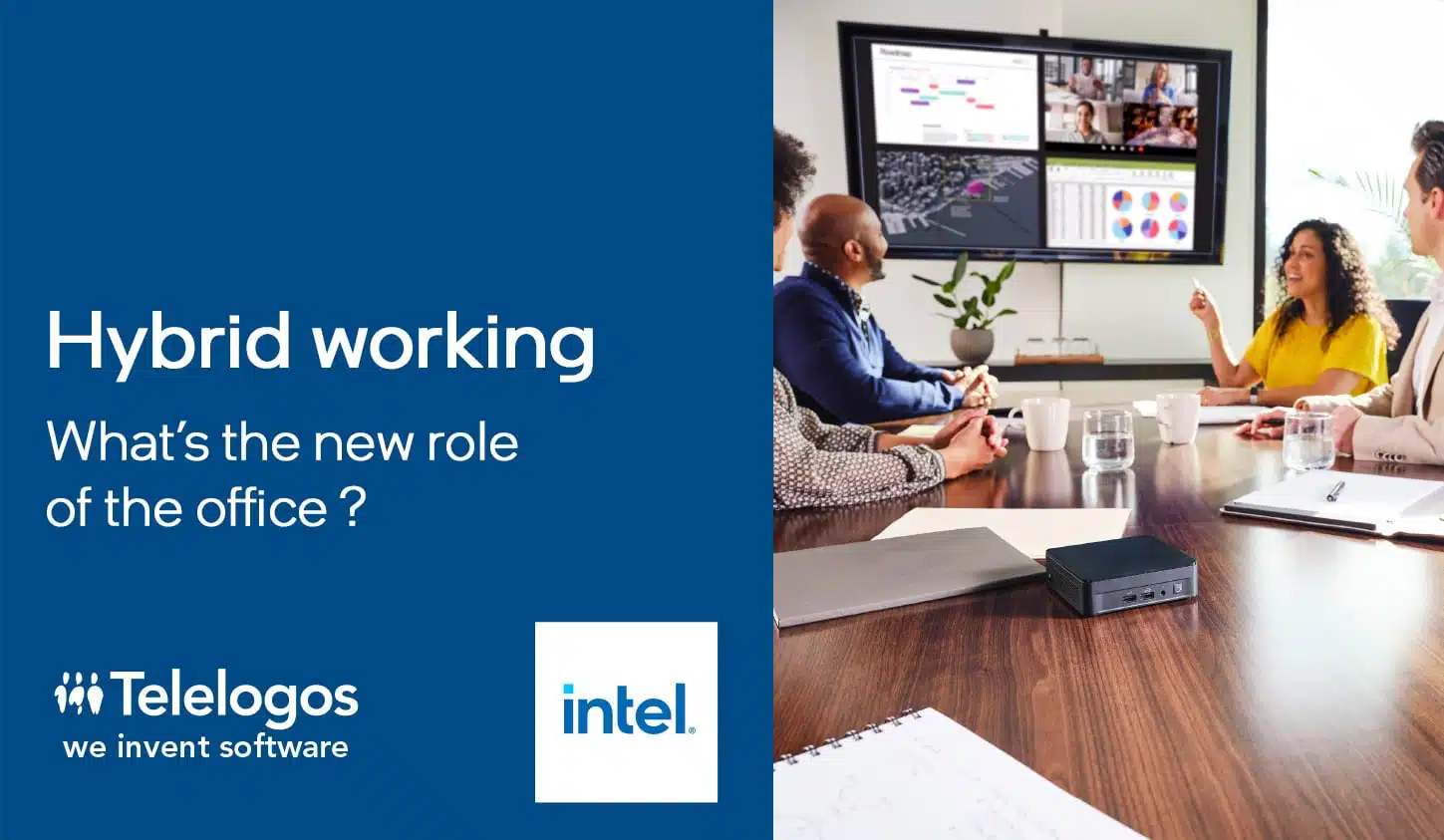 Learn more about hybrid working and the new role of the office thanks to our white paper co-written by Intel.
Substantial benefits to be gained from the digitalization of workspaces
While the facts presented above clearly demonstrate the need to digitalize workspaces, it's also important to recognize the many benefits that this transformation brings to businesses.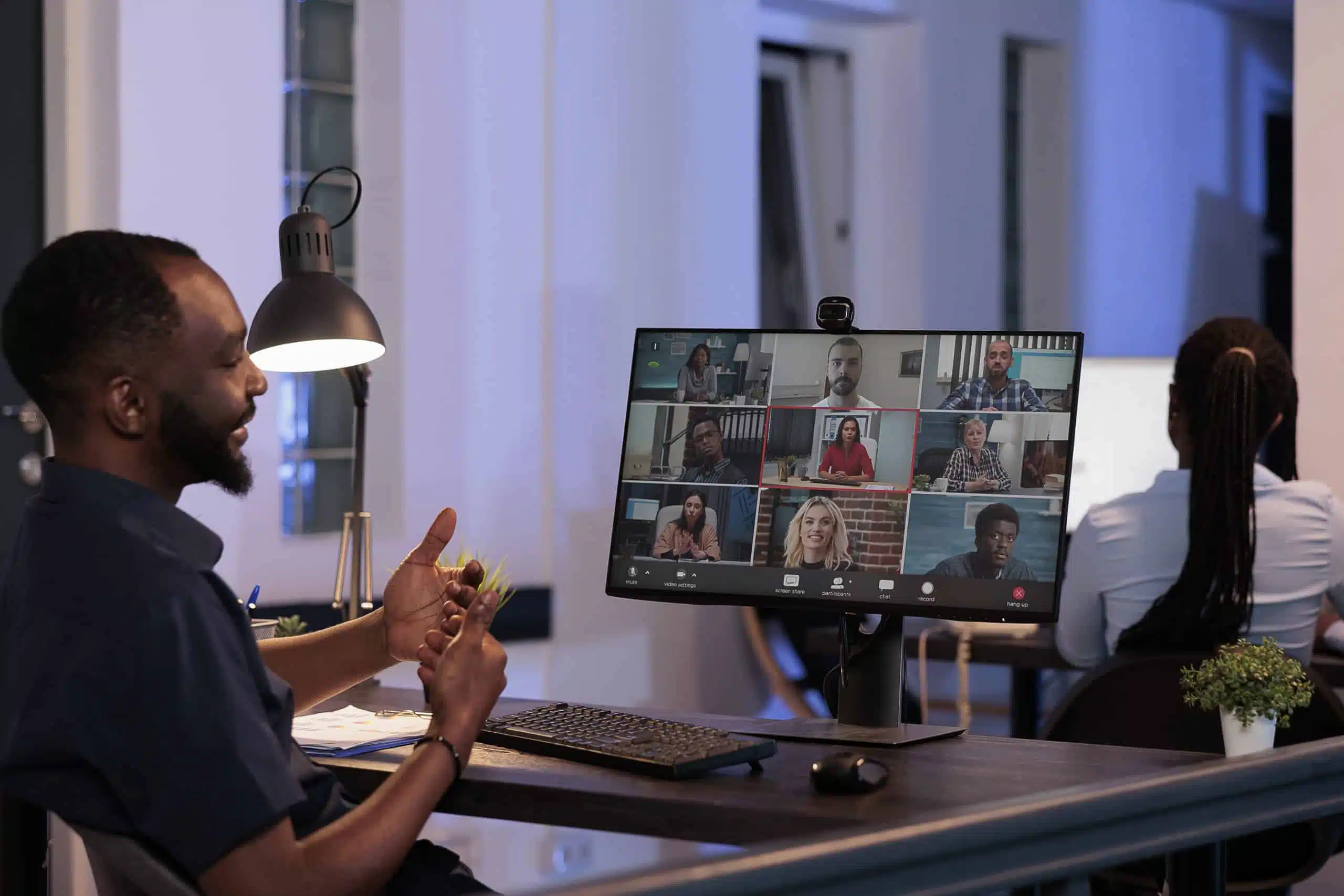 Greater flexibility
Providing access to tools and information from anywhere gives employees added flexibility. A feature today seen as an undeniable advantage and often even as being indispensable to new working habits.
Cost reductions
The direct consequence of the new flexibility in our working methods is logically that a smaller proportion of employees gather together every day in their workplace. And while not all companies have yet moved over to flex office spaces, we can logically expect to see reduced requirements in terms of office space. As a result, this leads to a reduction in real estate costs but also simply in the maintenance/heating/upkeep costs of these areas. It also means employees need to assume fewer travel/transportation costs on a daily basis.
Efficiency gains
While remote work may have seemed scary at first, ultimately it often results in better communication between the teams. Forums for dialogue are indispensable when it comes to maintaining valuable links. Bodies that have generally been established to some extent by force of circumstance but which ultimately allow organizations to follow things up sometimes more regularly than when everyone was at the office every day and therefore felt less of a need for these moments of "imposed" dialogue, sometimes forgetting to communicate information that was nevertheless essential.
The digitalization of workspaces also now allows everyone to work directly on the same documents, to share information in real time and to immediately view the data supplied automatically. Processes are being sped up to simplify decision-making cycles and ultimately improve efficiency for all.
Better productivity
It's not just the sharing of information in "real time" but also the flexibility offered to all, which eventually improves the well-being and motivation of teams. It is ultimately their productivity that increases. If we add to this the reduced journey times or even the total elimination of travel on some days of the week it all contributes to improved productivity.
Obstacles to the digitalization of workspaces
A word of warning, however, if everything seems to be going well. Naturally, as with any change or in any situation, obstacles are also present and must be taken into account when digitalizing workspaces. During these changes, as with any project we must aim for operational performance, but while doing so we must also keep in mind the well-being of employees, as the two go hand in glove – as seen above – to ensure sustainability in success.
Security
The biggest difficulty in making internal data available outside the company is certainly data security. No one is immune from cyberattacks or attempts to hack a database, for example, but also from the theft of confidential documents. And opening up your IT system can pose a threat in this sense. It goes without saying, therefore, that the security issue is probably the main obstacle arising in the choice of shortlisted solutions. Several steps are needed upstream such as the implementation of a firewall and a network security service for example. But also checking the technical aspects of the selected tools concerning their interactions with data and the connection options.
Technical aspects
The digitalization of workspaces can be a long-term project, sometimes requiring feedback and the necessary modifications after implementation. It can sometimes be difficult to find the right solution to bring together all the stated needs. Needs that may also evolve, precisely because of the tools put in place.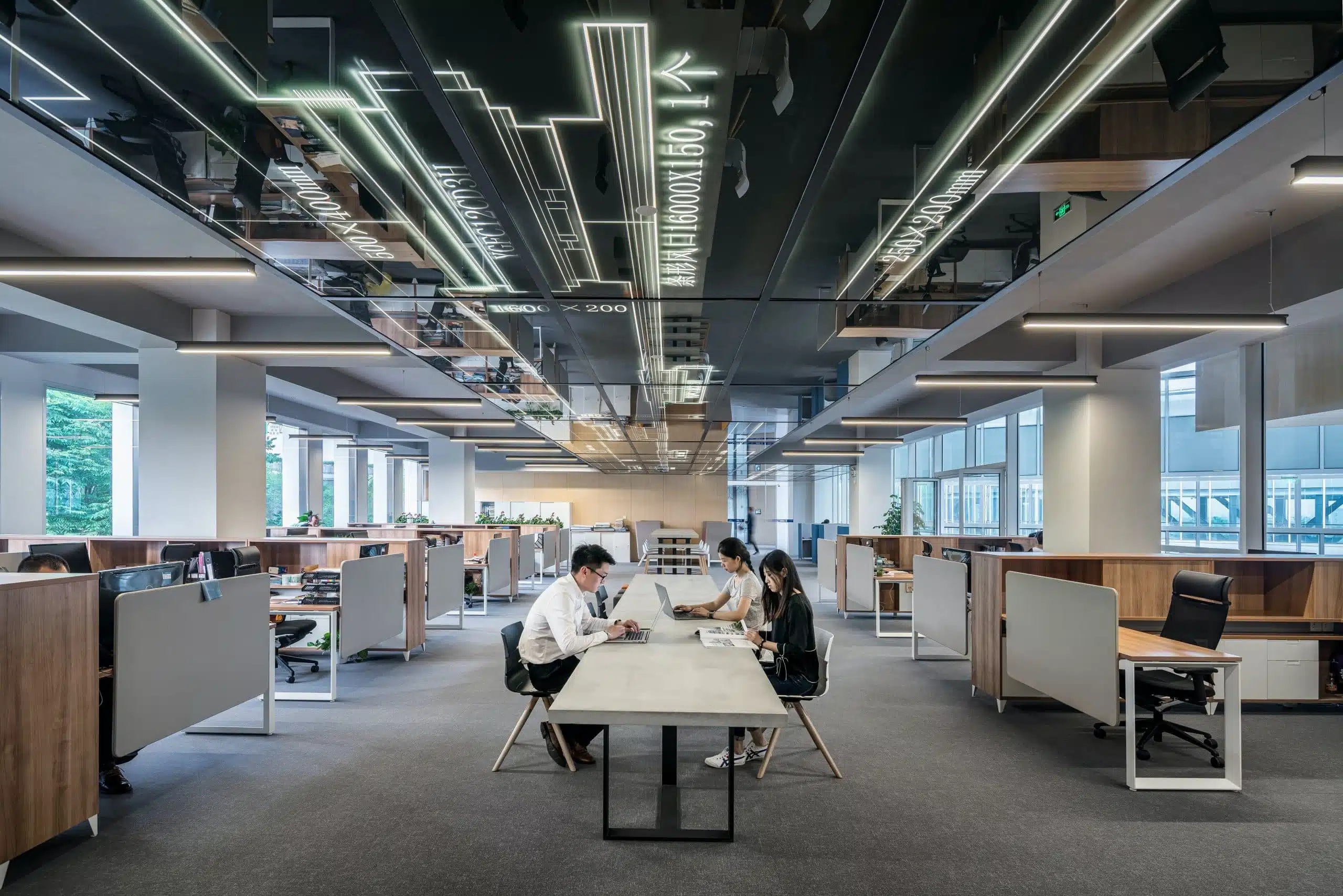 Simplicity
Although several tools are sometimes needed to meet all needs, as well as requirements in terms of security, we must not forget that the entire range of services available to employees must remain as simple and fluid as possible in order to ensure optimal use without hindering efficiency.
The human aspect
Finally, as we all know, the main obstacles to change are human being themselves. Who has never grumbled at changes being "imposed" upon them? Companies are environments where the younger generations and older staff often rub shoulders. Some employee profiles are very adaptable and accustomed to technology and others significantly less so. The proposed solutions must therefore be designed for all but above all, change must be backed by effective support if we want to make it a success!
Do not hesitate to request support with your own digital transformation!