Industry : What information for your digital signage dashboards?
13 December 2022

Digital visual management helps industry improve performance through digital signage solutions. It streamlines communication, displays activity and provides everyone with real-time information.
Provide production line, loading bay and warehouse operators with information and assistance
The Media4Display digital signage solution extracts raw data from various sources (such as information system applications, automated controllers, or structured files) and displays it on dashboards.
Create your dashboards (or wallboards), blend data sources, select widgets for display (indicators, tables, gauges, alert systems, etc.), change their color or look depending on thresholds, progress towards targets, etc. so that the information is visually impacting and easy to understand at a glance.
Examples of information to be displayed on industrial dashboards
It is useful to be able to track some indicators at the start of a production line, or on the line itself. This provides immediate information on progress towards targets and production line status.
Indicators include :
Manufacturing orders
Production targets and progress
Quality indicators, reject rate, error rate. Several specific indicators are used in industry:

OEE: Overall Equipment Effectiveness is a combination of three factors: quality, machine availability and performance, which give an indication of the effectiveness of the manufacturing process.
TEEP: Total Effective Equipment Performance measures the total production capacity.
Machine availability rate

Quality check before launching production
Alerts
Schedule
Production incidents, lists of production problems, synoptic presentation of your production line (graphic tool representing all stages of transformation, control, storage and alteration)
Equipment status, real-time machine speed
Maintenance tasks (with time at which operations should be completed), and maintenance indicators (MTBF, MTTF, MTTR, failure rate)
Days without accident (and production outage)
Screens can be installed on loading bays to display information such as:

Arrival of trucks and directions to destination bay
Loading plans
What's more, besides production information, a digital signage solution like Media4Display can be used to display institutional communications with news or other industrial information that is not from third-party applications. This information can be either blended in with production information or scheduled for specific times, such as shift changes, breaks, etc. You no longer need to tack up sheets of paper on display boards around your factory to let people know what's going on…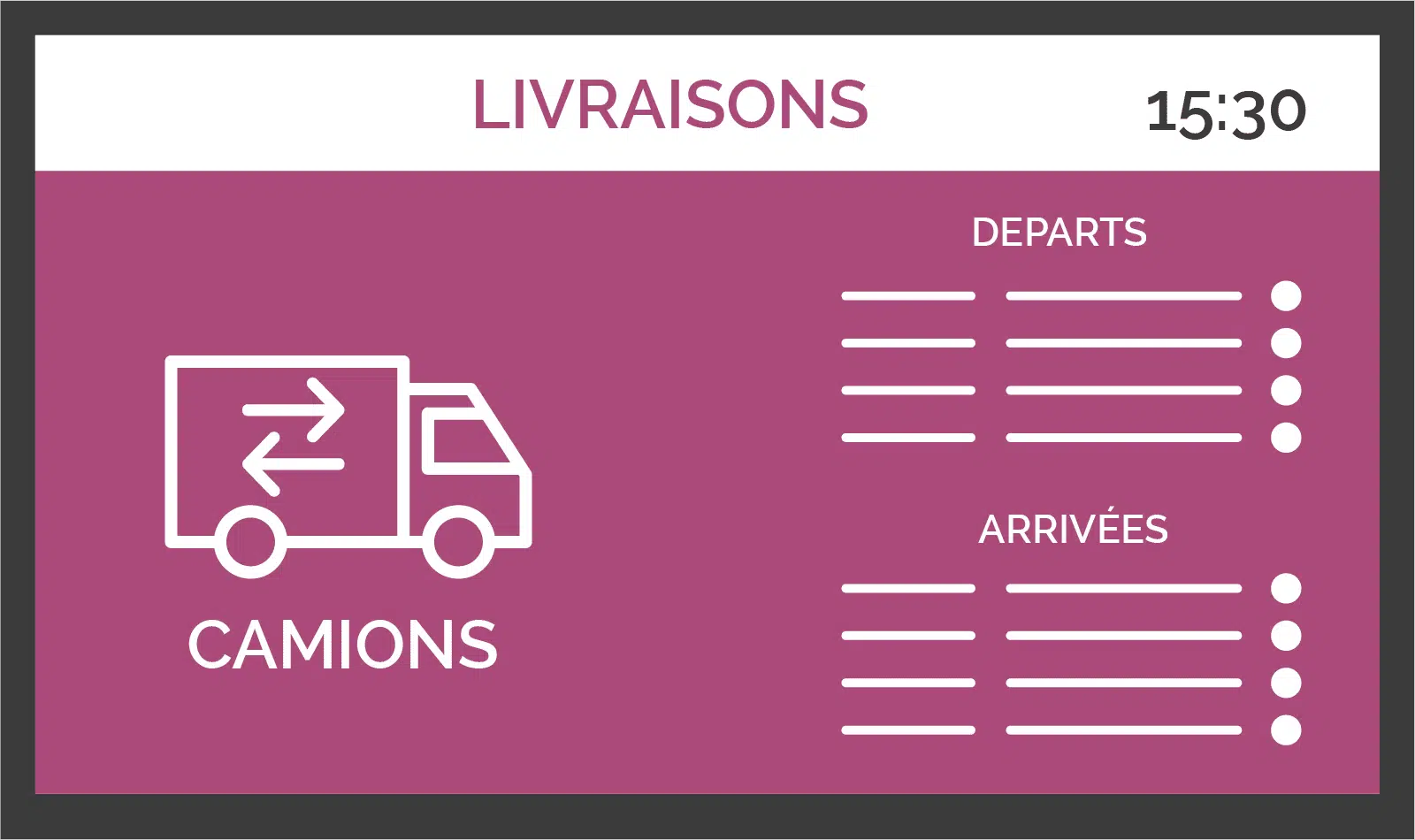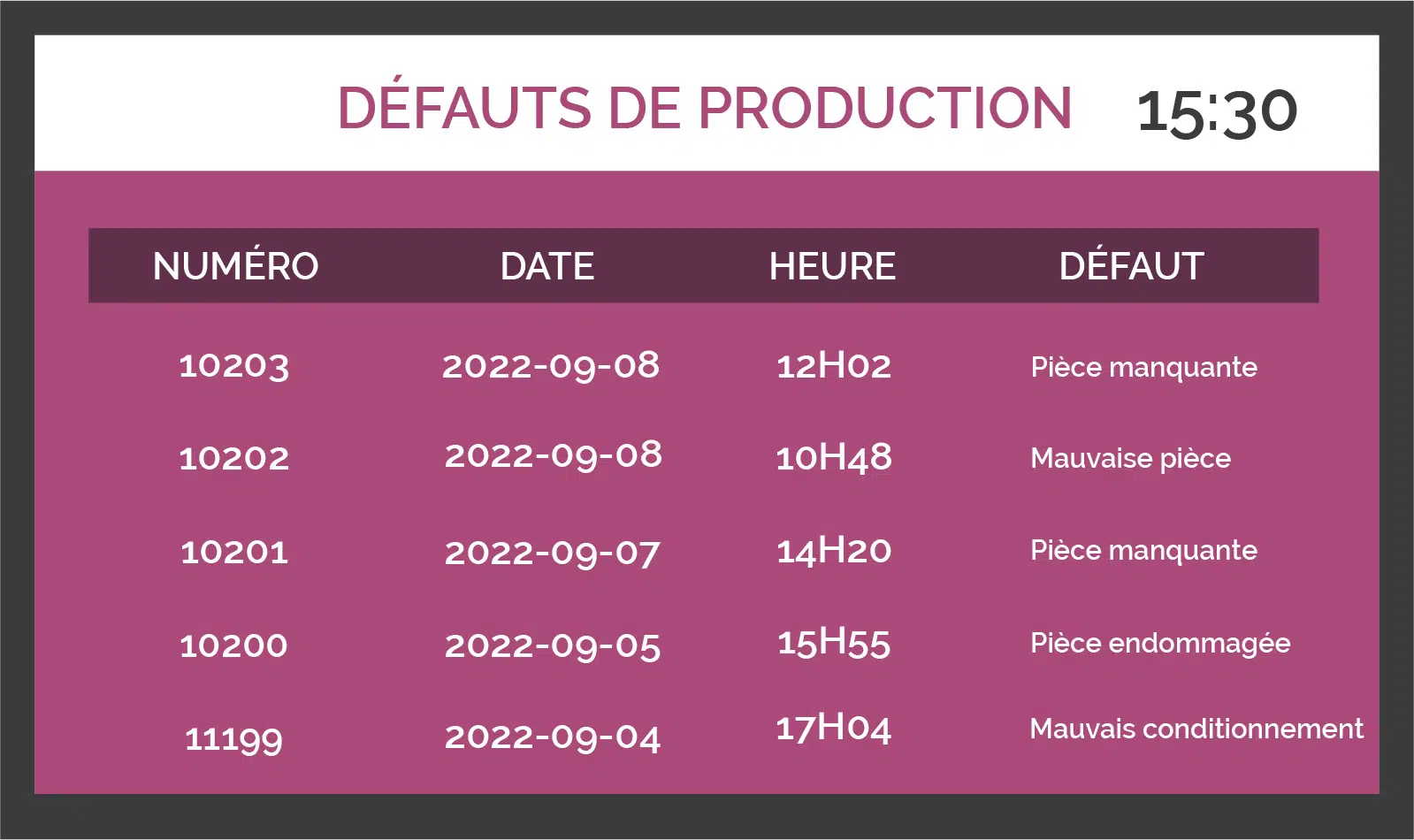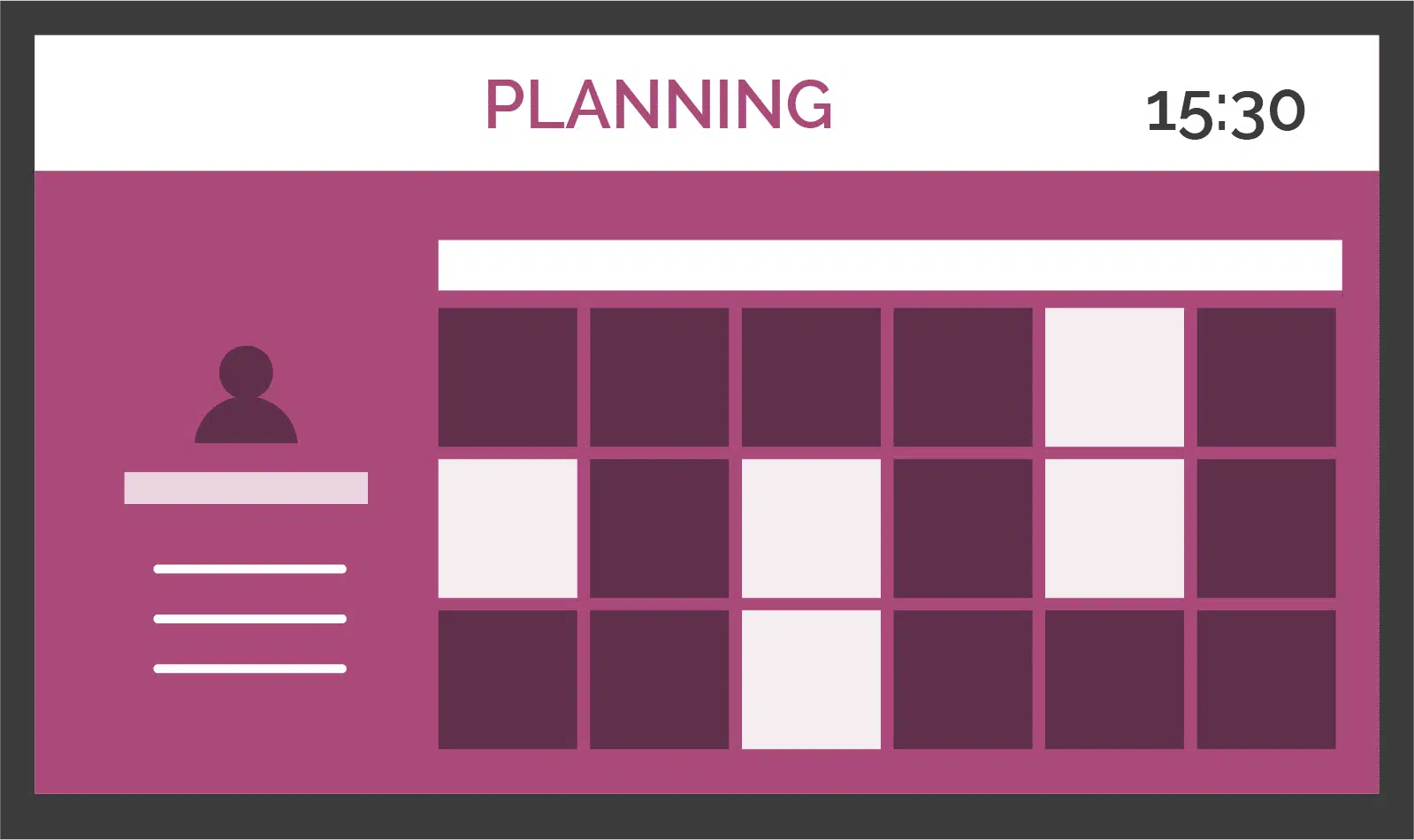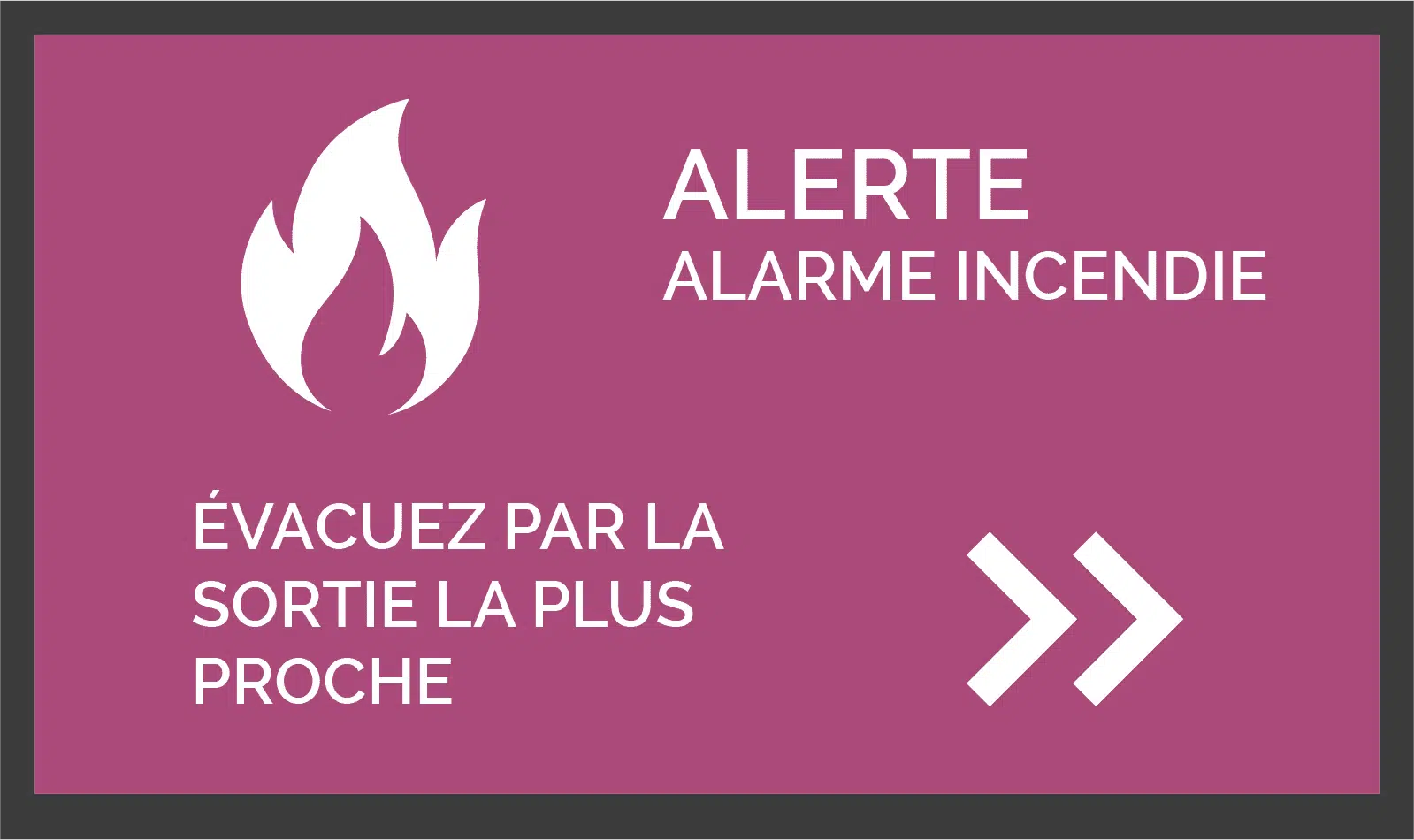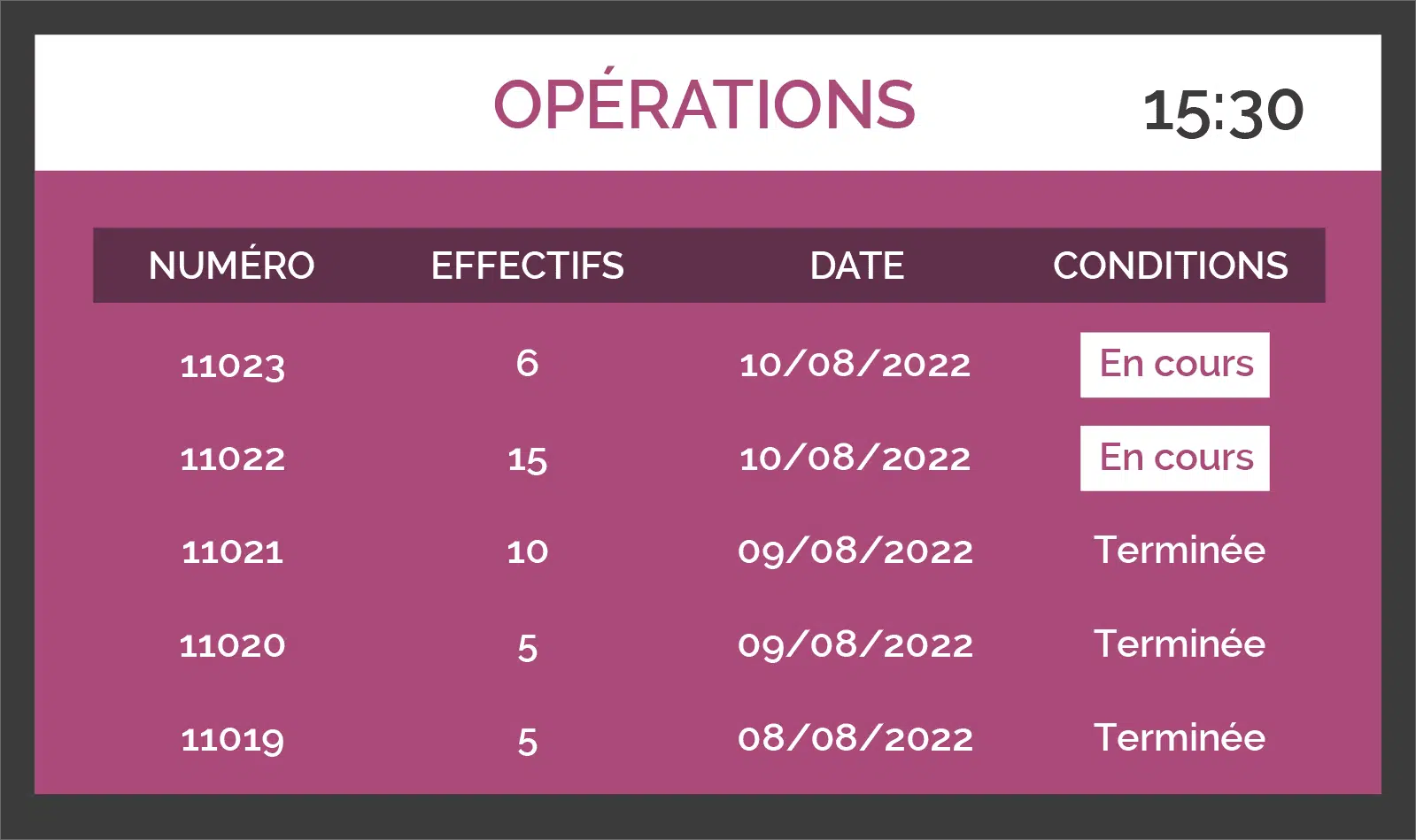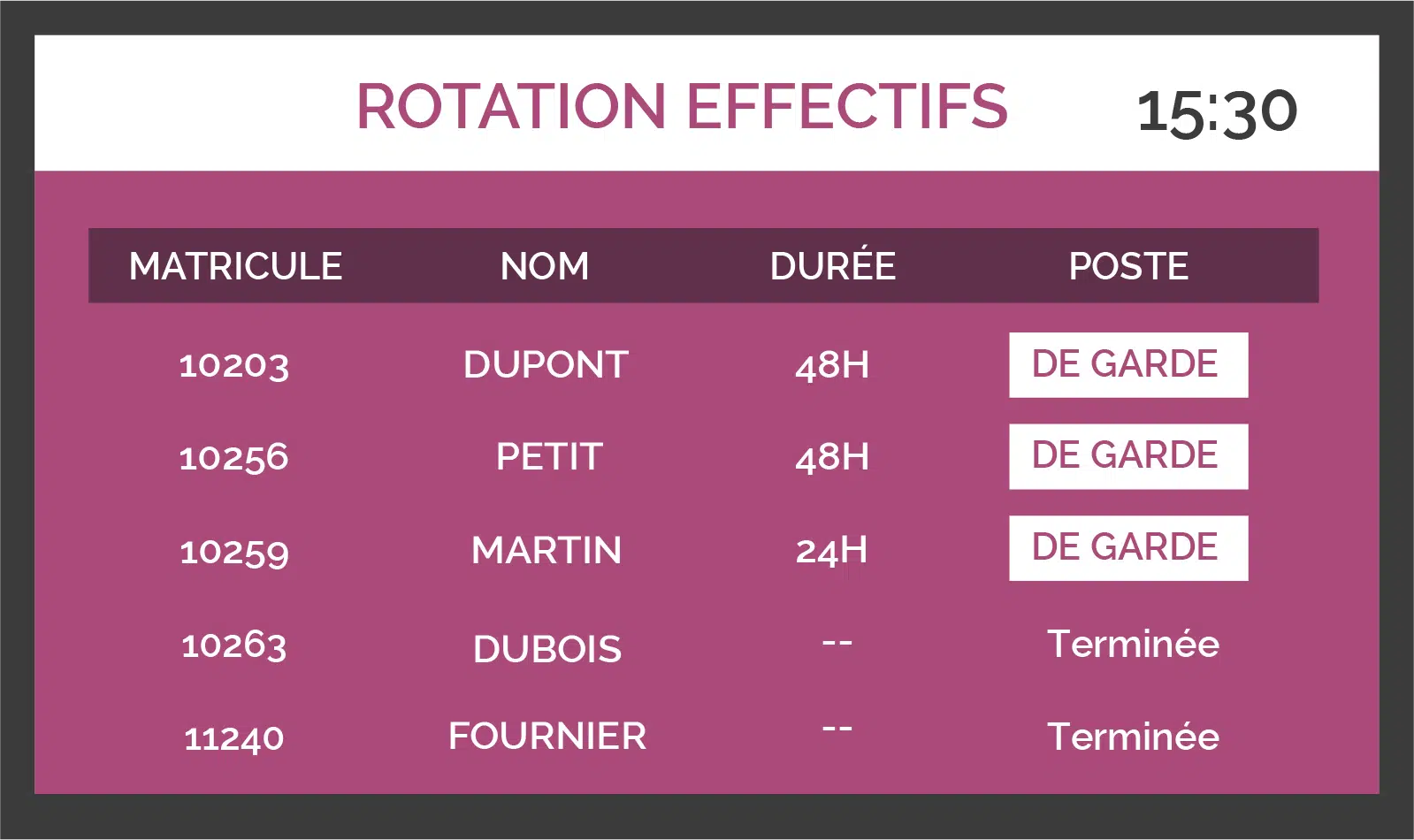 Examples of institutional communication for industry
Institutional information may be displayed on specific screens, for example in break rooms, office spaces, etc. This could include:
Health and safety information
Reminders of best practices
Quality targets
Accident rates
Internal communication or works council messages
Message from the director
Site success stories
Site news (renovation work, audits, maintenance operations, visitors, HSE information, etc.)
New product launches
Digital signage can also be used to help induct new employees or temporary and unqualified staff into the industrial system. Digital signage provides assistance for operators by presenting specific content directly in production environments when it is needed thanks to Media4Display interaction capacities (RFID, Scan, etc.): manufacturing orders, technical instructions, processes, maintenance procedures, etc.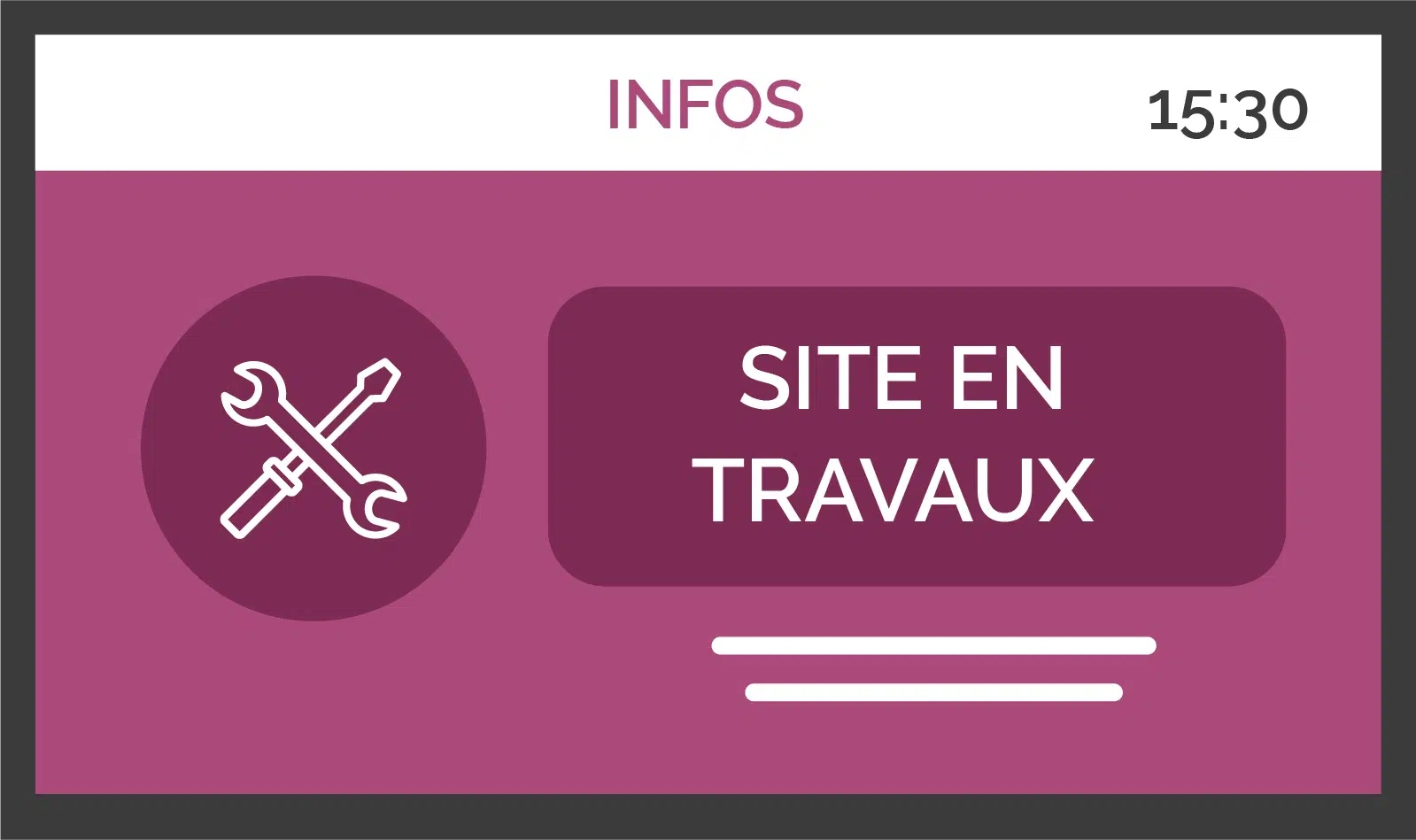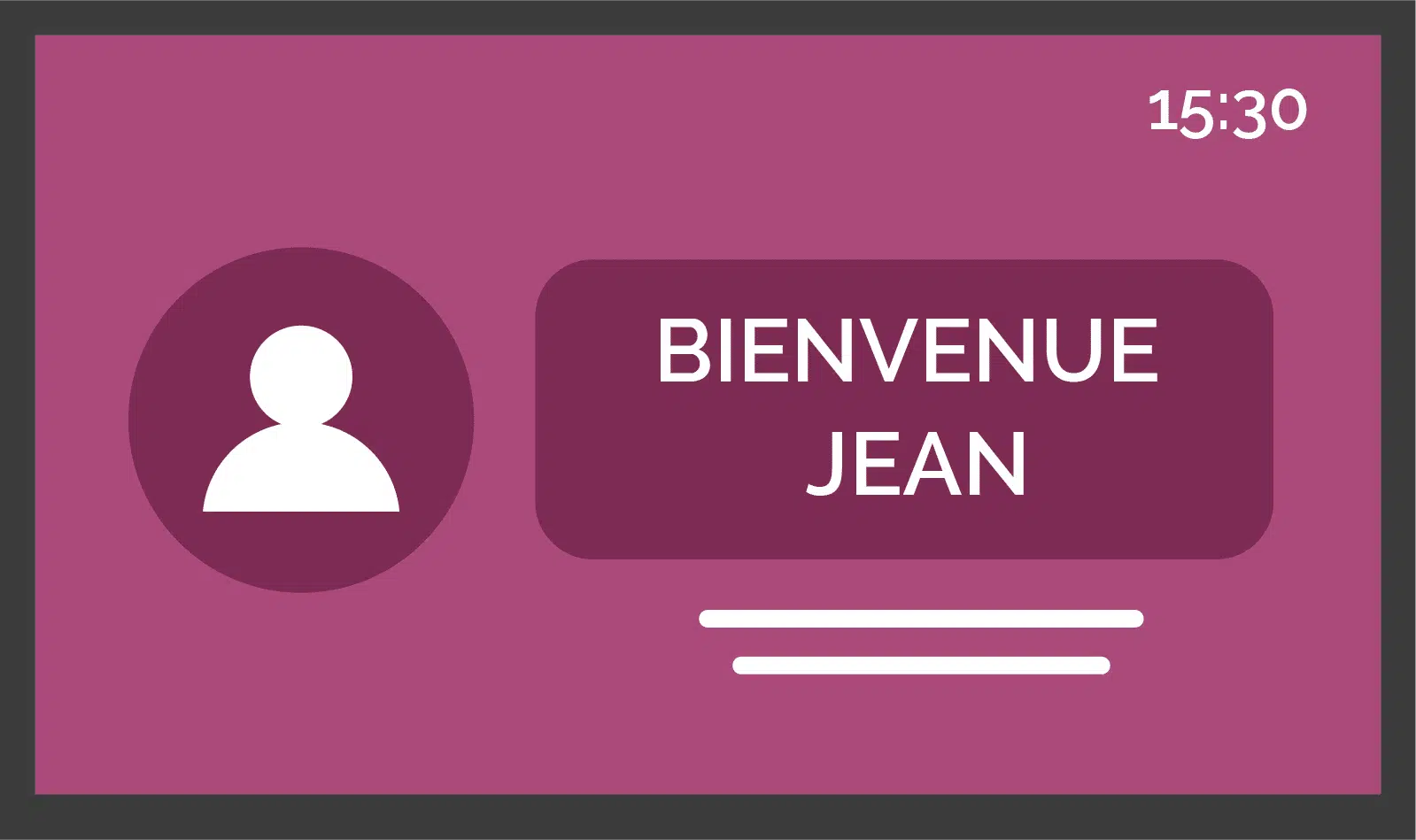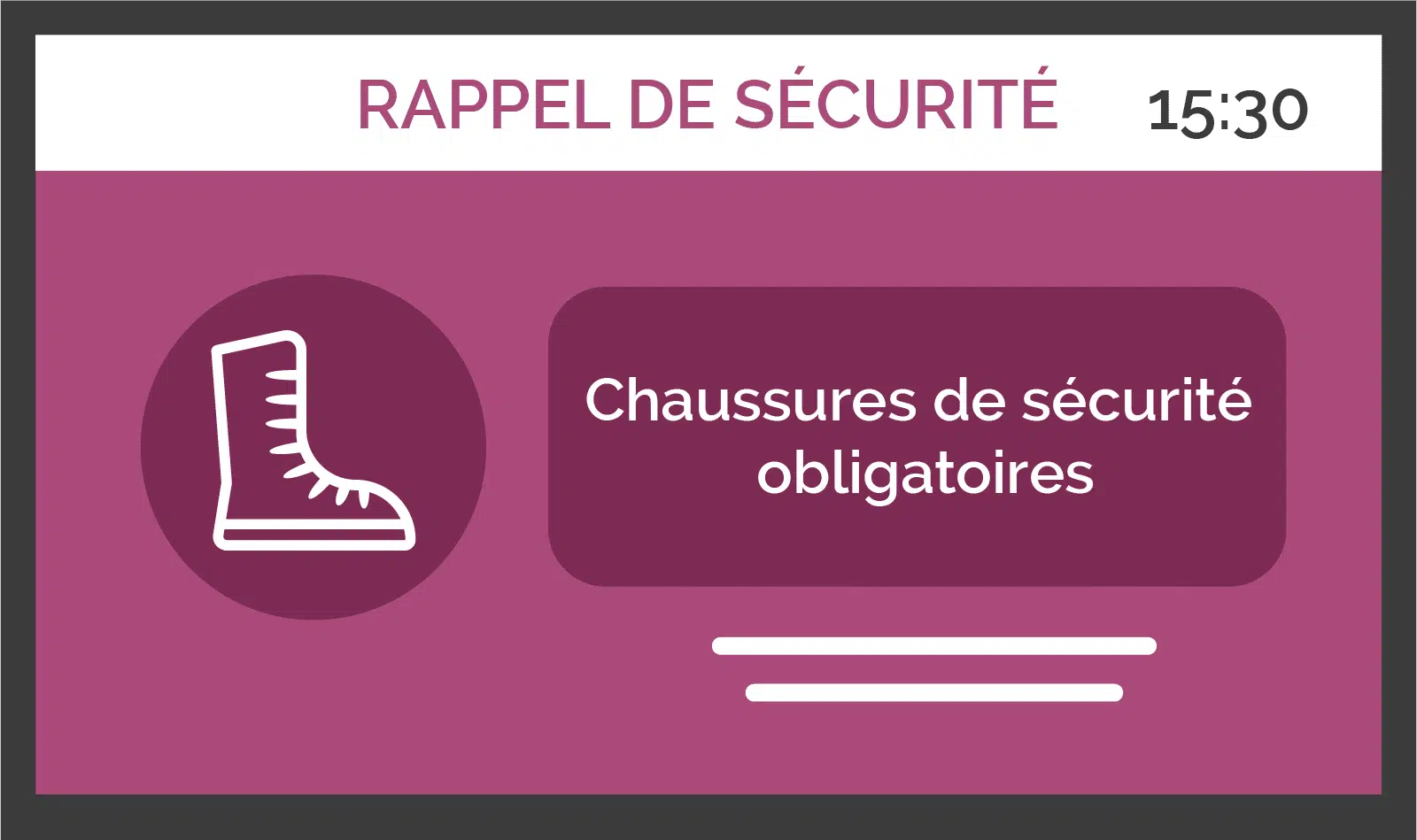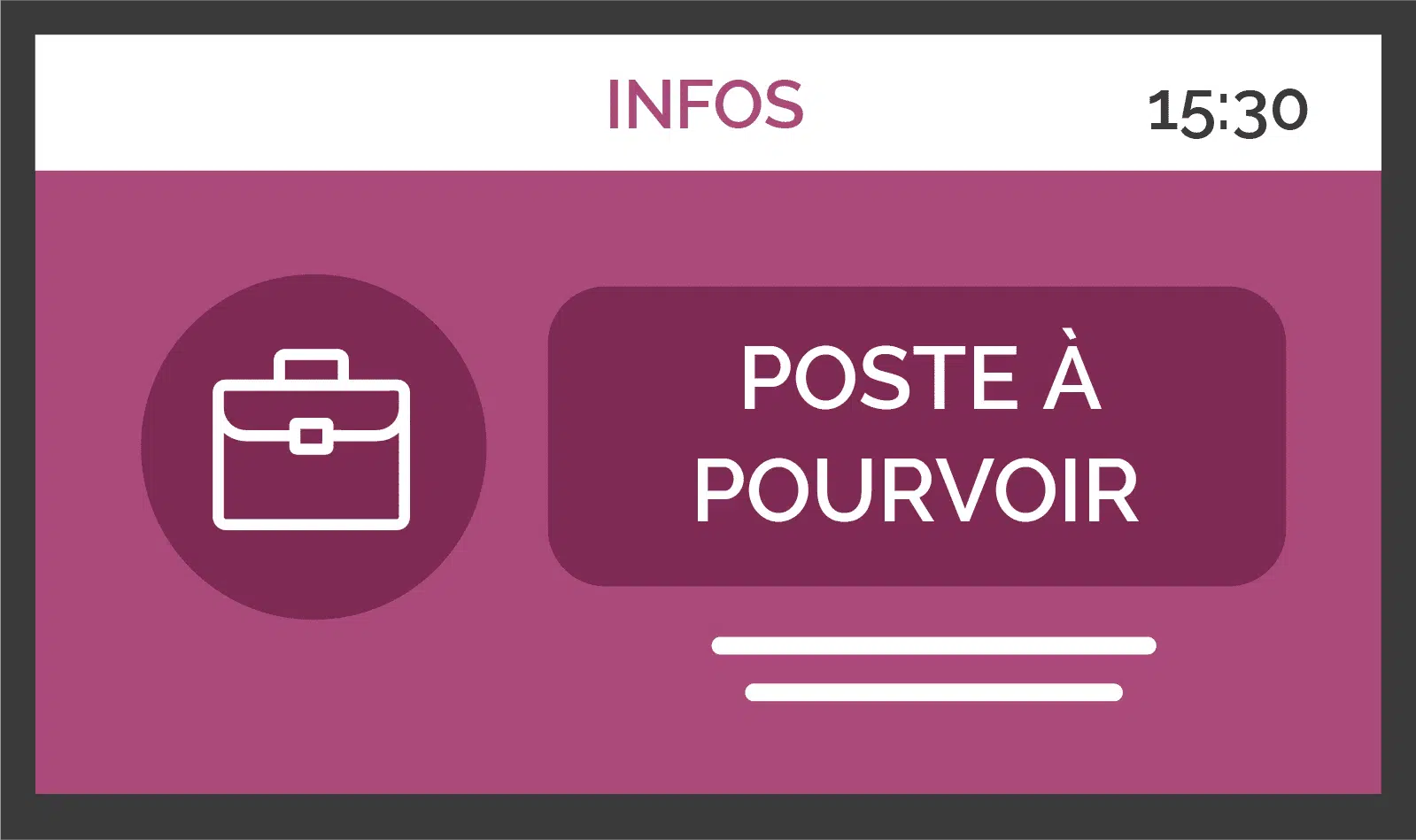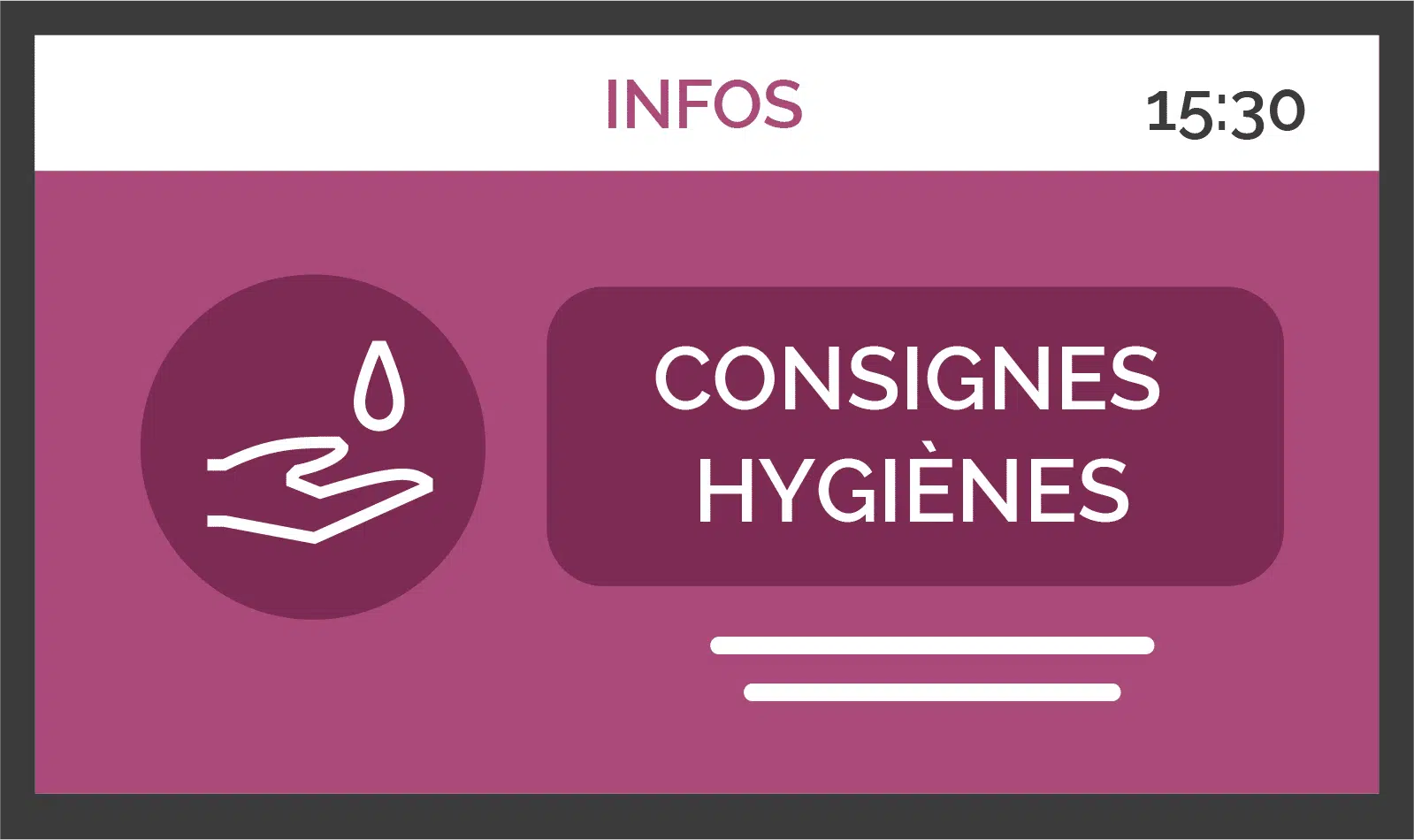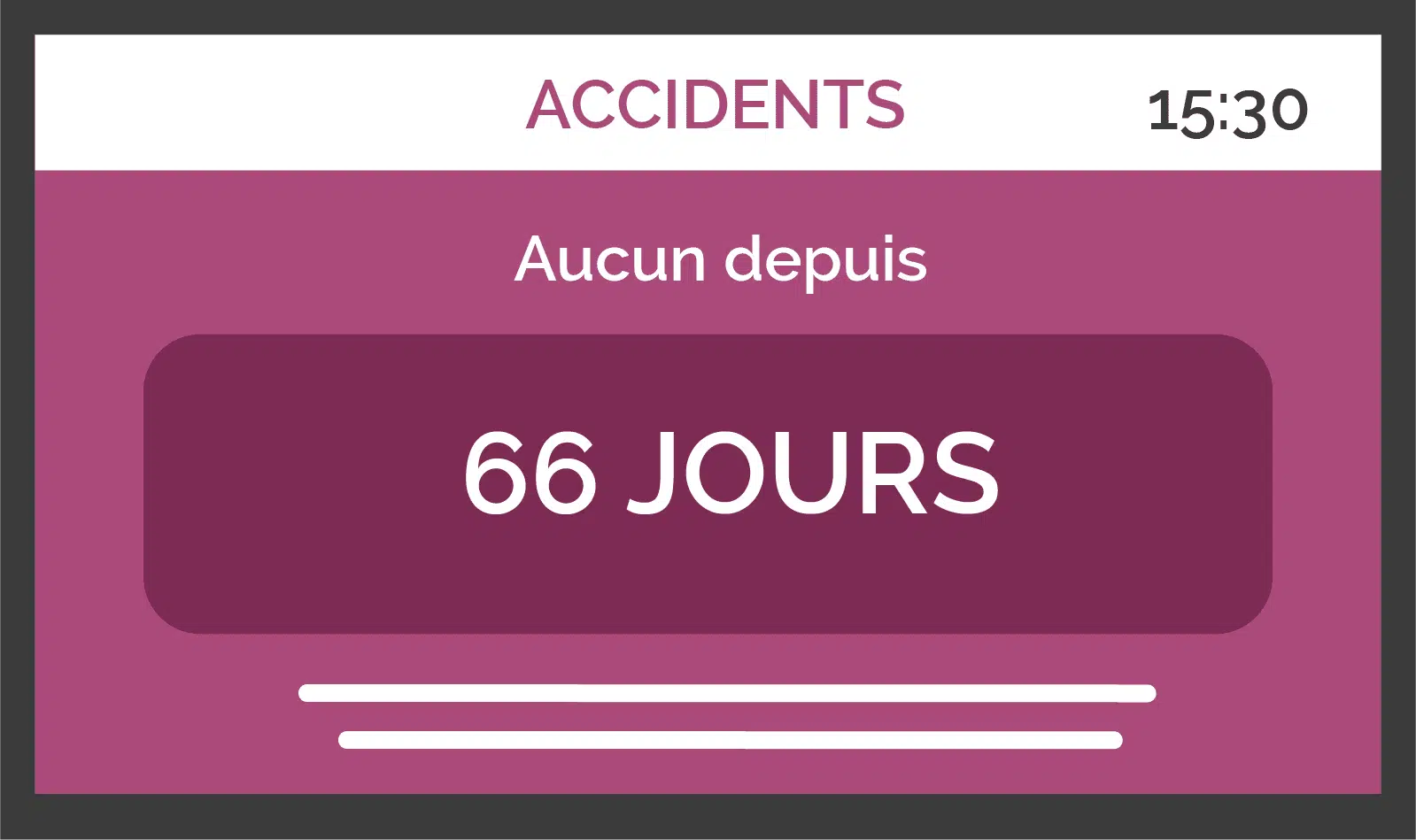 Help managers via digital visual management
The high visibility of digital signage and the contextualization of displayed data and alerts all make it a crucial tool for managers. It is a great way to help drive performance!
In addition to their dashboards, it gives them a real-time overview of a factory's performance, with information at every level of the system.
The tasks performed by operators are generally only reported at the end of the day, but with this solution they can be notified in real time and displayed on screens. No more paper in the aisles. Managers get real-time information on tasks, improving response times and decision-making capacity.
The main goals are :
To have an overall vision of the activity (KPI, Dashboarding)
Quickly identify problems at every level
Continuous improvement: if a problem is identified, discuss things directly with operators to analyze activity in real time, remind staff of best practices and explore corrective actions
Beyond that there are many reasons to opt for visual management in the industry.