24 November 2022

Digital signage has existed for years. Just consider Times Square with its giant screens showing adverts 24/7 to understand the power of this digital media. However, you don't need to travel that far to see that it has now become an integral part of our everyday lives. From the village media library for local events, to the drive through order terminal or the production line in a factory sharing real-time production data, this digital content can be made easily using a software solution for centralized and remote management of visual design and broadcast programing across a network of screens.
How to use digital signage in your digital communication
According to Cadre Digital, 90% of the information transmitted to the brain is visual, making digital signage a relevant and impactful form of communication.
The idea is simple. If you have a message to communicate, digital signage lets you share your digital content on smart screens in a very targeted way. Your imagination is the limit.
Digital signage should be dynamic. Content needs to be constantly renewed. It is vital to consider how the company will keep its content dynamic. It might consider subscribing to automatic feeds like news or weather widgets to supply information without the intervention of a third party and ensure that content changes. A budget should be defined for content creation to support teams responsible for corporate programing.
A company can use digital signage for two types of communication.
Digital signage for external communication 
A company can use this type of communication for advertising purposes, like in the Retail sector, which uses it for more impactful communication in store, or in Wait Marketing for after-sales service, in order to reduce perceived wait times and provide information.
For example, customers in a bank could read information about the CSR policy or latest company news while waiting, which would be a way of improving corporate brand image. Digital signage can also be used in a purely informative way.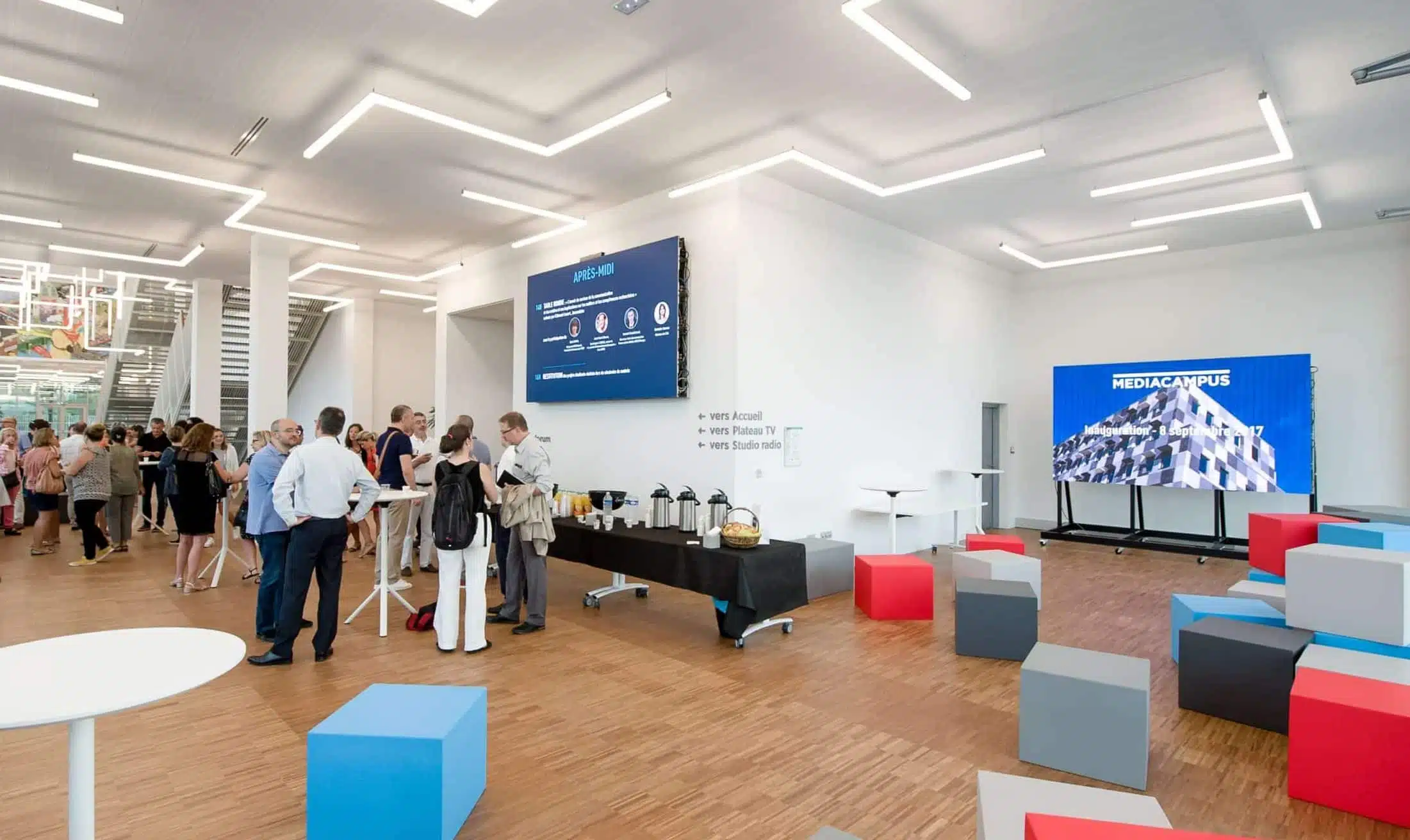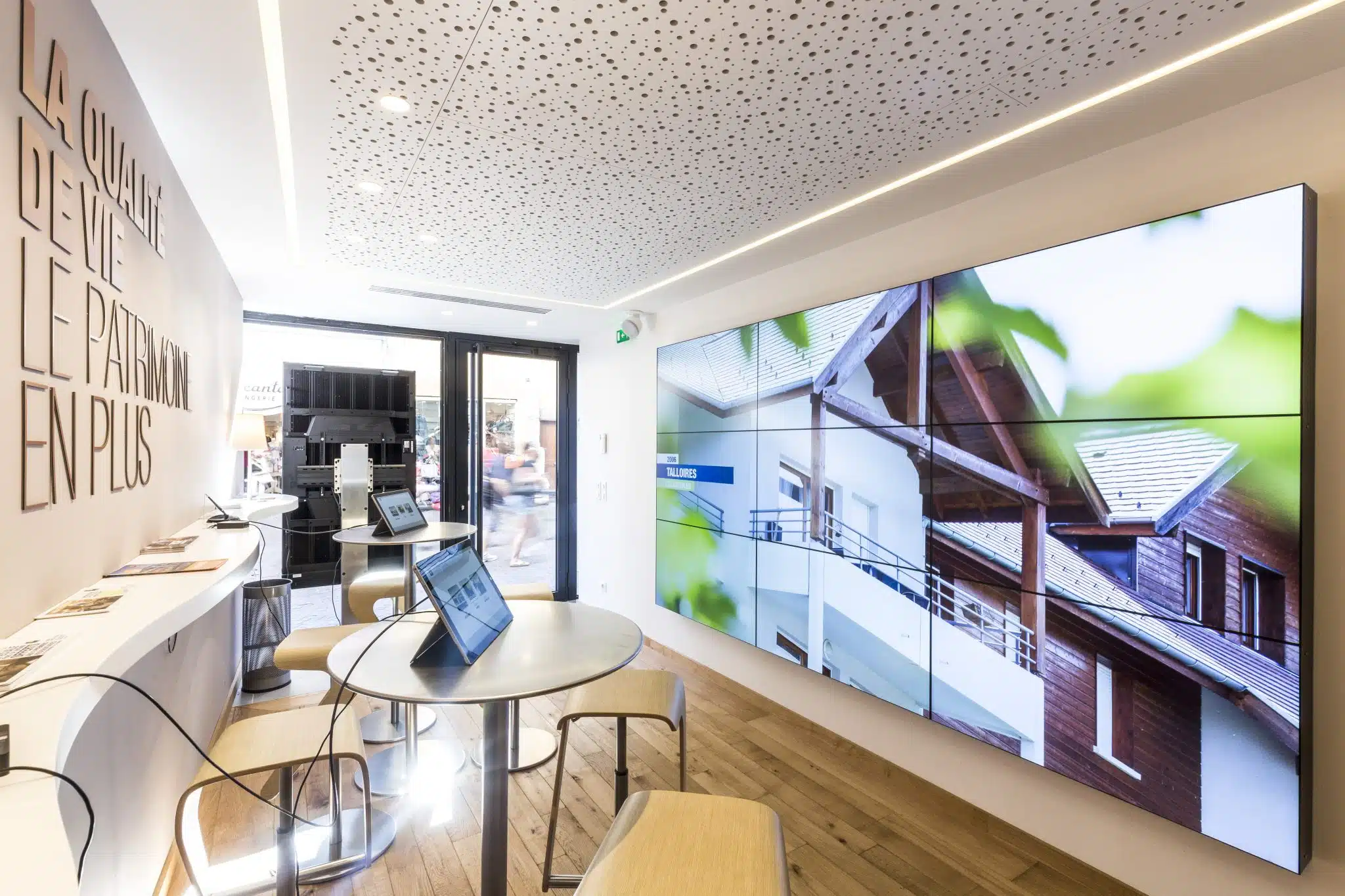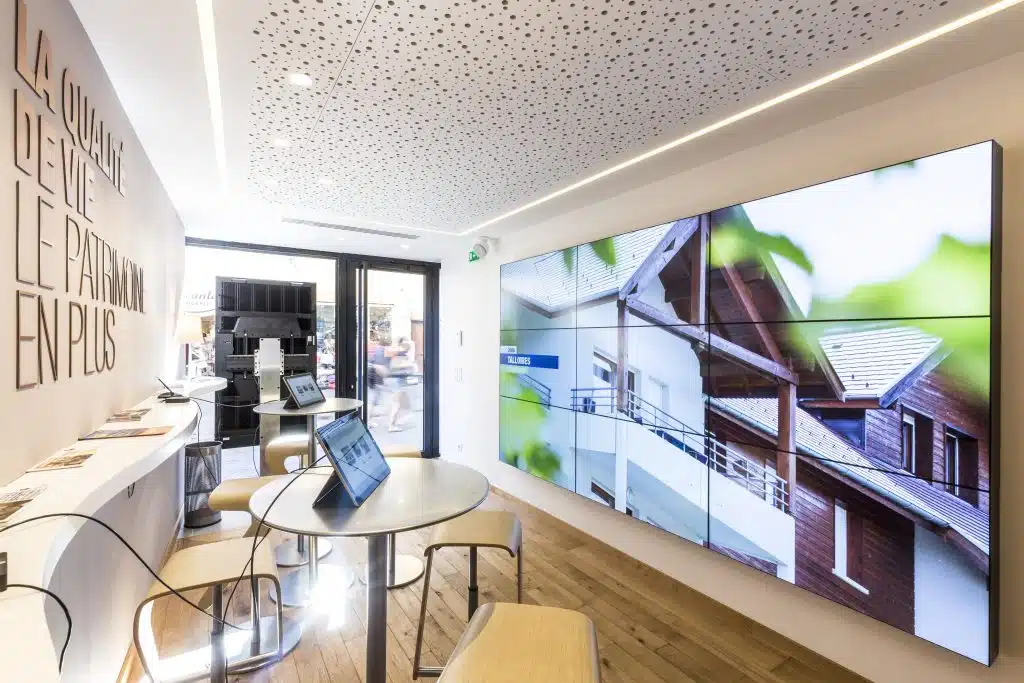 Digital signage for internal communication
Digital signage can also be used within a company to communicate with its employees or visitors. Positioning signage in a busy location such as a cafeteria or reception area is an additional means of internal communication, supporting your intranet and emails, which are sometimes ignored by your employees. Your communication will be perceived as more inclusive as it will be visible to all.
The tool can also be used more specifically to display live webinars, internal indicators (KPIs) or even an alert regarding your production line. Information just needs to be extracted from your professional databases to be shared in real time.
How does digital signage work?
You don't need to be an IT expert because simple and intuitive software solutions and applications can be used to deploy this type of system in your organization or store. The main investment will be in hardware to install screens and internal and external players to share visual content.
You can use pre-existing content in a variety of formats, including text, images, videos, PowerPoint and PDFs..
Some digital signage solutions even come with an integrated content design tool.
You can also extract information from your database or professional applications to share them in real time. File compatibility is therefore very varied.
As previously mentioned, special attention should be paid to creating high-quality and varied content. For a digital signage project to work, you shouldn't loop "meaningless" content, but consider in advance what the company wants to communicate and share. Once again, remember that these messages are seen by large numbers of people so nothing should be left to chance.
Finally, once you have created your multimedia content, you can program it remotely to create a broadcasting sequence across a network of screens. And that's it!
5 advantages of digital signage
Digitalized communication
Supplement existing internal and external communication systems
Quick and instant response times thanks to real-time communication
Appeal of attention-grabbing screens
Improve the customer and employee experience (support the purchase process, improve employer image, onboard new employees, improve perceived wait times, etc.)
The solution to meet all your needs
Move over traditional signage, with its production, printing and installation time constraints.
Digital signage is the solution for sharing your message and images in real time across all communication channels by programming it in a centralized and remote way.